THE HURRICANE
DIRECTED BY JOHN FORD/ STUART HEISLER
PRODUCED BY SAMUEL GOLDWYN/ MERRITT HULBURD
THE SAMUEL GOLDWYN COMPANY/ UNITED ARTISTS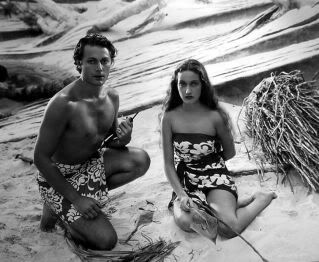 Information from IMDb
Plot Summary
In the Island of Manukura, a French colony in the South Seas,
the joyful Terangi is a leader among the natives and the first mate of the Katopua,
the tall ship of Captain Nagle. Terangi gets married with Marama
and sooner he sails to Tahiti.
While in a bar playing with other natives, Terangi is offended by an alcoholic racist French
and he hits his face, breaking his jaw. Despite the testimony of Captain Nagle,
Terangi is sentenced to six months of forced labor since the victim
had political connections with the Powers That Be.
Captain Nagle asks the Governor Eugene DeLaage to uses his influence
to help Terangi, but the governor refuses.
Terangi unsuccessfully tries to escape from the prison,
and each attempt increases his sentence.
Eight years later, he finally escapes and his jailbreak is celebrated in Manukura.
Father Paul finds his canoe and brings Terangi to the island.
But a devastating hurricane also arrives in the island threatening the dwellers.
Written by Claudio Carvalho, Rio de Janeiro, Brazil
Full Cast
Dorothy Lamour ... Marama
Jon Hall ... Terangi
Mary Astor ... Mme. DeLaage
C. Aubrey Smith ... Father Paul
Thomas Mitchell ... Dr. Kersaint
Raymond Massey ... DeLaage
John Carradine ... Warden
Jerome Cowan ... Captain Nagle
Al Kikume ... Chief Mehevi
Kuulei De Clercq ... Tita
Layne Tom Jr. ... Mako
Mamo Clark ... Hitia
Movita ... Arai (as Movita Castenada)
Lionel Braham ... The Governor (uncredited)
Spencer Charters ... Judge (uncredited)
Anne Chevalier ... Reri (uncredited)
Inez Courtney ... Girl on Ship (uncredited)
William B. Davidson ... Abusive Drunk (uncredited)
Roger Drake ... Captain of the Guards (uncredited)
Flora Hayes ... Mama Rua (uncredited)
Francis Kaai ... Tavi (uncredited)
Chris-Pin Martin ... Sailor (uncredited)
Mary Shaw ... Marunga (uncredited)
Pauline Steele ... Mata (uncredited)
Writing Credits
Dudley Nichols (screenplay)
Oliver H.P. Garrett (adaptation)
Charles Nordhoff (novel) and
James Norman Hall (novel)
Ben Hecht uncredited
Original Music
Alfred Newman
Cinematography
Bert Glennon
Trivia
According to Life Magazine, special effects wizard James Basevi was given a budget of $400,000 to create his effects. He spent $150,000 to build a native village with a lagoon 200 yards long, and then spent $250,000 destroying it.
The native village set was on 2½ acres of United Artists' back lot.
Doubles were not used for Mary Astor and Dorothy Lamour when they were lashed to a tree during the hurricane. In her autobiography, Astor said that the sand and water whipping their faces sometimes left pinpricks of blood on their cheeks.
Charles Locher officially changed his name professionally to Jon Hall with this picture in order to capitalize on his real life relationship to "The Hurricane"'s co-author, James Norman Hall.
Filming Locations
Pago Pago, American Samoa
Samuel Goldwyn Studios - 7200 Santa Monica Boulevard, West Hollywood, California, USA
(studio)
Santa Catalina Island, Channel Islands, California, USA
Tutuila Island, American Samoa
Watch this clip
[extendedmedia]
[/extendedmedia]