MARY OF SCOTLAND
DIRECTED BY JOHN FORD/ LESLIE GOODWINS
PRODUCED BY PANDRO S. BERMAN
RKO RADIO PICTURES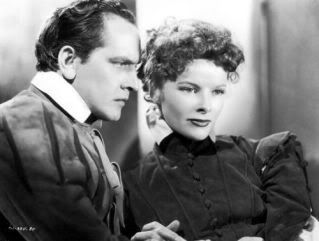 Information from IMDb
Plot Summary
Mary Stuart returns to Scotland to rule as queen, to the chagrin of Elizabeth I of England
who finds her a dangerous rival.
There is much ado over whom Mary shall marry; to her later regret,
she picks effete Lord Darnley over the strong but unpopular Earl of Bothwell.
A palace coup leads to civil war and house arrest for Mary; she escapes and flees to England,
where a worse fate awaits her.
Written by Rod Crawford
Full Cast
Katharine Hepburn ... Mary Stuart
Fredric March ... Bothwell
Florence Eldridge ... Elizabeth Tudor
Douglas Walton ... Darnley
John Carradine ... Rizzio
Robert Barrat ... Morton
Gavin Muir ... Leicester
Ian Keith ... Moray
Moroni Olsen ... John Knox
William Stack ... Ruthven
Ralph Forbes ... Randolph
Alan Mowbray ... Throckmorton
Frieda Inescort ... Mary Beaton
Donald Crisp ... Huntly
David Torrence ... Lindsay
Molly Lamont ... Mary Livingstone
Anita Colby ... Mary Fleming
Jean Fenwick ... Mary Seton
Lionel Pape ... Burghley
Alec Craig ... Donal
Mary Gordon ... Nurse
Monte Blue ... Messenger
Leonard Mudie ... Maitland
Brandon Hurst ... Airan
Wilfred Lucas ... Lexington
D'Arcy Corrigan ... Kirkcaldy
Frank Baker ... Douglas
Cyril McLaglen ... Faudoncide
Doris Lloyd ... Fisherman's Wife
Robert Warwick ... Sir Francis Knollys
Murray Kinnell ... Judge
Lawrence Grant ... Judge
Ivan F. Simpson ... Judge (as Ivan Simpson)
Nigel De Brulier ... Judge (as Nigel de Brulier)
Barlowe Borland ... Judge
Walter Byron ... Walsingham
Wyndham Standing ... Sergeant-at-Arms
Earle Foxe ... Earl of Kent
Paul McAllister ... du Croche
Lionel Belmore ... Fisherman
Gaston Glass ... Frenchman
Neil Fitzgerald ... Nobleman
Frank Anthony ... Man (uncredited)
John Blood ... Man (uncredited)
Al Bridge ... (uncredited)
Tommy Bupp ... Boy in Boat (uncredited)
David Clyde ... (uncredited)
Hallam Cooley ... (uncredited)
Harvey D'Roulle Foster ... Man (uncredited)
Jean De Briac ... Man (uncredited)
Jerry Frank ... (uncredited)
Bud Geary ... (uncredited)
Douglas Gerrard ... (uncredited)
Hilda Grenier ... Woman (uncredited)
Winter Hall ... (uncredited)
Halliwell Hobbes ... Man (uncredited)
Robert Homans ... Jailer (uncredited)
Shep Houghton ... Soldier (uncredited)
Maxine Jennings ... Woman (uncredited)
Jean Kircher ... Prince James (uncredited)
Judith Kircher ... Prince James (uncredited)
Fred Malatesta ... Man (uncredited)
G.L. McDonnell ... Man (uncredited)
Wedgwood Nowell ... Queen Elizabeth's Majordomo (uncredited)
John Pickard ... Soldier Dueling Bothwell (uncredited)
Father Raemers ... Man (uncredited)
Robert Ryan ... (uncredited)
Leslie Sketchley ... (uncredited)
Wingate Smith ... (uncredited)
Pat Somerset ... Mary's Majordomo (uncredited)
Harry Tenbrook ... One of Queen Mary's Guards (uncredited)
John Tyke ... Man (uncredited)
Billy Watson ... Fisherman's Son (uncredited)
Bobs Watson ... Fisherman's Son (uncredited)
Niles Welch ... Man (uncredited)
Writing Credits
Dudley Nichols (screenplay)
Maxwell Anderson (play)
Mortimer Offner contributing writer (uncredited)
Original Music
Nathaniel Shilkret
Cinematography
Joseph H. August
Jack MacKenzie
Trivia
Katharine Hepburn, who played Queen Mary, is actually a distant relative of the Earl Of Bothwell, whose family name was, in fact, Hepburn.
The play opened in New York City, New York, USA on 27 November 1933 and had 248 performances. The title role was played by Helen Hayes and the cast also included Moroni Olsen, who repeated his role as John Knox in the 1936 film version, Edgar Barrier (Lord Douglas), Ernest Cossart (Lord Throgmorton) and George Coulouris (Lord Burghley). The play was written in blank verse.
Both Ginger Rogers and Bette Davis were interested in playing Elizabeth. Director John Ford wanted Tallulah Bankhead for the part, but Florence Eldridge. Fredric March's real-life wife, won the part
Contrary to the play and the film, Mary and Elizabeth never met.
According to A. Scott Berg's memoir "Kate Remembered", Katharine Hepburn was already chosen for Mary but they had trouble casting Elizabeth. At one point Hepburn, who had by then been nicknamed "Katharine of Arrogance", suggested that she play both roles. Supporting player John Carradine asked, "But if you played both queens, how would you know which one to upstage?" She was not amused at the time but roared with laughter when retelling the story years later.
According to Katharine Hepburn, during the filming of Mary and Bothwell's love scene, John Ford, rather fed up with the idea of directing a romantic costume drama written in blank verse, simply said to Hepburn, "Here; you direct this scene." And she did.
Katharine Hepburn wanted George Cukor as director, but after the failure of Sylvia Scarlett, producer Pandro S. Berman refused to let them work together again.
E.E. Clive is listed in casting records for the role of Burghley, but that role was played by Lionel Pape
Moroni Olsen was the only member of the original Broadway cast of the play to repeat his role in the film version.
Ginger Rogers was tested for the role of Queen Elizabeth I.
According to Katharine Hepburn's autobiography "Me", director John Ford lost interest in the film when he discovered that the plot was not particularly strong. She recalls one day Ford announced that he was leaving early and would allow Hepburn to direct a scene with Fredric March. Hepburn feared that March would not listen to direction from her, but when he acquiesced she directed her first and only scene.
Katharine Hepburn credited John Ford with saving her life one day on the set. They were shooting a scene of Hepburn on horseback when the horse she was riding kept going unexpectedly. Ford yelled at Hepburn to duck just before she was about to collide with a low branch.
Ginger Rogers, posing as British actress "Lady Ainsley" in hopes of landing the role of Queen Elizabeth, tested with an unsuspecting 'Katherine Hepburn'. During the test, Hepburn who also wanted the role, became aware of the lavish subterfuge created by Mel Berns, RKO's head of makeup, who with Leland Hayward, plotted to dupe director John Ford into offering the coveted role to Rogers. Archived film of the silent test caught Hepburn kicking Rogers in the shins. Instead, the role went to Florence Eldridge. Hepburn got even with Rogers by pouring water on her new fur coat saying "If it is real mink, it won't shrink."
According to Hepburn biographer Alvin H. Marill, the actress turned down an offer from Max Reinhardt to play Viola in "Twelfth Night" at the Hollywood Bowl in order to meet her obligation for "Mary of Scotland".
John Ford lost interest in this film early on. He didn't think the story was very strong, and didn't like the blank verse dialog. The film did not do well at the box office and Ford seldom mentioned it in conversation. Later, during filming of Stagecoach, Ford harassed several actors, notably John Wayne, about their performances. As he began with Thomas Mitchell, who played Doc Boone, Mitchell reportedly said, "Just remember, I saw 'Mary of Scotland'". Ford left him alone for the remainder of the shoot.
Goofs
Continuity
When the messenger brings Moray the news of Mary, the lighting changes markedly from the close-up to the master shot.
Factual errors
In the movie, Mary's execution takes place outdoors.
It actually took place in the great hall of Fotheringay castle.
Revealing mistakes
When an overzealous Bothwell pulls at the window bars of his cell, the prop bars move.
When Rizzio is stabbed, no blood is visible on the dagger,
on him, or on the bed linens.