THE ADVENTURES OF MARCO POLO
PRODUCED BY SAMUEL GOLDWYN/ GEORGE HAIGHT
DIRECTED BY ARCHIE MAYO/ JOHN CROMWELL/ JOHN FORD
THE SAMUEL GOLDWYN COMPANY/ UNITED ARTISTS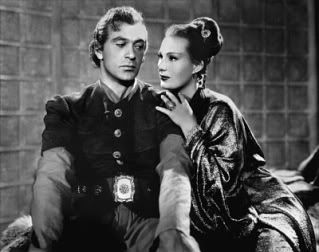 Plot Summary
Marco Polo travels from Venice to Peking, where he quickly discovers
spaghetti and gunpowder and falls in love with the Emperor's daughter.
The Emperor Kublai Khan is a kindly fellow, but his evil aide Ahmed
wants to get rid of Kublai Khan so he can be emperor, and to get rid of Marco Polo
so he can marry the princess. Ahmed sends Marco Polo to the West
to fight barbarians, but he returns just in time to save the day.
Written by John Oswalt
Full Cast
Gary Cooper ... Marco Polo
Sigrid Gurie ... Princess Kukachin
Basil Rathbone ... Ahmed
George Barbier ... Kublai Khan
Binnie Barnes ... Nazama
Ernest Truex ... Binguccio
Alan Hale ... Kaidu
H.B. Warner ... Chen Tsu
Robert Greig ... Chamberlain (as Robert Grieg)
Ferdinand Gottschalk ... Persian Ambassador
Henry Kolker ... Nicolo Polo
Lotus Liu ... Visakha
Stanley Fields ... Bayan
Harold Huber ... Toctai
Lana Turner ... Nazama's Maid
Richard Alexander ... Ahmed's Aide (uncredited)
Reginald Barlow ... Giuseppi - Venetian Business Man (uncredited)
Granville Bates ... Venetian Business Man (uncredited)
Ward Bond ... Mongol Guard (uncredited)
Harry Cording ... Kaidu Officer (uncredited)
Richard Farnsworth ... (uncredited)
Leo Fielding ... Kaidu Officer (uncredited)
Anne Graham ... Woman (uncredited)
Greta Granstedt ... Kaidu Maid (uncredited)
Hale Hamilton ... Maffeo Polo (uncredited)
Eugene Hoo ... Chen Tsu's Son (uncredited)
Mia Ichioka ... Court Girl (uncredited)
Harry Kerus ... Kaidu Guard (uncredited)
James B. Leong ... Tartar Warrior (uncredited)
Diana Moncardo ... Court Girl (uncredited)
Mrs. Ng ... Chen Tsu's Mother (uncredited)
Helen Quan ... Chen Tsu's Daughter (uncredited)
Dick Rich ... Kaidu Officer (uncredited)
Jason Robards Sr. ... Messenger (uncredited)
Evelyn Terry ... (uncredited)
Diane Toy ... Kaidu Entertainer (uncredited)
Theodore von Eltz ... Venetian Business Man (uncredited)
Harry Wilson ... Guard with Chamberlain (uncredited)
Joe Woody ... Kaidu Officer (uncredited)
Soo Yong ... Chen Tsu's Wife (uncredited)
Dora Young ... Court Girl (uncredited)
Gloria Youngblood ... Court Girl (uncredited)
Writing Credits
N.A. Pogson (story)
Robert E. Sherwood (screenplay)
Original Music
Hugo Friedhofer
Cinematography
Rudolph Maté
Archie Stout
Trivia
John Cromwell began directing on June 15th, 1937 but soon left the project after just five days of shooting, due to "differences of opinion on story treatment," according to a press release. The film's producer Samuel Goldwyn then attempted to rope in William Wyler for the job. Wyler wanted nothing to do with it, so Goldwyn persuaded John Ford to take over for a few days until he could find a permanent replacement for Cromwell. Archie Mayo was eventually brought in to finish the picture.
This marked the screen debut of Samuel Goldwyn's protégé Sigrid Gurie, whom he publicly labeled "the Norwegian Garbo--even though she was born in Brooklyn, NY.
Lana Turner later recalled in a Gary Cooper biography that her "fancy black oriental wig" had been glued around her face with spirit gum, while she felt extremely uncomfortable in her costumes, and worse yet, had her eyebrows shaved off, at the insistence of Samuel Goldwyn himself, and replaced them with false slanting black ones.
The film was received poorly at the box-office, becoming the biggest flop up to that time for both Gary Cooper and Samuel Goldwyn; it was estimated that the picture lost close to $700,000.
Mrs. Ng as "Chen Tsu's Mother" is in studio records/casting call lists, but the character did not appear in the movie. Because of period and location makeup, some of the other actors are difficult to recognize.
Goofs
Revealing mistakes
When Marco crosses a bridge, his party is attacked and his horse is driven over a cliff. A safety wire is clearly visible on the rider.
Filming Locations
Santa Clarita, California, USA
Alabama Hills, Lone Pine, California, USA
Iverson Ranch - 1 Iverson Lane, Chatsworth, Los Angeles, California, USA
Lake Malibu, California, USA
Paramount Ranch - 2813 Cornell Road, Agoura, California, USA
Vasquez Rocks Natural Area Park - 10700 W. Escondido Canyon Rd., Agua Dulce, California, USA