STEAMBOAT ROUND THE BEND
DIRECTED BY JOHN FORD
PRODUCED BY SOL M. WURTZEL
FOX FILM CORPORATION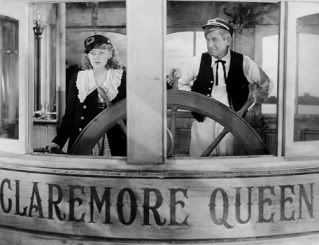 Information from IMDb
Plot Summary
Dr. John Pearly is an affable turn-of-the-century con man who sells a patent medicine
that is mostly whiskey.
He resurrects a broken down steamboat with a makeshift crew and challenges
the respectable but arrogant Captain Eli to a winner-take-all river race.
Pearly hopes his nephew Duke will serve as pilot, but he stands accused
of murdering a 'swamp rat' who threatened the honor of swamp girl Fleety Belle.
After Duke is arrested, Pearly tries to raise money for a lawyer by displaying
a wax museum aboard ship. Ultimately he gambles it all in the river race to Baton Rouge,
where he hopes to find a witness whose treatment will free Duke.
Written by duke1029
Full Cast
Will Rogers ... Doctor John Pearly
Anne Shirley ... Fleety Belle
Irvin S. Cobb ... Captain Eli
Eugene Pallette ... Sheriff Rufe Jeffers
John McGuire ... Duke
Berton Churchill ... New Moses
Francis Ford ... Efe
Roger Imhof ... Breck's Pappy
Raymond Hatton ... Matt Abel
Hobart Bosworth ... Chaplain
Stepin Fetchit ... Jonah
C.E. Anderson ... Jailer (uncredited)
Sam Baker ... Undetermined Role (uncredited)
William 'Billy' Benedict ... Breck (uncredited)
Heinie Conklin ... Jailbird (uncredited)
D'Arcy Corrigan ... Hangman (uncredited)
Luke Cosgrave ... Labor Boss (uncredited)
Grace Goodall ... Sheriff's Wife (uncredited)
Ben Hall ... Fleety Belle's Brother (uncredited)
Dell Henderson ... Salesman (uncredited)
Robert Homans ... Race Official (uncredited)
Si Jenks ... Farmer at Demonstrations (uncredited)
John Lester Johnson ... Uncle Jeff (uncredited)
Ed Jones ... New Elijah (uncredited)
Fred Kohler Jr. ... Ben - Fleety Belle's Fiance (uncredited)
James A. Marcus ... Warden (uncredited)
Louis Mason ... Boat Race Organizer (uncredited)
Charles Middleton ... Fleety Belle's Father (uncredited)
Ferdinand Munier ... Governor (uncredited)
Robert Parrish ... Boy (uncredited)
Vester Pegg ... Mink - Pride of Paducah Pilot (uncredited)
Jack Pennick ... River Man with Pappy (uncredited)
Otto Richards ... Prisoner (uncredited)
Ernest Shields ... Undetermined Role (uncredited)
Wingate Smith ... Undetermined Role (uncredited)
John Tyke ... Undetermined Role (uncredited)
Lois Verner ... Addie May (uncredited)
John Wallace ... Undetermined Role (uncredited)
Writing Credits
Ben Lucien Burman (novel "Steamboat Round the Bend")
Dudley Nichols (screenplay) and
Lamar Trotti (screenplay)
Original Music
Samuel Kaylin (uncredited)
Cinematography
George Schneiderman
Trivia
Both Frank Mayo and Jim Thorpe are in studio records/casting call lists as actors in this movie, but neither of them were seen.
The film was released shortly after Will Rogers' death on 15 August 1935 from an airplane crash near Point Barrow, Alaska. Originally, the ending of the film had him waving goodbye to the character played by Irvin S. Cobb, but the ending was changed to avoid the audience thinking he was saying goodbye to them, which may have caused them to leave the theater in tears.
Rogers' boat, "Claremore Queen," was named after his home town of Claremore, Oklahoma.
Rogers bought the rights to the story for $10,000 in 1933. It was Fox's biggest grosser in 1935.
Cobb's boat, "Pride of Paducah," was named after his home town of Paducah, Kentucky.
Filming Locations
20th Century Fox Studios - 10201 Pico Blvd., Century City, Los Angeles, California, USA (studio)
Sacramento, California, USA
San Joaquin-Sacramento River Delta, California, USA
Watch John Ford talking about the Movie
[extendedmedia]
[/extendedmedia]