SUBMARINE PATROL
DIRECTED BY JOHN FORD
PRODUCED BY DARRYLE F. ZANUCK/ GENE MARKEY/ RALPH DIETRICH
TWENTIETH CENTURY FOX FILM CORPORATION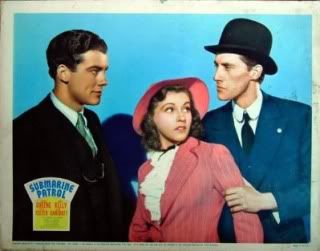 Information from IMDb
Plot Summary
Set during World War I, Submarine Patrol stars Preston S. Foste
r as a naval officer demoted for dereliction of duty.
He is forced to commandeer a battered old submarine chaser and its ragtag crew.
Anxious to redeem himself, Foster transforms his loser underlings into a crack combat team,
chalking up numerous enemy sinkings.
Richard Greene costars as Foster's junior officer, a rich wastrel who matures
into a worthwhile individual during his tour of duty.
Full Cast
Richard Greene ... Perry Townsend III
Nancy Kelly ... Susan Leeds
Preston Foster ... Lt. (j.g.) John C. Drake
George Bancroft ... Capt. Leeds
Slim Summerville ... Ellsworth 'Spuds' Fickett, cook
J. Farrell MacDonald ... CWO 'Sails' Quincannon
Warren Hymer ... Seaman Rocky Haggerty
Douglas Fowley ... Seaman Pinky Brett
Dick Hogan ... Seaman Johnny Miller
Elisha Cook Jr. ... Seaman Rutherford Davis Pratt, aka 'The Professor'
George E. Stone ... Seaman Irving Goldfarb
Jack Pennick ... Bos'un 'Guns' McPeek
John Carradine ... McAllison
Henry Armetta ... Luigi
Joan Valerie ... Anne
Max 'Slapsie Maxie' Rosenbloom ... Marine Sentry Sgt. Joe Duffy
Charles Trowbridge ... RAdm. Joseph Maitland
Moroni Olsen ... The Fleet Captain
Ward Bond ... Seaman Olaf Swanson
Robert Lowery ... Sparks, radioman
Harry Strang ... Seaman Grainger
Victor Varconi ... Italian Naval Chaplain Vanzano
Russ Clark ... Undetermined Part (script name, Anderson (unconfirmed)
Charles Tannen ... Undetermined Part (script name, Kelly) (unconfirmed)
Ernie Alexander ... Warship Sailor (uncredited)
Murray Alper ... Orderly in Maitland's Office (uncredited)
Lon Chaney Jr. ... Marine Sentry (uncredited)
Dorothy Christy ... McPeek's Girl (uncredited)
E.E. Clive ... (uncredited) (unconfirmed)
Ray Cooke ... Warship Sailor (uncredited)
Alan Davis ... Maitland's Secretary-Lieutenant (uncredited)
Duke Green ... Warship Sailor (uncredited)
Fred Malatesta ... Italian Gendarme at the 'Maria Ann' (uncredited)
Frank Moran ... Waiter at Dive (uncredited)
Manuel París ... Italian Gendarme at the 'Maria Ann' (uncredited)
Ferdinand Schumann-Heink ... German Officer (uncredited)
Dick Wessel ... Dock Shore Patrolman (facing camera) (uncredited)
Writing Credits
Don Ettlinger contributor (uncredited)
William Faulkner script, 1936
Sheridan Gibney contributor (uncredited)
Rian James writer
Gene Markey contributor (uncredited)
Ray Millholland novel "The Splinter Fleet of the Otranto Barrage"
George O. Noville contributor (uncredited)
Kathryn Scola 1936 script
Karl Tunberg contributor (uncredited)
Darrell Ware writer
Jack Yellen writer
Original Music
Arthur Lange (uncredited)
Charles Maxwell (uncredited)
Cinematography
Arthur C. Miller