THE WESTERNER
PRODUCED BY SAMUEL GOLDWYN
DIRECTED BY WILLIAM WYLER
THE SAMUEL GOLDWYN COMPANY/ UNITED ARTISTS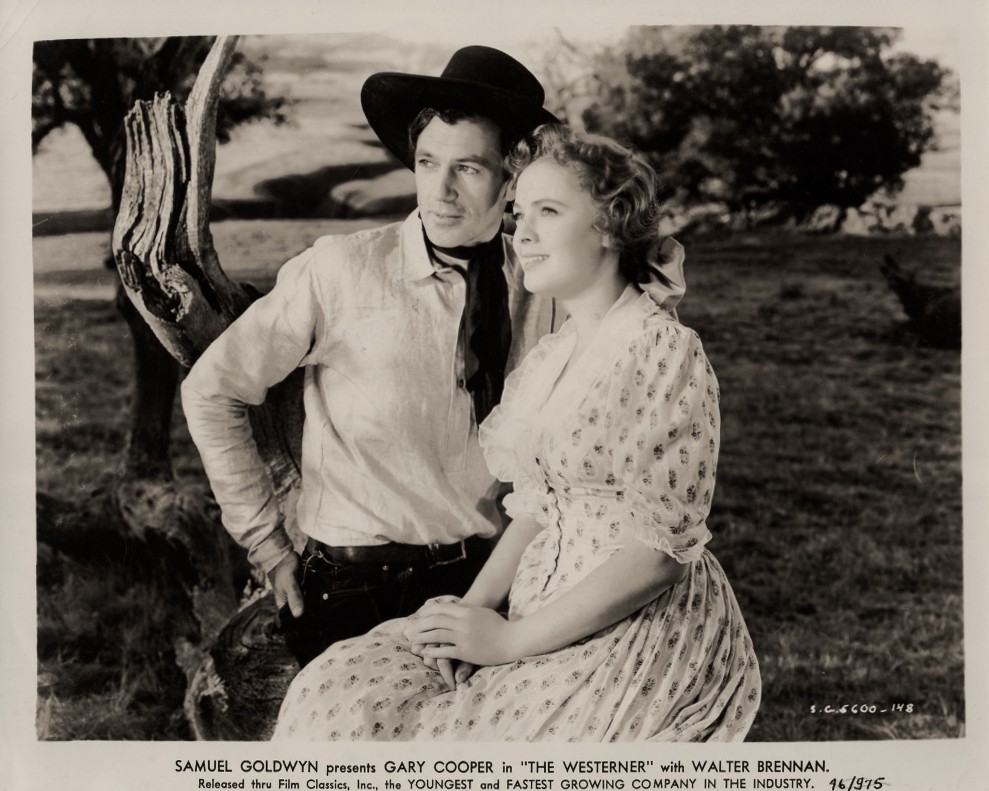 Photo with the courtesy of lasbugas

Information from IMDb
Plot Summary
Cole Harden just doesn't look like a horse thief, Jane-Ellen Matthews tells Judge Roy Bean as she steps up to the bar. Cole says he can't take it with him as he empties all of his coins on the bar to buy drinks for the jury. He notices two big pictures of Lily Langtry behind the bar. Sure, Cole has met the Jersey Lily, whom the hanging judge adores, even has a lock of her hair. Hanging is delayed for two weeks, giving Cole time to get in the middle of a range war between cattlemen and homesteaders and to still be around when Lily Langtry, former mistress of Edward VII who became an international actress, arrives in Texas.
Written by Dale O'Connor
Full Cast
Gary Cooper ... Cole Harden
Walter Brennan ... Judge Roy Bean
Doris Davenport ... Jane Ellen Mathews
Fred Stone ... Caliphet Mathews
Forrest Tucker ... Wade Harper
Paul Hurst ... Chickenfoot
Chill Wills ... Southeast
Lilian Bond ... Lily Langtry
Dana Andrews ... Hod Johnson
Charles Halton ... Mort Borrow
Trevor Bardette ... Shad Wilkins
Tom Tyler ... King Evans
Lucien Littlefield ... The Stranger
C.E. Anderson ... Hezekiah Willever (uncredited)
Stanley Andrews ... Sheriff (uncredited)
Arthur Aylesworth ... Mr. Dixon - Homesteader (uncredited)
Bill Bauman ... Man Getting Haircut (uncredited)
Hank Bell ... Deputy (uncredited)
Gertrude Bennett ... Abigail (uncredited)
Danny Borzage ... Joe Yates (uncredited)
Charles Coleman ... Lily Langtry's Manager (uncredited)
Heinie Conklin ... Man at Ticket Window (uncredited)
Philip Connor ... John Yancy (uncredited)
Buck Connors ... Abraham Wilson (uncredited)
Frank Cordell ... Man (uncredited)
Jim Corey ... Lee Webb (uncredited)
Joe De La Cruz ... Mex (uncredited)
Helen Foster ... Janice (uncredited)
William Gillis ... Leon Beauregard (uncredited)
Roger Gray ... Eph Stringer - Homesteader (uncredited)
Aleth Hansen ... Walt McGary (uncredited)
Lew Kelly ... Ticket Man (uncredited)
Connie Leon ... Lily Langtry's Maid (uncredited)
Art Mix ... Seth Tucker (uncredited)
Corbet Morris ... Orchestra Leader (uncredited)
Buck Moulton ... Charles Evans (uncredited)
Jack Pennick ... Henry Williams (uncredited)
Julian Rivero ... Juan Gomez (uncredited)
Henry Roquemore ... Stage Manager (uncredited)
Annabelle Rousseau ... Elizabeth (uncredited)
Miriam Sherwin ... Martha (uncredited)
William Steele ... Tex Cole (uncredited)
Phil Tead ... Prisoner (uncredited)
Lupita Tovar ... Teresita (uncredited)
Blackjack Ward ... Buck Harrigan (uncredited)
Ted Wells ... Joe Lawrence (uncredited)
Writing Credits
Jo Swerling (screenplay) and
Niven Busch (screenplay)
Stuart N. Lake (from the story by)
W.R. Burnett uncredited
Lillian Hellman uncredited
Oliver La Farge uncredited
Original Music
Dimitri Tiomkin
Alfred Newman (uncredited)
Cinematography
Gregg Toland
Trivia
Trivia
Film debut of Forrest Tucker.
This film was the third Oscar win for Walter Brennan, who won three out of the five best Supporting Actor Academy Awards. Despite being nominated the subsequent year for Sergeant York, also with Gary Cooper, he was never nominated again in a very long career.
This film is the first of five roles for Walter Brennan in support of Gary Cooper. The last was Task Force in 1949.
This was the last film Samuel Goldwyn produced for United Artists before moving to RKO Radio Pictures in 1941.
"Lux Radio Theater" broadcast a 60 minute radio adaptation of the movie on September 23, 1940 with Gary Cooper, Walter Brennan and Doris Davenport reprising their film roles.
According to the New York Times review of the film on 25 October 1940, it opened at the Radio City Music Hall the night before, more than one month after the national opening on 20 September 1940. No reason was given for the apparent delay. Their credited cast list also is identical to the one in the AFI Catalog, including the character name of "Burt Cobble" for Dana Andrews. However, Variety's cast list has Andrews' name correctly as "Hod Johnson," so there is still a mystery concerning which are the original credits.
Goofs
Factual Errors
The town was named for George Langtry, an engineer and foreman who had supervised a Chinese work crew building the railroad, and not for the actress Lillie Langtry.
The farmers were portrayed as having filed homesteads to acquire their land in Texas when in reality, there were no homesteaders in Texas. Because Texas, an independent republic, joined the Union in l846 with full statehood status from the beginning and never went through territorial status, there was never any federal government-owned land in the state to be open under the Homestead Act.
The film shows Judge Roy Bean being killed in a shoot-out. He died of natural causes in 1903.
Filming Location
Tucson, Arizona, USA