GUN THE MAN DOWN
AKA: Arizona Mission
DIRECTED BY ANDEW MCLAGLEN
PRODUCED BY ROBERT E. MORRISON/ JOHN WAYNE
BATJAC PRODUCTIONS/ UNITED ARTISTS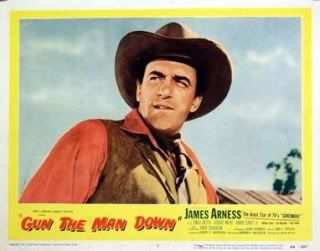 Information from IMDb
Plot Summary
Three outlaw buddies rob a bank, but one of them is wounded. His two partners and his girlfriend take his share of the loot and run off, leaving him to be captured by the sheriff. Years later, after he gets out of prison, he goes in search of his double-crossing partners and his faithless girlfriend. He finds them in a semi-deserted, run-down town, but instead of killing them right away, he decides to play cat-and-mouse with them first.
Written by frankfob2
Full Cast
James Arness ... Rem Anderson
Emile Meyer ... Sheriff Morton
Robert J. Wilke ... Matt Rankin (as Robert Wilke)
Harry Carey Jr. ... Deputy Lee
Don Megowan ... Ralph Farley
Michael Emmet ... Billy Deal
Pedro Gonzalez Gonzalez ... Hotel Man (as Gonzalez Gonzalez)
Angie Dickinson ... Janice
Frank Fenton ... (uncredited)
Robert Hinkle ... 2nd Sheriff (uncredited)
Writing Credits
Sam Freedle story (as Sam C. Freedle)
Burt Kennedy
Original Music
Henry Vars
Cinematography
William H. Clothier
Triva
Shot in Shot in nine days.
Produced by John Wayne's brother Robert E. Morrison.
Film credits say "Introducing Angie Dixkinson."
Gun the Man Down remains arguably most notable for containing actress Angie Dickinson's first starring role. She would go on to star in successful films such as Rio Bravo opposite John Wayne
and Dean Martin, Ocean's Eleven with Frank Sinatra and Dean Martin, Captain Newman, M.D. opposite Gregory Peck, The Killers (in which she's slapped in the face by villain Ronald Reagan)
and Point Blank, both opposite Lee Marvin, and The Chase with Marlon Brando and Robert Redford.
James Arness was later recommended by Gun the Man Down producer John Wayne for the role of
Marshal Matt Dillon in the television version of Gunsmoke, a part Arness played for the next twenty years.
Wayne introduced the series in a film clip shown immediately before the initial episode while seated
at a table in cowboy garb speaking directly to the camera. Arness had earlier portrayed the
Frankenstein-like "carrot monster" glimpsed in the conclusion of Howard Hawks'
1951 version of The Thing. Arness' brother was actor Peter Graves.
Andrew V. McLaglen, the movie's director, was the son of actor and former boxer Victor McLaglen,
and went on to direct ninety-six episodes of Gunsmoke starring James Arness as well as five movies
starring Gun the Man Down producer John Wayne, among many others.
Gun the Man Down also remains notable for being the first movie McLaglen directed.
Goofs
Anachronisms
(at around 45 mins) There is a power pole complete with transformer visible in the background.
Audio/visual unsynchronised
When Rem Anderson (James Arness) confronts Ralph Farley as Farley is trying to leave town after spotting Rem, a fistfight ensues. Most of the fist-hitting-face sounds are muted and barely sound like light slaps, some are totally missing, such as the punch from Rem that knocks Farley under a wagon. But all of the other fistfight noises are there, such as wood collapsing when prop posts and railings give way.
Revealing mistakes
When Rem Anderson (James Arness) is brought back from the robbery wounded, and is laid on the table, his girlfriend Janice (Angie Dickinson) checks him and says he's lost a lot of blood and can't be moved. Yet after they leave him, he gets up and staggers around fairly well, with no evidence of blood on him at all.
Filming Locations
Jack Ingram Ranch - 22255 Mulholland Drive, Woodland Hills, Los Angeles, California, USA
(town and some exterior photography)
Samuel Goldwyn Studios - 7200 Santa Monica Boulevard, West Hollywood, California, USA
(studio)