FRONTIER MARSHAL
DIRECTED BY LEWIS SEILER
PRODUCED BY WINFIELD R. SHEEHAN/ SOL M. WURTZEL
FOX FILM CORPORATION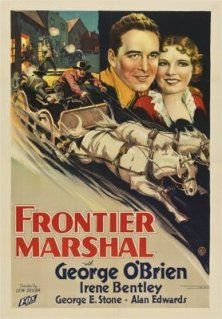 Plot Summary
Frontier Marshall stars George O'Brien as the legendary lawman, here rechristened "Michael Wyatt" for legal reasons.
Riding into a lawless frontier town, Wyatt immediately butts head with the crooked town boss (Alan Edwards).
Tensions methodically mount to the inevitable shootout -- not at the OK Corral, but at the local saloon,
where the obligatory golden-hearted dance-hall hostess (Irene Bentley) takes a bullet intended for our hero.
Information from IMDb
Full Cast
George O'Brien ... Michael Wyatt
Irene Bentley ... Mary Reid
George E. Stone ... David 'Abe' Ruskin
Alan Edwards ... Doc Warren
Ruth Gillette ... Queenie LaVerne
Berton Churchill ... Ben 'Hiram' Melton
Frank Conroy ... George 'Oscar' Reid
Ward Bond ... Ben Murchison
Edward LeSaint ... Judge Walters
Russell Simpson ... Editor Pickett
Jerry Foster ... Jerome
Ruth Day ... Dance Hall Girl (uncredited)
Ben Hall ... Bit Role (uncredited)
Writing Credits
Stuart Anthony screenplay
William M. Conselman screenplay (as William Conselman)
Stuart N. Lake novel "Wyatt Earp Frontier Marshal"
Cinematography
Robert H. Planck
Tivia
The first of several "official" versions of Stuart Lake's biography of Wyatt Earp,
George O'Brien's last starring western for Fox Studios, Frontier Marshall
was remade under the same title by Allan Dwan in 1939,
then by John Ford as My Darling Clementine in 1946.
Incidentally, supporting player Ward Bond was featured in all three films in three different roles!