TOMBSTONE: THE TOWN TO TOUGH TO DIE
DIRECTED BY WILLIAM C. McGANN
PRODUCED BY LEWIS J. RACHMIL/ HARRY SHERMAN
PARAMOUNT PICTURES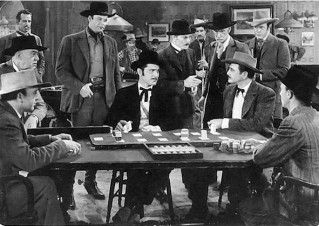 Information from IMDb
Plot Summary
Wyatt Earp cleans up Tombstone and faces the Clanton gang at the O.K.
Corral.
Set in the legendary town of Tombstone, Arizona, and centers on former
gunslinger Wyatt Earp who has been recently deputized and is helping the
sheriff round up criminals.
Earp becomes a lawman after he sees an outlaw accidentally kill a child
during a showdown.
Earp's brothers and Doc Holliday help him take on the outlaw and his gang.
More trouble ensues when the sheriff becomes involved with the gang.
Earp manages to get them on robbery charges and the situation finally
culminates at the infamous O.K. Corral.
Full Cast
Richard Dix ... Wyatt Earp
Edgar Buchanan ... Curly Bill Brocious
Frances Gifford ... Ruth Grant
Don Castle ... Johnny Duanne
Rex Bell ... Virgil Earp
Kent Taylor ... Doc Holiday
Clem Bevans ... Tadpole Foster
Victor Jory ... Ike Clanton
Chris-Pin Martin ... Chris
Jack Rockwell ... Bob Paul
Charles Stevens ... Indian Charley
Hal Taliaferro ... Dick Mason
Roy Barcroft ... Pool Player (uncredited)
Ed Brady ... Sour Man (uncredited)
Bob Card ... Charley (uncredited)
Spencer Charters ... Judge Fred Horgan (uncredited)
Wallis Clark ... Ed Schieffelin (uncredited)
Dick Curtis ... Frank McLowery (uncredited)
Donald Curtis ... Phineas Clanton (uncredited)
Jimmie Dodd ... Typesetter George (uncredited)
Mickey Eissa ... Cowhand (uncredited)
James Ferrara ... Billy Clanton (uncredited)
Charles Halton ... Mayor Dan Crane (uncredited)
Tom London ... Jailer (uncredited)
Murdock MacQuarrie ... Townsman (uncredited)
Merrill McCormick ... Townsman (uncredited)
Charles Middleton ... 1st Mayor (uncredited)
Bill Nestell ... Barfly (uncredited)
Frank O'Connor ... Barfly (uncredited)
Cliff Parkinson ... Henchman (uncredited)
George Sowards ... Henchman (uncredited)
Harvey Stephens ... Morgan Earp (uncredited)
Paul Sutton ... Tom McLowery (uncredited)
Emmett Vogan ... Editor John Clum (uncredited)
Beryl Wallace ... Queenie Fontaine (uncredited)
Blackjack Ward ... Henchman (uncredited)
Henry Wills ... Henchman (uncredited)
Writing Credits
Dean Riesner (original story) and
Charles Reisner (original story) (as Charles 'Chuck' Reisner)
Albert S. Le Vino (screenplay) (as Albert Shelby LeVino) and
Edward E. Paramore Jr. (screenplay) (as Edward E. Paramore)
Original Music
Gerard Carbonara
Filming Locations
Alabama Hills, Lone Pine, California, USA
Trivia
One of over 700 Paramount Productions, filmed between 1929 and 1949, which were sold to MCA/Universal in 1958 for television distribution, and have been owned and controlled by Universal ever since.
Watch the Trailer
[extendedmedia]
[/extendedmedia]