WYATT EARP'S REVENGE
DIRECTED BY MICHAEL FEIFER
HYBRID PRODUCTIONS INC./FEIFER WORLDWIDE
SONY PICTURES HOME ENTERTAINMENT (DVD)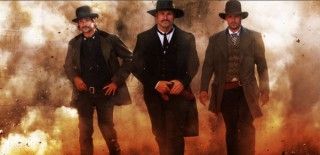 Information from IMDb
Plot Summary
Wyatt Earp sits down with a reporter in his home.
The reporter and Earp talks in an interview of how he became a famous lawman.
Earp tells the story of how the legend became a fearless US Marshal.
A 27 year old Wyatt Earp (Roberts) finds out that his first favorite girl,
Dora Hand (DeGarmo), was murdered by a man.
He goes out of town to track down the man and teams up with his friend Doc Holliday (Bethel),
Bat Masterson (Dallas), Charlie Bassett (Whyte), and Bill Tilghman (Fiehler).
Full Cast
Val Kilmer ... Wyatt Earp
Shawn Roberts ... Wyatt Earp - 1878
Daniel Booko ... Spike Kenedy
Matt Dallas ... Bat Masterson
Steven Grayhm ... Sam Kenedy
Scott Whyte ... Charlie Bassett
Levi Fiehler ... Bill Tilghman
David O'Donnell ... Conrad - 1907
Diana DeGarmo ... Dora (as Diana Degarmo)
Trace Adkins ... Mifflin Kenedy
Caia Coley ... Mrs. Kenedy
Kaitlyn Black ... Susie
Wes Brown ... Ed
Mason Cook ... Conrad - 1878
Lyle Kanouse ... Judge Hinkle
Brian Groh ... Jones
Martin Santander ... Sanchez
Wilson Bethel ... Doc Holliday
Peter Sherayko ... Fowler Sheriff
Andrew Hawkes ... Livery Man
Jonathan Erickson Eisley ... Jack (as Jonathan E. Eisley)
Kevin McNiven ... Snitch (as Kevin Mcniven)
Miracle Laurie ... Fannie Garretson
Darren Benjamin Shepherd ... Clerk (as Darren Shepherd)
Daniel Ringey ... Bartender (as Dan Ringey)
Charlie Bewley ... Sam Bass
Rob Daly ... Chavez Y Chavez
Ardeshir Radpour ... Gunman
John Luder ... Sheriff with wanted poster (as John Hopkins- Luder)
Karin McKechnie ... Townswoman (uncredited)
Morgane Slemp ... (uncredited)
Writing Credits
Jeffrey Schenck story
Darren Benjamin Shepherd screenplay (as Darren B. Shepherd)
Peter Sullivan story
Produced by
Barry Barnholtz .... producer
J. Arthur Coley .... line producer
Bonnie Comley .... executive producer
Michael Feifer .... producer
Diane Healey .... associate producer
Stewart Lane .... executive producer
Jeffrey Schenck .... producer
Peter Sullivan .... co-producer
Original Music
Andres Boulton
Cinematography
Roberto Schein
Goofs
Anachronisms
Car tire tracks in grass when father confronts the sons about what happened and how the younger got shot.
Audio/visual unsynchronised
Throughout the film, the gunshots make weak popping sounds that readily identify the cartridges as blanks. Actual guns of the period were mostly of .44 and .45 caliber, which were very loud when fired.
Filming Locations
Paramount Ranch - 2813 Cornell Road, Agoura, California, USA
Santa Clarita, California, USA