APACHE
DIRECTED BY ROBERT ALDRICH
PRODUCED BY HAROLD HECHT/ BURT LANCASTER
LINDEN PRODUCTIONS
HECHT-LANCASTER PRODUCTIONS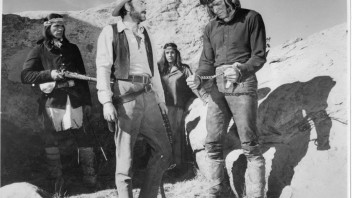 Photo with the courtesy of Gorch

Information from IMDb
Plot Summary
Following the surrender of Geronimo, Massai, the last Apache warrior
is captured and scheduled for transportation to a Florida reservation.
Instead, he manages to escape and heads for his homeland to win back
his girl and settle down to grow crops.
His pursuers have other ideas though.
Written by Col Needham
Full Cast
Burt Lancaster ... Massai
Jean Peters ... Nalinle
John McIntire ... Al Sieber
Charles Bronson ... Hondo (as Charles Buchinsky)
John Dehner ... Weddle
Paul Guilfoyle ... Santos
Ian MacDonald ... Clagg
Walter Sande ... Lt. Col. Beck
Morris Ankrum ... Dawson
Monte Blue ... Geronimo
Paul E. Burns ... General Store Proprietor (uncredited)
Lonnie Burr ... Indian Boy (uncredited)
John George ... Shoeshine Man (uncredited)
Rory Mallinson ... Citizen Noticing Handcuffs (uncredited)
Dick Rich ... Loafing Trooper (uncredited)
Philip Van Zandt ... Inspector (uncredited)
Writing Credits
Paul Wellman (novel "Bronco Apache") (as Paul I. Wellman)
James R. Webb (written by)
Original Music
David Raksin
Cinematography
Ernest Laszlo
Stanley Cortez (uncredited)
Trivia
There really was a renegade Apache warrior called Massai, who was a bloodthirsty killer renowned for stealing, raping and murdering. He did indeed escape from a prison train bound for Florida and made his way back to his homeland. It is, however, doubtful that he was six feet tall and had blue eyes like Burt Lancaster.
Robert Aldrich's first Western.
United Artists pressured director Robert Aldrich into shooting a more optimistic ending in the final days of shooting. Aldrich reluctantly agreed and was dismayed when the film was released with this alternate ending. He later concluded that "if you shoot two endings, they will always use the other one, never yours".
Shot in 30 days.
Goofs
Anachronisms
About 16 minutes into the movie as Massai (Burt Lancaster) is fleeing from the white mob through a hotel corridor you can see an unlit electric 'EXIT' sign visible in the hallway at the top of the shot.
The tire tracks on the mud when Massai came back to the girl.
Early in the film Massai is seen running through the dirt streets of St. Louis on wooden sidewalks, with wooden buildings of one or two stories. In the 1880's, St. Louis had tall buildings and paved streets, not wooden buildings and dirt streets.
Crew or equipment visible
When Massai is moving through Clagg's barn, a mattress is seen being flopped into position on the bottom left of the screen, to be used for Clagg to land on after being hit by Massai.
Revealing mistakes
When Massai exits Santos' wickiup, his shadow is visible on the blue backdrop simulating the sky.
Lancaster, the blue-eyed Massai.
The corn wasn't corn at all but rush, an aquatic plant. You can see the difference between them. The plants have no cob.
Jean Peters - the blue-eyed Apache woman.
Filming Locations
Soledad Canyon, California, USA
Solemint Junction, California, USA
Canyon Country, California, USA
Agoura Ranch, Agoura, California, USA
Dardanelle Resort, Stanislaus National Forest, California, USA
Russell Ranch - Triunfo Canyon Road, Thousand Oaks, California, USA
Burro Flats, Simi Hills, California, USA
Corriganville, Ray Corrigan Ranch, Simi Valley, California, USA
Keywest Studios, Santa Monica, California, USA
(interiors)
New Mexico, USA
Red Rock Crossing, Sedona, Arizona, USA
San Fernando Valley, Los Angeles, California, USA
Sedona, Arizona, USA
(red sandstone buttes)
Sierra Nevada Mountains, California, USA
Simi Valley, California, USA
Tuolumne County, California, USA
Vasquez Rocks Natural Area Park - 10700 W. Escondido Canyon Rd., Agua Dulce, California, USA
(Geronimo's surrender scenes)
Warner Ranch, Calabasas, California, USA
(demolished)
Watch this Clip
[extendedmedia]
[/extendedmedia]