GERONIMO
DIRECTED AND PRODUCED BY ARNOLD LAVEN
PRODUCED BY ARTHUR GARDNER/ JULES V. LEVY
BEDFORD PICTURES INC./ LEVY-GARDNER-LAVEN
UNITED ARTISTS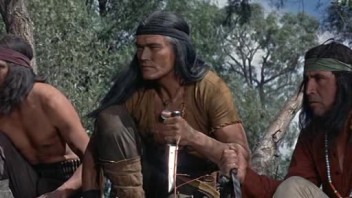 Information from IMDb
Plot Summary
An Apache warrior who defies U.S. attempts to bring the Indians
under control grapples with an array of U.S. soldiers sent to subdue his revolt.
Sympathetic scouts seek to bring Geronimo back to the reservation
before he is hunted down.
Written by Keith Loh
Full Cast
Chuck Connors ... Geronimo
Kamala Devi ... Teela
Pat Conway ... Capt. William Maynard
Armando Silvestre ... Natchez
Adam West ... Lt. John Delahay
Lawrence Dobkin ... Gen. George A. Crook
John Anderson ... Jeremiah Burns
Enid Jaynes ... Huera
Ross Martin ... Mangus
Denver Pyle ... Senator Conrad
Nancy Rodman ... Mrs. Marsh (as Nancy Roldán)
Wallace Earl ... Mrs. Burns (as Amanda Ames)
Eduardo Noriega ... Col. Morales
Claudio Brook
Joe Higgins ... Kincaide
Mario Navarro ... Giantah
Whitey Hughes ... Corporal (as Robert Hughes)
Jim Burk ... Cavalryman (as James Burk)
William Hughes ... Indian Scout (as Bill Hughes)
Luis Carrillo ... (uncredited)
William Conrad ... Narrator (voice) (uncredited)
Brian G. Hutton ... Indian scout (uncredited)
Writing Credits
Pat Fielder (story) and
Arnold Laven (story)
Pat Fielder (screenplay)
Original Music
Hugo Friedhofer
Cinematography
Alex Phillips
Trivia
Average Shot Length = ~5.4 seconds. Median Shot Length = ~5.3 seconds.
The following year, Connors would marry his costar, Kamala Devi.
Goof
Continuity
When Geronimo takes the wagons in the river, the book he finds behind the seat has a faded red cover.
Later when he gives it to Kamala Devi the cover is black.
Filming Location
Durango, Mexico