MAN OF THE WEST
DIRECTED BY ANTHONY MANN
PRODUCED BY WALTER MIRISCH
ASHTON PRODUCTIONS
UNITED ARTISTS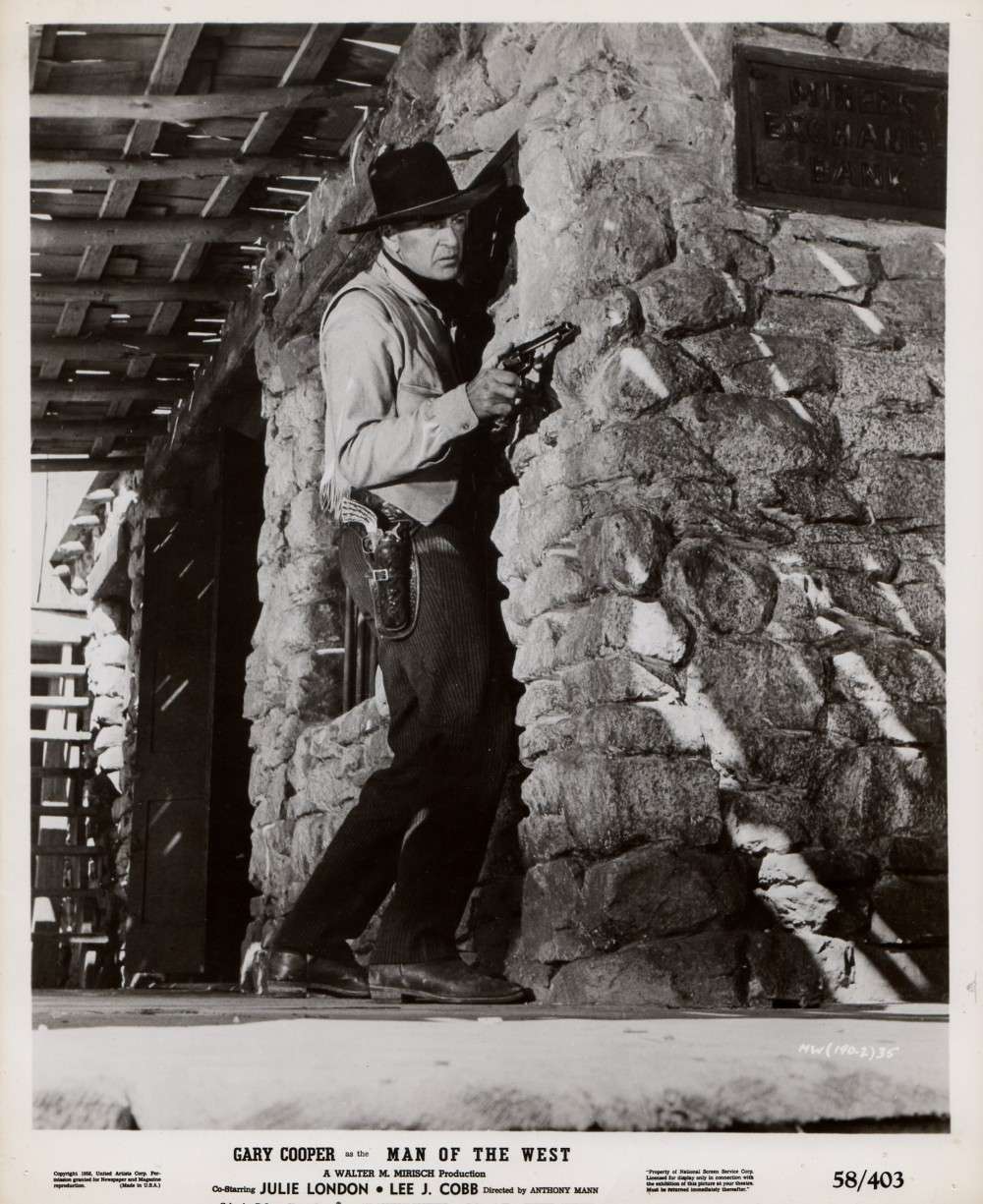 Photo with the courtesy of lasbugas

Information from IMDb
Plot Summary
On his way to hire a schoolteacher, a homesteader is left a hundred miles from anywhere
when the train he is on is robbed.
With him are an attractive dancehall girl and an untrustworthy gambler
and he decides to get shelter nearby from outlaw relatives he used to run with.
They don't trust him and he loathes them but they decide he can help them with one last bank job.
Written by Jeremy Perkins
Full Cast
Gary Cooper ... Link Jones
Julie London ... Billie Ellis
Lee J. Cobb ... Dock Tobin
Arthur O'Connell ... Sam Beasley
Jack Lord ... Coaley
John Dehner ... Claude
Royal Dano ... Trout
Robert J. Wilke ... Ponch (as Robert Wilke)
Joe Dominguez ... Mexican Man (uncredited)
Dick Elliott ... Willie (uncredited)
Frank Ferguson ... Marshal of Crosscut (uncredited)
Ann Kunde ... Train Passenger (uncredited)
Tom London ... Tom, Henry's Friend (uncredited)
Tina Menard ... Juanita, the Mexican Woman (uncredited)
Emory Parnell ... Henry, the Livery Proprietor (uncredited)
Chuck Roberson ... Rifleman-Guard on Train (uncredited)
Guy Wilkerson ... Train Conductor (uncredited)
Jack Williams ... Alcutt (uncredited)
Writing Credits
Will C. Brown (novel "The Border Jumpers")
Reginald Rose (screenplay)
Original Music
Leigh Harline
Cinematography
Ernest Haller
Trivia
Gary Cooper was, at 56, a decade older than Lee J. Cobb who played his "Uncle" Dock Tobin. In the film Cooper and John Dehner talk about being children together - Dehner was actually fourteen years younger than Cooper.
James Stewart eagerly sought the role played by Gary Cooper, but since Stewart had fallen out with director Anthony Mann he did not get the part.
Screenwriter Philip Yordan had previously written a novel entitled "Man of the West", but it bears no relation at all to this film. Yordan's novel was filmed as Gun Glory.
Jean-Luc Godard, a film critic before he became a director, raved about the film saying it was the best film of that year. Because of his recommendation, the film has been reevaluated and is now considered a classic western.
Gary Cooper bravely did his own horse-riding scenes despite physical pain from a car accident years earlier.
Goofs
Boom mic visible
Early in the film, when Beasley, Billie Ellis, and Link Jones are left behind by the train after the robbery attempt, they stand on the railroad tracks debating what to do next. As they do so, the shadow of the boom mic is visible above their own shadows on the ground behind them.
Continuity
When Link and Trout arrive at Lasso, their shadows are to the right of screen, indicating mid-morning. As they get to the bank, their shadows are nearly under them, indicating the sun nearly directly overhead or a time of around noon. The shadows are in the same place when Trout flees from the bank. However, when Trout reaches the edge of town and dies, the shadows are again to the right of screen and are in the same direction when Link finds him, and when Claude and Ponch arrive in town.
When the "Man of the West" is waiting for his train and when he finally boards this train, near the beginning of the film, the cloud patterns in the sky change significantly in that short time.
Revealing mistakes
On the beginning train trip, poles & electrical power lines are clearly visible outside the train windows.
Memorable Quotes
Filming Locations
Santa Clarita, California, USA
Jamestown, California, USA
Janss Conejo Ranch, Thousand Oaks, California, USA
Melody Ranch - 24715 Oak Creek Avenue, Newhall, California, USA
Mojave Desert, California, USA
Red Rock Canyon State Park - Highway 14, Cantil, California, USA
Sierra Railroad, Jamestown, California, USA
Watch the Trailer
[extendedmedia]
[/extendedmedia]