DIRECTED BY MARLON BRANDO
PRODUCED BY GEORGE GLASS/ FRANK P. ROSENBERG/ WALTER SELTZER
PENNEBACKER PRODUCTIONS
PARAMOUNT PICTURES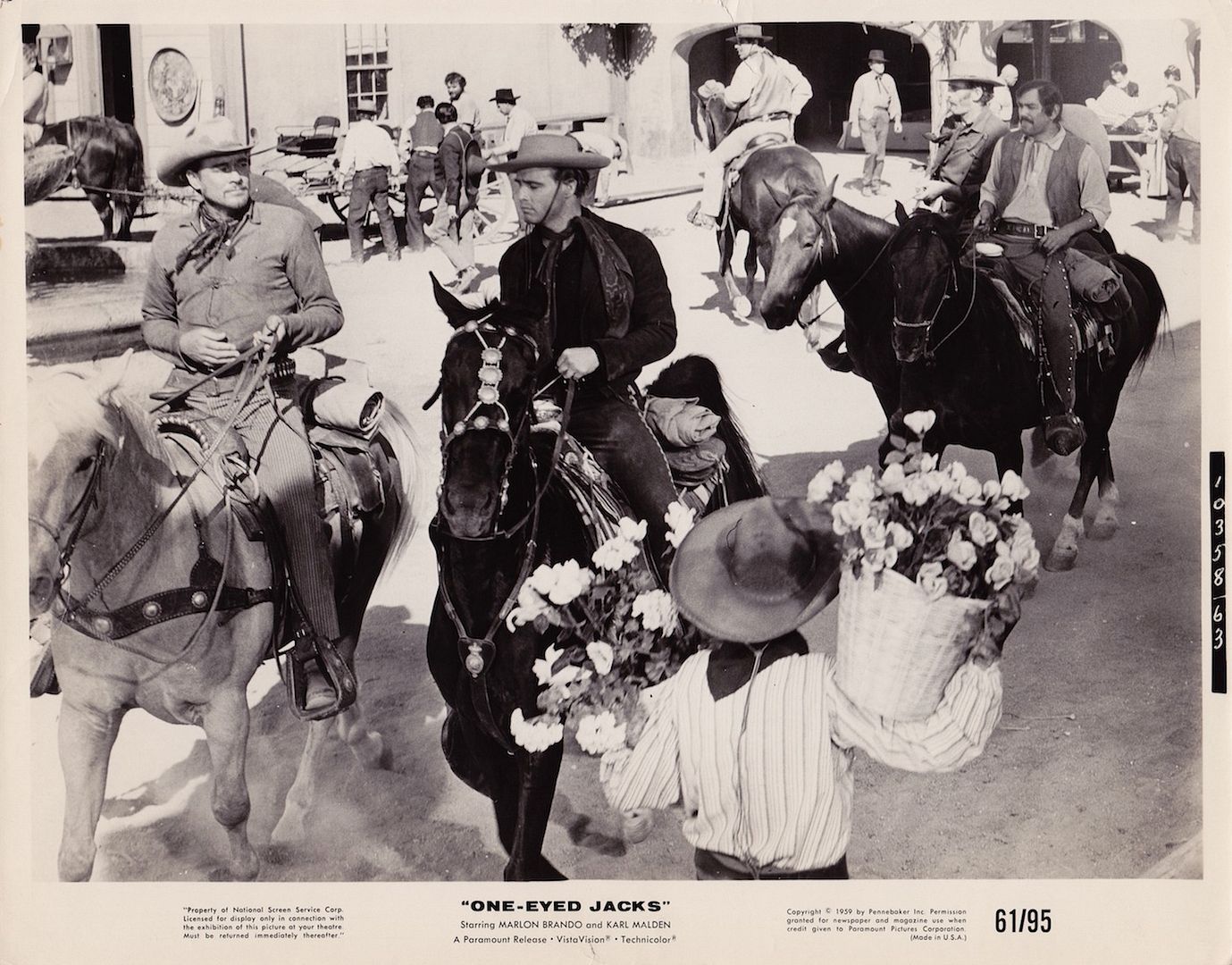 Photo with the courtesy of Paula

Information from IMDb
Plot Summary
Running from the law after a bank robbery in Mexico,
Dad Longworth finds an opportunity to take the stolen gold and leave his partner Rio to be captured.
Years later, Rio escapes from the prison where he has been since,
and hunts down Dad for revenge. Dad is now a respectable sheriff in California,
and has been living in fear of Rio's return.
Written by Ken Yousten
Full Cast
Marlon Brando ... Rio
Karl Malden ... Sheriff Dad Longworth
Katy Jurado ... Maria Longworth
Ben Johnson ... Bob Amory
Slim Pickens ... Deputy Lon Dedrick
Larry Duran ... Chico Modesto
Sam Gilman ... Harvey Johnson
Timothy Carey ... Howard Tetley
Miriam Colon ... Redhead
Elisha Cook Jr. ... Carvey (as Elisha Cook)
Rodolfo Acosta ... Mexican Rurale Captain (as Rudolph Acosta)
Joan Petrone ... Flower Girl
Tom Webb ... Farmer's Son
Ray Teal ... Barney
John Dierkes ... Chet
Philip Ahn ... Uncle
Margarita Cordova ... Nika Flamenco Dancer
Hank Worden ... Doc
Clem Harvey ... Tim
William Forrest ... Banker
Mina Martinez ... Margarita
Pina Pellicer ... Louisa
Nesdon Booth ... Townsman (uncredited)
Sheryl Deauville ... Marina (uncredited)
Joe Dominguez ... Corral Keeper (uncredited)
Mickey Finn ... Blacksmith (uncredited)
Nacho Galindo ... Mexican Townsman (uncredited)
Augie Gomez ... Townsman (uncredited)
Al Haskell ... Townsman (uncredited)
Fenton Jones ... Square-Dance Caller (uncredited)
Margarita Martín ... Mexican Vendor (uncredited)
Jorge Moreno ... Bouncer in Shack (uncredited)
'Snub' Pollard ... Townsman (uncredited)
John Michael Quijada ... Mexican Rurale Sergeant (uncredited)
Francy Scott ... Cantina Girl (uncredited)
Shichizo Takeda ... Owner of Cantina at Beach (uncredited)
Felipe Turich ... Cardsharp (uncredited)
Glen Walters ... Townswoman (uncredited)
Henry Wills ... Ephraim - Stableman (uncredited)
Writing Credits
Guy Trosper (screenplay) and
Calder Willingham (screenplay)
Charles Neider (novel "The Authentic Death of Hendry Jones")
Original Music
Hugo Friedhofer
Cinematography
Charles Lang
Trivia
Marlon Brando replaced Stanley Kubrick as director.
Paramount's last release in VistaVision.
After buying the rights to the novel, producer Frank P. Rosenberg worked on the first draft of the script together with Rod Serling. Sam Peckinpah was then hired to rewrite it. A complex deal was then made where money earlier spent attempting to develop Louis L'Amour's novel "To Tame a Land" into a film was allocated for accounting purposes to this film, and Stanley Kubrick was hired as director. Kubrick fired Peckinpah and brought in Calder Willingham for more rewriting, but later Rosenberg fired him and hired Guy Trosper instead.
Marlon Brando's inexperience behind the camera was obvious on set. He shot six times the amount of footage normally used for a film at the time. He was indecisive and ran extremely overlong in getting the film finished. Paramount eventually took the film away from him and recut it.
Marlon Brando's first cut of the film was allegedly five hours long. He was reportedly unhappy with the final product, despite its box-office success. "Now, it's a good picture for them [Paramount]," he said upon its release, "but it's not the picture I made . . . now the characters in the film are black-and-white, not gray-and-human as I planned them."
The character of Rio originally was based on Billy the Kid, as recounted in Charles Neider's novel "The Authentic Death of Hendry Jones." Sam Peckinpah, who wrote an early version of the script and who later went on to direct Pat Garrett & Billy the Kid, said in a 1973 "Playboy" magazine interview that Marlon Brando would not play a villain, and Billy the Kid most definitely was a villain. Peckinpah's 1973 film shares some narrative elements with this film and it also featured "Jacks" co-stars Slim Pickens and Katy Jurado.
Stanley Kubrick, who originally was slated to direct the film, wanted Spencer Tracy to play Sheriff Dad Longworth. Marlon Brando, whose production company already had Karl Malden on salary, refused to replace him with Tracy.
Marlon Brando would sit near the ocean for hours waiting for the waves to become more dramatic for his perfect shots.
Marlon Brando's original cut of the movie was over five hours long.
Spoilers
The character of Louisa, played by Pina Pellicer, was shot in the back and killed by a stray bullet fired at Rio by the dying Sheriff Dad Longworth in Marlon Brando's original cut of the film. Paramount substituted a different, upbeat ending that appears in the film.
Filming Locations
Big Sur, California, USA
California, USA
Coast, California, USA
Cypress Point, Pebble Beach, California, USA
Death Valley National Park, California, USA
Monterey Peninsula, California, USA
Pebble Beach, California, USA
Pfeiffer Beach, Big Sur, California, USA
Seventeen Mile Drive, California, USA
Warner Ranch, Calabasas, California, USA
Watch the Trailer
[extendedmedia]
[/extendedmedia]