THE HUNLEY
DIRECTED BY JOHN GRAY
PRODUCED BY MITCH ENGEL
ADELSON ENTERTAINMENT
TURNER NETWORK TELEVISION (TNT)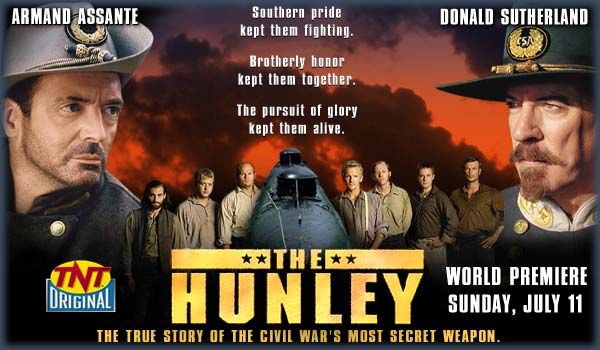 Information from IMDb
Plot Summary
CSS Hunley tells the incredible true story of the crew of the manually propelled submarine CSS Hunley,
during the siege of Charleston of 1864. It is a story of heroism in the face of adversity,
the Hunley being the first submersible to sink an enemy boat in time of war.
It also relates the human side of the story relating the uncommon and extaordinary temperament
of the 9 men who led the Hunley into history and died valiantly accomplishing this feat.
Written by Anonymous
Full Cast
Armand Assante ... Lt. George Dixon
Donald Sutherland ... Gen. Pierre G.T. Beauregard
Alex Jennings ... Lt. Alexander
Chris Bauer ... Simkins (as Christopher Bauer)
Gerry Becker ... Capt. Pickering
Michael Dolan ... Becker
Sebastian Roché ... Collins
Michael Stuhlbarg ... Wicks
Jeff Mandon ... Miller
Frank Vogt ... Ronald White
Jack Baun ... Ridgeway
Kevin Robertson ... Carlson
Caprice Benedetti ... Dixon's Wife
Jon Huffman ... Indian Chief Captain
Dane Ritter ... Beauregard's Aide
James Mayberry ... Bartender (as James H. Mayberry)
Nancy Robinette ... Distraught Woman
Matthew Brady ... John Crosby
Rhoda Griffis ... Young LadyJonathan Tindle ... Ensign Haseltine
Bob King ... Husband
Mitchell Hebert ... Lewis Cornthwait
Dan DePaola ... Quartermaster
Kevin Murray ... Minister
David Dwyer ... Wabash Officer
Paul Morella ... Wabash Marine
Marty Lodge ... Confederate Sailor
Laurie Beasley ... Young Prostitute
William L. Thomas ... Church Soldier
David Abrams ... Navy Seaman
Luke Benko ... Union soldier, USS Housatonic
Edgar Struble ... Orchestra Conductor
Cal Johnson ... Capt. Hunley (uncredited)
Mike Lutz ... (uncredited)
Jim Lynch ... Theatre Patron (uncredited)
Mark Miller ... Union Marine (uncredited)
Richard A. Payne ... Extra (uncredited)
Frank Shorter ... Union Marine (uncredited)
Jon Taie ... Soldier (uncredited)
Bruce Williamson ... First Engineer / Firefighter (uncredited)
Produced
Andrew Adelson .... executive producer
Tracey Alexander .... executive producer
Mitch Engel .... producer
George Manasse .... co-producer
Writing Credits
John Fasano story
John Gray story/ teleplay
Original Music
Randy Edelman
Cinematography
John Thomas
Trivia
The Hunley was located by Clive Cussler and the National Underwater & Marine Agency,
and salvaged by Oceaneering International.
The story about the gold coin carried by Lt. Dixon is true. At the Battle of Shiloh,
the gold coin saved his life by blocking a bullet; the dented coin, engraved with the date of the battle,
was found in his remains, which had a leg wound.
Though many details of Lt. Dixon's life and military service are taken from fact,
most of the other crew have uncertain identities.
The U.S.S. Housatonic was the first ship ever sunk by a submarine.
The second was the H.M.S. Pathfinder, sunk by the German U-boat, U-21, in the fall of 1914.
Since the film was made prior to the recovery of the actual HL Hunley,
some details of the ship shown in the film are not accurate.
Also, the mock-up which was used for interior scenes was 10% roomier than the actual Hunley.
A section of the mock-up can be seen, and entered, at the HL Hunley Restoration site in Charleston, SC.
Filming Location
Charleston, South Carolina, USA
Watch this Trailer
[extendedmedia]
[/extendedmedia]