ROCKY MOUNTAIN
DIRECTED BY WILLIAM KEIGHLEY
PRODUCED BY WILLIAM JACOBS
WARNER BROS. PICTURES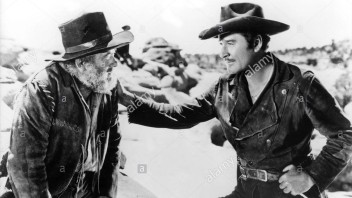 Information from IMDb
Plot Summary
A Confederate troop, led by Captain Lafe Barstow, is prowling the far ranges of California and Nevada
in a last desperate attempt to build up an army in the West for the faltering Confederacy.
Because the patrol saves a stagecoach, with Johanna Carterr as one of the passengers,
from an Indian attack, and is marooned on a rocky mountain, it fails in its mission
but the honor of the Old South is upheld.
Written by Les Adams
Full Cast
Errol Flynn ... Capt. Lafe Barstow (CSA)
Patrice Wymore ... Johanna Carter
Scott Forbes ... Lt. Rickey (USA)
Guinn 'Big Boy' Williams ... Pap Dennison (CSA) (as Guinn Williams)
Dickie Jones ... Jim (Buck) Wheat (CSA) (as Dick Jones)
Howard Petrie ... Cole Smith / California Beal
Slim Pickens ... Plank (CSA)
Chubby Johnson ... Gil Craigie, Stagedriver
Robert 'Buzz' Henry ... Kip Waterson (CSA) (as Buzz Henry)
Sheb Wooley ... Kay Rawlins
Peter Coe ... Pierre Duchesne (CSA)
Rush Williams ... Jonas Weatherby (CSA)
Yakima Canutt ... Trooper Ryan (USA) (uncredited)
Steve Dunhill ... Sgt. Ash (USA) (uncredited)
Alex Sharp ... Barnes (uncredited)
Nakai Snez ... Chief Man Dog (uncredited)
Marianne Stone ... Stage Passenger (uncredited)
Writing Credits
Winston Miller (screenplay) and
Alan Le May (screenplay)
Alan Le May (story "Ghost Mountain")
Original Music
Max Steiner
Cinematography
Ted D. McCord
Trivia
Film debut of Slim Pickens.
Errol Flynn's last western.
In 1949 Ronald Reagan complained to Warners about some of the films he was assigned to and asked to do a western. The studio agreed if he would bring them a good story. Reagan brought them "Ghost Mountain" by Alan Le May, author of "The Searchers". Despite their promise to him, they cast Errol Flynn in the lead.
Film debut of Sheb Wooley.
Goofs
Anachronisms
The pistols used were not made until after the Civil War.
Crew or equipment visible
During the Indian fight over the stagecoach, a small sign with someone's jacket shows in the lower left of the film....it also has the number 27 on it.
Filming Location
Gallup, New Mexico, USA
Watch this Clip
[extendedmedia]
[/extendedmedia]