ADVANCE TO THE REAR
aka Company of Cowards
DIRECTED BY GEORGE MARSHALL
PRODUCED BY TED RICHMOND
METRO-GOLDWYN- MAYER (MGM)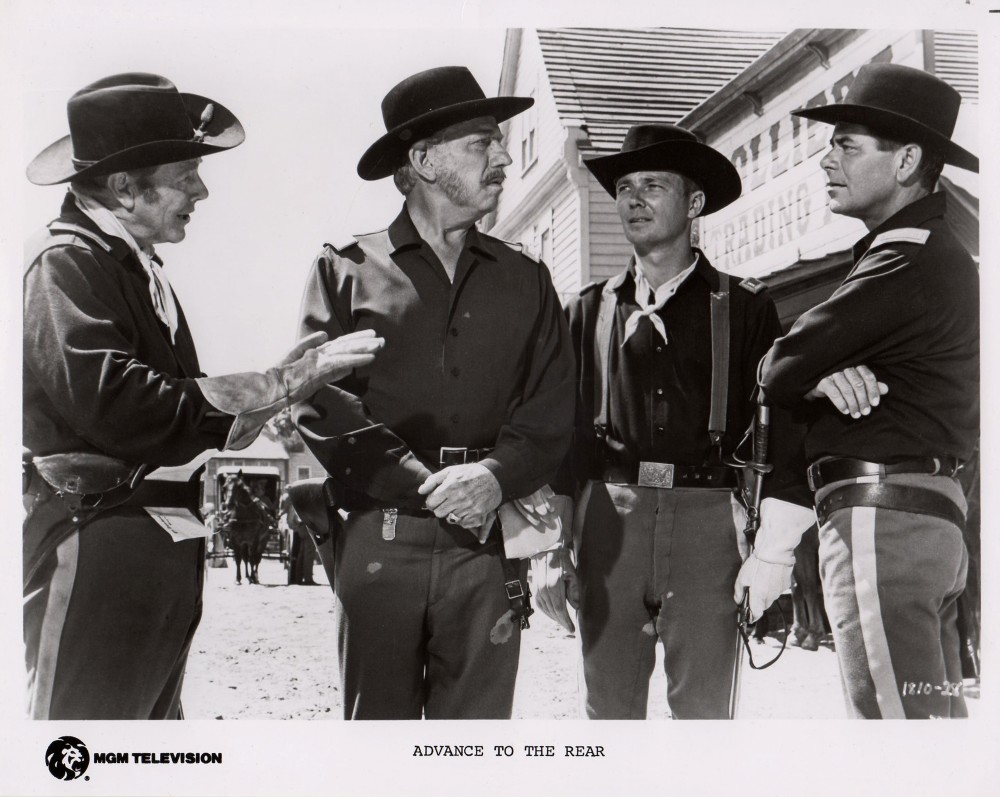 Photo with the courtesy of lasbugas

Information from IMDb
Plot Summary
A Union army outfit of misfits and rejects is sent to the Western territory.
Southern spies try to figure out what they're up to.
Full Cast
Glenn Ford ... Capt. Jared Heath
Stella Stevens ... Martha Lou Williams
Melvyn Douglas ... Col. Claude Brackenbury
Jim Backus ... Gen. Willoughby
Joan Blondell ... Easy Jenn
Andrew Prine ... Pvt. Owen Selous
Jesse Pearson ... Cpl. Silas Geary
Alan Hale Jr. ... Sgt. Beauregard Davis
James Griffith ... Hugo Zattig
Whit Bissell ... Capt. Queeg
Michael Pate ... Thin Elk
Reginald Denny ... Undetermined Supporting Role (scenes deleted)
Richard Adams ... Courier (uncredited)
Robert Anderson ... Steamboat Captain (uncredited)
Ann Blake ... Member of the Law & Order League (uncredited)
Joe Brooks ... Pvt. Luke Bannerman (uncredited)
Robert Carson ... Col. Holbert (uncredited)
Yvonne Craig ... Ora (uncredited)
John Daheim ... Loafer (uncredited)
Britt Ekland ... Greta (uncredited)
Peter Ford ... Townsman (uncredited)
Preston Foster ... Gen. Bateman (uncredited)
Sugar Geise ... Mamie (uncredited)
Barnaby Hale ... Lieutenant (uncredited)
Kathryn Hart ... Member of the Law & Order League (uncredited)
Charles Horvath ... Pvt. Jones (uncredited)
Clegg Hoyt ... Loafer (uncredited)
Linda Jones ... Junie (uncredited)
Paul Langton ... Maj. Forsythe (uncredited)
Mary LeBow ... Mary (uncredited)
Frank Mitchell ... Pvt. Belmont (uncredited)
Gregg Palmer ... Gambler (uncredited)
Allen Pinson ... Pvt. Long (uncredited)
Janos Prohaska ... Flagpole Sitter (uncredited)
Eddie Quillan ... Sgt. Smitty (uncredited)
Chuck Roberson ... Monk (uncredited)
J. Lewis Smith ... Pvt. Fergus 'Slasher' O'Toole (uncredited)
Paul Smith ... Lieutenant (uncredited)
Harvey Stephens ... Gen. Dunlop (uncredited)
Towyna Thomas ... Head of the Law & Order League (uncredited)
Bill Troy ... Pvt. Jim Fulton (uncredited)
Sailor Vincent ... Deck Hand (uncredited)
Ken Wales ... Aide (uncredited)
Harlan Warde ... Maj. Hayward (CSA) (uncredited)
Writing Credits
Samuel A. Peeples (screen play) and
William Bowers (screen play)
Jack Schaefer (story)
William Chamberlain (novel "The Company of Cowards")
Robert Carson uncredited
Original Music
Randy Sparks
Cinematography
Milton R. Krasner
Trivia
According to Gilligan's Island creator Sherwood Schwartz, he was having trouble casting the right actor
for the part of the Skipper. Several had auditioned (including Carroll O'Connor)
but Schwartz couldn't find the right guy. While he was having dinner in a Hollywood restaurant,
he noticed Alan Hale Jr. dressed in a Civil War uniform, having dinner.
Schwartz liked what he saw in Hale and began planning on casting him for the Skipper.
The steamboat used in this movie was originally built and used as the Cotton Blossom,
in MGM's Show Boat. It was also used in Raintree County and The Adventures of Huckleberry Finn.
In the 1970s, it was one of the props auctioned off by the studio
Filming Location
Janss Conejo Ranch, Thousand Oaks, California, USA