THE VIRGINIAN
DIRECTED BY VICTOR FLEMING
PRODUCED BY B.P SCHULBERG/ LOUIS D. LIGHTON
PARAMOUNT PICTURES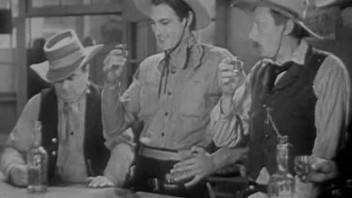 Information from IMDb
Plot Summary
Molly Wood arrives in a small western town to be the new schoolmarm.
The Virginian, foreman on a local ranch, and Steve, his best fiend,
soon become rivals for her affection.
Steve falls in with bad guys led by Trampas, and the Virginian catches him cattle rustling.
As foreman, he must give the order to hang his friend. Trampas gets away,
but returns in time for the obligatory climactic shootout in the streets.
Written by John Oswalt
Full Cast
Gary Cooper ... The Virginian
Walter Huston ... Trampas
Mary Brian ... Molly Stark Wood
Richard Arlen ... Steve
Helen Ware ... Mrs. Taylor
Chester Conklin ... Uncle Hughey
Eugene Pallette ... 'Honey' Wiggin
Victor Potel ... Nebrasky
E.H. Calvert ... Judge Henry
Ernie Adams ... Saloon Singer / Henchman (uncredited)
Earl Gordon Bostwick ... Bit Part (uncredited)
Ed Brady ... Greasy - Rustler Who Escapes (uncredited)
Fred Burns ... Fred - Ranch Hand (uncredited)
George Chandler ... Bug Ears - Box H Hand (uncredited)
Willie Fung ... Hong - Box H Cook (uncredited)
Seessel Anne Johnson ... Little Girl (uncredited)
Bob Kortman ... Rustler Who Is Shot (uncredited)
Ethan Laidlaw ... Posse Man (uncredited)
Anderson Lawler ... Cowboy (uncredited)
Jim Mason ... Jim - Frightened Rustler (uncredited)
Lew Meehan ... Rustler (uncredited)
George Morrell ... Rev. Dr. McBride (uncredited)
Jack Pennick ... Slim - Box H Hand (uncredited)
Nina Quartero ... Girl in Bar (uncredited)
Randolph Scott ... Rider (uncredited)
Charles Stevens ... Pedro - Trampas' Henchman (uncredited)
Dick Winslow ... Young Boy (uncredited)
Tex Young ... Shorty (uncredited)
Writing Credits
Owen Wister (by) and
Kirk La Shelle (by)
Grover Jones (adapted by) and
Keene Thompson (adapted by)
Howard Estabrook (screen play)
Edward E. Paramore Jr. (dialogue)
Joseph L. Mankiewicz titles (uncredited)
Original Music
Karl Hajos (uncredited)
Cinematography
J. Roy Hunt
Edward Cronjager
Trivia
As in the novel and the play that the movie is based on, the Virginian's name is never mentioned.
The original play by Owen Wister and Kirk La Shelle opened in New York on 5 January 1904.
Gary Cooper's first all-talking film. He felt that sound would ruin him, believing his voice
wasn't adequate to the task. Yet, it was "The Virginian" that turned him
from a promising young leading man into a full-fledged star.
One of over 700 Paramount Productions, filmed between 1929 and 1949,
which were sold to MCA/Universal in 1958 for television distribution,
and have been owned and controlled by MCA ever since.
Future western movie icon Randolph Scott, from Virginia,
was hired as a dialect coach to teach Gary Cooper a Virginia accent,
and also has a small non-speaking part in the film.
"Lux Radio Theater" broadcast a 60 minute radio adaptation of the movie on November 2, 1936
with Gary Cooper reprising his film role.
Goofs
Miscellaneous
Although the story spans the late 1870's through the early 1880's,
Molly refers to her grandfather being killed in the Cherry Valley Massacre.
As that took place in 1778, at least 100 years earlier, that seems highly unlikel
Filming Locations
Lone Pine, California, USA
Paramount Ranch - 2813 Cornell Road, Agoura, California, USA
Sierra Railroad, Jamestown, California, USA (train scenes)
Sonora, California, USA
Watch this Clip
[extendedmedia]
[/extendedmedia]