DIRECTED BY TOM GRIES
PRODUCED BY FRED ENGEL/ WALTER SELTZER
PARAMOUNT PICTURES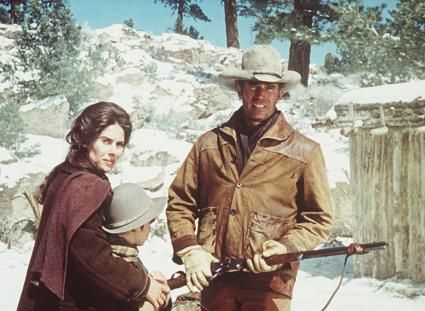 Information from IMDb
Plot Summary
Will Penny, an aging cowpoke, takes a job on a ranch which requires him
to ride the line of the property looking for trespassers or, worse, squatters.
He finds that his cabin in the high mountains has been appropriated by a woman
whose guide to Oregon has deserted her and her son.
Too ashamed to kick mother and child out just as the bitter winter of the mountains sets in,
he agrees to share the cabin until the spring thaw.
But it isn't just the snow that slowly thaws; the lonely man and woman
soon forget their mutual hostility and start developing a deep love for one another.
Written by Alfred Jingle
Full Cast
Charlton Heston ... Will Penny
Joan Hackett ... Catherine Allen
Donald Pleasence ... Preacher Quint
Lee Majors ... Blue
Bruce Dern ... Rafe Quint
Ben Johnson ... Alex (Flat Iron Ranch foreman)
Slim Pickens ... Ike Walterstein
Clifton James ... Catron
Anthony Zerbe ... Dutchy
Roy Jenson ... Boetius Sullivan
G.D. Spradlin ... Anse Howard
Quentin Dean ... Jennie
William Schallert ... Dr. Fraker
Lydia Clarke ... Mrs. Fraker
Robert Luster ... Shem Bodine
Dal Jenkins ... Sambo
Matt Clark ... Romulus Quint
Luke Askew ... Foxy
Anthony Costello ... Bigfoot
Gene Rutherford ... Rufus Quint
Chanin Hale ... Girl
Jon Gries ... Horace (button) (as Jon Francis)
Stephen Edwards ... Town boy
Writing Credits
Tom Gries (writer)
Original Music
David Raksin
Cinematography
Lucien Ballard
Trivia
This film was based on an episode entitled "Line Camp" in Sam Peckinpah's TV series The Westerner. The episode was also written and directed by this films writer and director, Tom Gries [See: The Westerner: Line Camp)].
Charlton Heston has often said of all the films he's made, this is his favorite.
Theatrical feature film debut of G.D. Spradlin who previously had worked in television.
Second theatrical feature film role for actor Anthony Zerbe. His first had been as Dog Boy in Cool Hand Luke.
The original trailer was narrated by Andrew Duggan.
Both Eva Marie Saint and Lee Remick turned down the female lead of Catherine Allen which eventually went to Joan Hackett.
Charlton Heston once said of this movie: "The script for 'Will Penny' was one of the best I ever read, it made a marvelous Western."
The hat that Charlton Heston wore in this movie and in about four westerns in total was a treasured item of his that got stolen.
Writer Tom Gries wouldn't sell this movie's film-script to the Paramount Pictures studio unless he got to direct this movie.
Various people said to Charlton Heston, as outlined in his 1995 autobiography 'In the Arena: An Autobiography', "That's maybe the best movie you ever made, Chuck, but if you'd taken the girl with you at the end, it would've made a ton of money, too."
Charlton Heston said of this movie's director Tom Gries in his 1995 autobiography 'In the Arena: An Autobiography': Gries was "a gifted, mercurial, oddly unpredictable and somewhat childlike man...[Gries was not]...a good captain, which a great director must be...[but with]...the right material [Gries excelled]".
Charlton Heston received top / first billing, Joan Hackett received second billing, Donald Pleasence received third billing.
Bruce Dern once said of working with Charlton Heston on this picture: "And I got to really like the guy. A lot of people told me that I wouldn't like him, but I liked him. And he tried very hard. I mean, 'Will Penny' is far and away the best thing he's ever done."
Charlton Heston blamed this picture's poor box-office performance on the film's downbeat ending as well as the Paramount Studios who he said "more or less buried the release of films made under the previous regime, preferring to press forward with their own plans".
First credited role in a theatrical film for Lee Majors. Majors had previously appeared uncredited in Strait-Jacket.
This picture was theatrically released only a week after another Charlton Heston movie, Planet of the Apes. That film was widely released on 03 April 1968 just seven days before this picture's debut on 07 April 1968.
The character of Horace / Button was actually the son of this film's writer-director, Tom Gries.
Feature film debut of Jon Gries. Billed as Jon Francis, it was never the original intention to cast the boy part of Horace (aka Button) with the director's son. According to a DVD Special Feature, Jon would be at the studio whilst the picture was in development. He would spend time playing until one day the film's producers invited him into the office. Later, they told the director they had found their boy for the part.
Real antique weapons and pistols were hired for use as props in this movie instead of using studio stock props in order to give the picture a sense of real authenticity.
Fifth feature film directed by Tom Gries. As all of Gries' previous films had arguably been B-movies, this film can be considered Gries' first A-movie production. His credits prior to this film were dominated by writing and director gigs on television.
Goofs
Revealing mistakes
During the fight between Will Penny and the Quint family, one of the brothers throws a knife into Penny's chest. A wire attached to the knife a very obvious.
When "preacher" Quint is shot in front of the line shack the rope attached to him to pull him backwards is very obvious and very noticeable.
Filming locations
Bishop, California, USA
Inyo County, California, USA
Watch this Clip
[extendedmedia]
[/extendedmedia]