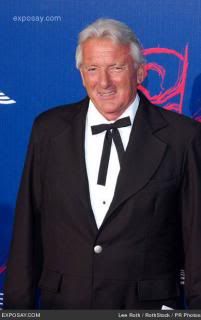 TERRY LEONARD
Information from IMDB
Date of Birth
c. 1941
Height
6' 1" (1.85 m)
Spouse
Teri Garland (? - ?) (divorced)
Trivia
Father of Malosi Leonard.
Father of Matt Leonard.
Professional Rodeo Cowboys Association (PRCA). Team Roper.
Mini- Biography
Terry J. Leonard is a stunt man, actor and director.
In his career he doubled for
John Wayne,
Richard Harris, Robert Mitchum,
Harrison Ford, and Sean Connery.
He's credited as Second Unit Director for "The Substitute"
in the Lost on Location featurette for that episode;
he also appears in the featurette for "Happily Ever After",
coordinating the car dive scene with assistant director Wainani Young-Tomich.
Filmography
Stunts
2012 People Like Us (stunt driver)
2011 Bad Teacher (stunts)
2011 The Green Hornet (stunts)
2010 Due Date (stunts)
2010 Inception (stunts)
2008 Soul Men (stunt coordinator: Los Angeles)
2007 Walk Hard: The Dewey Cox Story (stunts - as Terry Leonard)
2007 Death Proof (stunts)
2006 The Hard Easy (stunt double: Bruce Dern)
2006 The Fast and the Furious: Tokyo Drift (stunt coordinator - as Terry J. Leonard)
2006 Firewall (fight coordinator - as Terry J. Leonard)
2005 Transporter 2 (stunt player)
2004 The Last Shot (stunts)
2004 The Forgotten (stunt coordinator - as Terry J. Leonard)
2004 The Last Ride (TV movie) (stunts)
2003 2 Fast 2 Furious (stunt coordinator: second unit)
2003 Six Feet Under (TV series) (stunt coordinator - 1 episode)– I'm Sorry, I'm Lost (2003) (stunt coordinator)
2002 Robbery Homicide Division (TV series) (stunt coordinator)
2002 The Sum of All Fears (stunt coordinator - as Terry J. Leonard)
2001 Impostor (stunt coordinator)
2001 Road Kill (stunt coordinator)
2000 The Fugitive (TV series) (stunt coordinator - 1 episode)– Pilot (2000) (stunt coordinator - as Terry J. Leonard)
1999 Wild Wild West (stunt coordinator)
1998 Mighty Joe (stunt coordinator)
1998 Rush Hour (stunt coordinator)
1997 Best Men (stunts - as Terry J. Leonard)
1997 Rough Riders (TV movie) (stunt coordinator)
1996 My Fellow Americans (stunts - as Terry J. Leonard)
1995 Die Hard: With a Vengeance (stunt coordinator - as Terry J. Leonard)
1995 The Quick and the Dead (stunt coordinator)
1993 Tombstone (stunt coordinator - as Terry J. Leonard)
1993 The Fugitive (stunt coordinator - as Terry J. Leonard)
1993 Lifepod (TV movie) (stunt coordinator)
1993 Super Mario Bros. (stunts)
1993 Space Rangers (TV series) (stunt coordinator)
1992 Buffy the Vampire Slayer (stunt coordinator - as Terry J. Leonard)
1992 Patriot Games (stunts - as Terry J. Leonard)
1992 Far and Away (stunts - as Terry J. Leonard)
1991 Showdown in Little Tokyo (stunt coordinator - as Terry J. Leonard)
1991 Delirious (stunt coordinator - as Terry J. Leonard)
1991 Backdraft (stunts - as Terry J. Leonard)
1991 Flight of the Intruder (stunt coordinator)
1990 The Rookie (stunt coordinator)
1990/I Revenge (stunt coordinator, stunts)
1990 Downtown (stunt coordinator)
1990 Why Me? (stunt double: Bruno)
1989 The Package (stunt coordinator - as Terry J. Leonard)
1989 Farewell to the King (stunt coordinator)
1988 Iron Eagle II (stunt coordinator)
1987 No Man's Land (stunts - as Terry J. Leonard)
1987 Dragnet (stunt coordinator)
1984-1986 Hunter (TV series) (stunt coordinator - 26 episodes)
– True Confessions (1986) (stunt coordinator)
– Think Blue (1985) (stunt coordinator - as Terry J. Leonard)
– Rape and Revenge: Part 2 (1985) (stunt coordinator - as Terry J. Leonard)
– Rape and Revenge: Part 1 (1985) (stunt coordinator - as Terry J. Leonard)
– Killer in a Halloween Mask (1985) (stunt coordinator - as Terry J. Leonard)
In all 26 episodes »
1986 Deadly Friend (stunt coordinator)
1986 Cobra (stunt coordinator, stunts - uncredited)
1985 Clue (stunt coordinator)
1984 Starman (stunt coordinator)
1984 Red Dawn (stunt coordinator - as Terry J. Leonard)
1984 Gremlins (stunt coordinator)
1984 Streets of Fire (stunts)
1984 Romancing the Stone (stunt coordinator: second unit, waterfall stunts - uncredited)
1983 Christine (stunt coordinator)
1983 A Killer in the Family (TV movie) (stunt coordinator)
1983 Easy Money (racetrack stunt coordinator, stunts)
1983 Blue Thunder (stunt coordinator - uncredited, stunts - uncredited)
1982 48 Hrs. (stunt double - uncredited)
1982 Class of 1984 (stunt coordinator - as Terry J. Leonard)
1982 Highpoint (stunts)
1982 Hammett (stunt coordinator)
1982 Conan the Barbarian (stunt coordinator - as Terry J. Leonard, stunts - uncredited)
1981 The Fall Guy (TV series) (stunts)
1981 Raiders of the Lost Ark (stunt double: Indiana Jones #2 - uncredited, stunts)
1981 The Legend of the Lone Ranger (stunts)
1980 Used Cars (stunt coordinator - as Terry J. Leonard)
1980 My Bodyguard (stunt coordinator - as Terry J. Leonard)
1980 The Blues Brothers (stunts)
1980 The Mountain Men (stunt coordinator)
1980 The Long Riders (stunts - uncredited)
1980 Superstunt II (TV movie) (stunt coordinator)
1979 1941 (stunt coordinator, stunts - uncredited)
1979 Apocalypse Now (stunt coordinator - as Terry J. Leonard, stunts - uncredited)
1979 Firepower (stunt coordinator, stunts - uncredited)
1978 The Norseman (stunts)
1978 Centennial (TV mini-series) (stunts)
1978 Circle of Iron (stunt coordinator)
1978 FM (stunt policeman)
1978 Thaddeus Rose and Eddie (TV movie) (stunt driver)
1976 The Return of a Man Called Horse (stunts - uncredited)
1976 Death Journey (stunts)
1975 Breakheart Pass (stunts)
1975 Return to Macon County (stunt coordinator)
1975 Night Moves (stunts - uncredited)
1975 The Wind and the Lion (stunt supervisor)
1974 Earthquake (stunts - uncredited)
1974 Nightmare Honeymoon (stunts)
1974 Call Harry Crown (stunt double - uncredited)
1974 Black Samson (stunts)
1974 Mr. Majestyk (stunts - uncredited)
1974 Blazing Saddles (stunts - uncredited)
1973 The Deadly Trackers (stunt double - uncredited)
1973 Dillinger (stunt coordinator - uncredited, stunts - uncredited)
1973 Cleopatra Jones (stunts - uncredited)
1973 Class of '44 (stunts - uncredited)
1973 The Train Robbers (stunts - uncredited)
1972 The Life and Times of Judge Roy Bean (stunts - uncredited)
1972 Hec Ramsey (TV series) (stunt coordinator)
1972 Search Control (TV series) (stunts)
1972 The Wrath of God (stunts - uncredited)
1971 McMillan & Wife (TV series) (stunt double - 1 episode– Once Upon a Dead Man (1971) (stunt double - uncredited)
1971 Big Jake (stunts - uncredited)
1970 Never Give an Inch (stunts - uncredited)
1970 Rio Lobo (stunts - uncredited)
1970 Monte Walsh (stunts - uncredited)
1970 Cover Me Babe (stunts - uncredited)
1970 Soldier Blue (stunts - uncredited)
1970 Barquero (stunts - uncredited)
1970 Beneath the Planet of the Apes (stunts - uncredited)
1970 A Man Called Horse (stunt coordinator)
1969 Che! (stunts - uncredited)
1969 Hard Contract (stunts - uncredited)
1969 100 Rifles (stunts - uncredited)
1969 Mackenna's Gold (stunts - uncredited)
1968 Planet of the Apes (stunts - uncredited)
1967 Hombre (stunts - uncredited)
1966 El Dorado (stunts - uncredited)
1963 McLintock! (stunts - uncredited)
Second Unit Director or Assistant Director
2013 Gangster Squad (second unit director)
2011 Cowboys & Aliens (second unit director)
2010 The Expendables (second unit director)
2009 Fast & Furious (second unit director - as Terry J. Leonard)
2006 The Fast and the Furious: Tokyo Drift (second unit director - as Terry J. Leonard)
2006 Date Movie (second unit director)
2004 The Forgotten (second unit director - as Terry J. Leonard)
2003 2 Fast 2 Furious (second unit director)
2003 Agent Cody Banks (second unit director - as Terry J. Leonard)
2002 The Sum of All Fears (aerial crew director: Montreal)
2001 Road Kill (second unit director - as Terry J. Leonard)
2001 American Outlaws (second unit director)
2000 The Fugitive (TV series) (second unit director - 1 episode)– Pilot (2000) (second unit director - as Terry J. Leonard)
1999 Wild Wild West (second unit director)
1998 Mighty Joe (second unit director)
1998 Rush Hour (second unit director)
1998 The Horse Whisperer (second unit director: Saratoga Springs)
1996 Eraser (second unit director)
1995 Money Train (second unit director: Los Angeles)
1995 Die Hard: With a Vengeance (second unit director - as Terry J. Leonard)
1995 The Quick and the Dead (second unit director)
1994 Maverick (second unit director)
1993 Tombstone (second unit director - as Terry J. Leonard)
1993 The Fugitive (second unit director: North Carolina - as Terry J. Leonard)
1993 Teenage Mutant Ninja Turtles III (additional second unit director - as Terry J. Leonard)
1992 Buffy the Vampire Slayer (second unit director - as Terry J. Leonard)
1991 Showdown in Little Tokyo (second unit director - as Terry J. Leonard)
1991 Delirious (second unit director - as Terry J. Leonard)
1991 Teenage Mutant Ninja Turtles II: The Secret of the Ooze (second unit director)
1991 Flight of the Intruder (second unit director - as Terry J. Leonard)
1990 Downtown (second unit director)
1989 The Package (second unit director)
1989 Farewell to the King (second unit director)
1988 Moving (second unit director)
1987 Dragnet (second unit director)
1986 Cobra (second unit director)
1984-1985 Hunter (TV series) (second unit director - 16 episodes)
– Night of the Dragons (1985) (second unit director)
– The Last Kill (1985) (second unit director - as Terry J. Leonard)
– The Beach Boy (1985) (second unit director - as Terry J. Leonard)
– The Snow Queen: Part 2 (1985) (second unit director - as Terry J. Leonard)
– The Snow Queen: Part 1 (1985) (second unit director - as Terry J. Leonard)
In all 16 episodes »
1984 Red Dawn (second unit director - as Terry J. Leonard)
1984 Romancing the Stone (second unit director)
1983 Blue Thunder (second unit director: stunt)
1982 Conan the Barbarian (second unit director - as Terry J. Leonard)
1980 Used Cars (second unit director - as Terry J. Leonard)
1978 Big Wednesday (second unit director: land)
Actor
2012 On the Road...Pecos Truck Driver
2004 Life on Liberty Street (TV movie)...Bus Driver
2001 Road Kill...Bartender
1983 Blue Thunder...Assault Man 2 (uncredited)
1982 Voyagers! (TV series)– Created Equal (1982) … Guard #3 (as Terry J. Leonard)
1982 T.J. Hooker (TV series)– Hooker's War (1982) … Demon (uncredited)
1982 The Fall Guy (TV series)– Ladies on the Ropes (1982) … Gil
1982 Death Wish II...Sniper in Tree (uncredited)
1981 Raiders of the Lost Ark...Driver of German Truck (uncredited)
1981 The Legend of the Lone Ranger...Valentine
1980 Inside Moves...Lucius' Man
1980 The Mountain Men...Crow Brave
1979 Beach Patrol (TV movie)
1978 The Lord of the Rings
1974-1977 The Six Million Dollar Man (TV series)
Stoner / Thug / Vincent
– The Cheshire Project (1977) … Stoner
– Look Alike (1975) … Thug (uncredited)
– Dr. Wells Is Missing (1974) … Vincent
1977 Exo-Man (TV movie) (uncredited)
1976 The Rockford Files (TV series)– Coulter City Wildcat (1976) … Ed (uncredited)
1976 The Quest (TV series)– The Captive (1976) … Curly
1976 Death Journey...Thug
1975 The Wind and the Lion...President Roosevelt's Sparring Partner (uncredited)
1974 Black Samson...Samson's Street People
1974 Hec Ramsey (TV series)– Scar Tissue (1974) … Guard (uncredited)
1973 The Deadly Trackers...Deputy (uncredited)
1973 Slaughter's Big Rip-Off...Thug (uncredited)
1973 Dillinger...Theodore 'Handsome Jack' Klutas (uncredited)
1972-1973 Search Control (TV series)
Burke / Montalambert
– The Mattson Papers (1973) … Burke
– Live Men Tell Tales (1972) … Montalambert
1972 The Life and Times of Judge Roy Bean...Outlaw
1970 Never Give an Inch...Bit Part
1970 Barquero...Hawk
1970 A Man Called Horse...Striking Bear
1968 The Wild Wild West (TV series)– The Night of the Underground Terror (1968) … Cope
Best Wishes
Keith
London
-
England