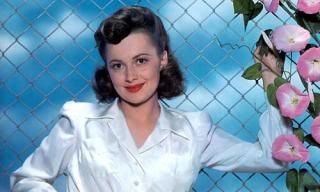 OLIVIA DE HAVILAND
Information from IMDb
Date of Birth
1 July 1916,
Tokyo, Japan
Birth Name
Olivia Mary de Havilland
Nickname
Livvie
Height
5' 4" (1.63 m)
Spouse
Pierre Galante (2 April 1955 - 30 April 1979) (divorced) 1 child
Marcus Goodrich (26 August 1946 - 28 August 1953) (divorced) 1 child
Trade Mark
Emotionally (and sometimes physically) vulnerable characters
Despite her great beauty, was often cast as plain, everyday women
Small, delicate frame
Trivia
Olivia's cousin was Sir Geoffrey de Havilland (1882-1965), the British aviation pioneer and designer of aircraft such as the wartime Mosquito fighter.
Older sister of actress Joan Fontaine.
Daughter of film and stage actress Lillian Fontaine.
Relations between de Havilland and younger sister Joan Fontaine were never all that strong and worsened in 1941, when both were nominated for 'Best Actress' Oscar awards. Their mutual dislike and jealousy escalated into an all-out feud after Fontaine won for Suspicion (1941). Despite the fact that de Havilland went on to win two Academy Awards of her own, they remained permanently estranged.
After her divorce from second husband Pierre Galante in 1979 they remained close friends, and after Galante became ill with cancer she nursed him until his death in 1998.
As of December 15 2009, the 70th anniversary of the premiere of Gone with the Wind (1939), she is the only surviving major cast member. She has been the only survivor of the four principal leads since 1967. Other surviving supporting players who received screen credit include Ann Rutherford, Mickey Kuhn, Alicia Rhett, Mary Anderson and Cammie King Conlon.
Justly famous for her court victory against Warner Brothers in the mid 1940s (many others had sued Warners but failed), which stopped Warners from adding suspension periods to actors' contracts and therefore meant more freedom for actors in Hollywood. It became known as the "de Havilland decision".
Has made Paris her home since the mid 1950s.
Showed flair as a writer when "Every Fenchman Has One," a lighthearted autobiographical account of her attempts at adapting to French life, was published in 1962.
At the age of 82, was awarded an honorary degree from the University of Hertfordshire, England.
Lost her son Benjamin to Hodgkin's disease in 1991, shortly before Benjamin's father, writer Marcus Goodrich, passed away.
In 1965, she became the first female president of the jury at the Cannes Film Festival.
Turned down the role of Blanche DuBois in A Streetcar Named Desire (1951), allegedly stating that "A lady just doesn't say or do those things on the screen". De Havilland set the record straight in a 2006 interview, saying that she had recently given birth to her son when offered the part and was unable to relate to the material.
Is descended from the Haverlands of Normandy, one of whom (the Lord of Haverland) accompanied William the Conquerer in his invasion of England in 1066.
Her father, Walter Augustus de Havilland (1872-1968), was a patent attorney in Japan and also author of the 1910 book 'The ABC of go', which provides a detailed and comprehensive description of the Japanese board game.
It was reported in October 2001 that Miss de Havilland was among 40 prominent French residents who were victims of hoax anthrax attacks. (The attacks were proven to be hoaxes after a woman was arrested in Paris for sending out envelopes containing a powdery substance.)
Ms. de Havilland lives a peaceful retirement at her home on Rue Benouville, in Paris. She spends time teaching Sunday School to children at a local church.
She made a special appearance at the The 75th Annual Academy Awards (2003) (TV) and received a well-deserved standing ovation.
She holds the record for the most people thanked in an Oscar acceptance speech (27) when she accepted the award for Best Actress for To Each His Own (1946).
In 1991, her son, Benjamin Briggs Goodrich, a statistical analyst, died of complications from Hodgkin's disease at his mother's home in Paris, France.
Is the 15th cousin twice removed of Errol Flynn, her co-star in The Adventures of Robin Hood (1938).
She and Joan Fontaine are the first sisters to win Oscars and the first ones to be Oscar-nominated in the same year.
Is portrayed by Lee Purcell in My Wicked, Wicked Ways: The Legend of Errol Flynn (1985) (TV).
She and Errol Flynn acted together in 9 movies: The Adventures of Robin Hood (1938), Captain Blood (1935), The Charge of the Light Brigade (1936), Dodge City (1939), Four's a Crowd (1938), The Private Lives of Elizabeth and Essex (1939), Santa Fe Trail (1940), Thank Your Lucky Stars (1943) and They Died with Their Boots On (1941)
Confessed in later years that she had an intense crush on Errol Flynn during the years of their filming, saying that it was hard to resist his charms.
Her mother named her Olivia after William Shakespeare's romantic heroine in "Twelfth Night.".
The role of Lisolette Mueller in the The Towering Inferno (1974) was originally offered to her. It was eventually played by Jennifer Jones.
Was somewhat overweight when she first came to Paramount, yet Edith Head was able to design costumes with a slimming effect.
Aunt of Debbie Dozier.
Ex-sister-in-law of Collier Young, Brian Aherne and William Dozier.
She has a street named after her in Mexico City. Renowned Mexican actor and director Emilio Fernández lived in Coyoacan Town on a street with no name at all, so he asked the authorities to name this street "Dulce Olivia," Spanish for "Sweet Olivia," after her.
When she was 9 years old, she made a will in which she stated, "I bequeath all my beauty to my younger sister Joan [Joan Fontaine], since she has none".
Was romantically involved with James Stewart, Howard Hughes, John Huston in the late 1930s.
In the 1950s, the Arizona-Sonora Desert Museum near Tucson, AZ, named one of their female javalinas "Olivia de Javalina" in her honor; incidentally, their male was named "Gregory Peckory" to honor actor Gregory Peck.
Is mentioned in Helge Schneider's book "Die Memoiren des Rodriguez Faszanatas".
In April 1946 she set off a power struggle within the Hollywood Independent Citizens Committee of the Arts, Sciences and Professions (HICCASP) by refusing to deliver two speeches in Seattle as written by her fellow executive council member Dalton Trumbo, later one of the blacklisted Hollywood Ten. She felt Trumbo's text was too left-wing and worried that the organization was becoming "automatically pro-Russian".
In Italy, almost all of her films were dubbed by either Dhia Cristiani or Lidia Simoneschi. For the Italian releases of two of her most celebrated and fondly remembered roles, Melanie Hamilton in Gone with the Wind (1939) and Maid Marian in The Adventures of Robin Hood (1938), she was dubbed, respectively, by Renata Marini and Dina Perbellini. This was the only time that either Italian actresses lent her voice to Olivia.
Attended the funeral of Charlton Heston in April, 2008.
Attended as a surprise guest honoring the late Bette Davis, her long-time friend and co-star at the Samuel Goldwyn Theater in Los Angeles on May 1, 2008. The event, "A Centennial Tribute to Bette Davis", was hosted by film historian Robert Osborne and its reception included Davis's son, Michael Merrill, Davis's long-time personal assistant Kathryn Sermak and friends Gena Rowlands & Joan Leslie.
She accepted two film roles turned down by Ginger Rogers, To Each His Own (1946) and The Snake Pit (1948). Olivia won an Oscar for To Each His Own (1946) and was nominated for The Snake Pit (1948). Rogers later regretted turning down the roles and wrote: "It seemed Olivia knew a good thing when she saw it. Perhaps Olivia should thank me for such poor judgment".
Her star on the Hollywood Walk of Fame is at 6764 Hollywood Blvd.
She was awarded the 2008 American National Medal of the Arts by President George Walker Bush in Washington D.C.
Received the Medal of Arts Honor from President George W. Bush at a White House ceremony in the East Room on November 17, 2008, "for her persuasive and compelling skill as an actress in roles from Shakespeare's Hermia to Margaret Mitchell's Melanie. Her independence, integrity, and grace won creative freedom for herself and her fellow film actors.".
Her cousin Captain Sir Geoffrey de Havilland (1882 - 1965) was a British aviation pioneer, aircraft designer and owner of The de Havilland Aircraft Company. Their wooden bomber Mosquito has been considered the most versatile warplane ever built. The ill-fated de Havilland Comet was the first commercial jet airliner in 1952.
Was offered the role of Mary Hatch Bailey in It's a Wonderful Life (1946) after Jean Arthur turned it down, but she also turned down the part. Donna Reed was cast instead and it went on to be one of her most famous performances.
In a rare act of reconciliation, Olivia and her sister Joan Fontaine celebrated Christmas 1962 together along with their then-husbands and children.
Gave birth to her 2nd child at age 40, a daughter Gisèle Galante on July 18, 1956. Child's father is her now late ex-2nd husband, Pierre Galante.
Her older child, a son, Benjamin Goodrich, died from Hodgkin's lymphoma at the age of 41. [October 1, 1991].
Gave birth to her 1st child at age 33, a son Benjamin Briggs Goodrich on December 1, 1949. Child's father is her now late ex-1st husband, Marcus Goodrich.
Mini Biography
Olivia Mary de Havilland was born to a British patent attorney and his wife on July 1, 1916, in Tokyo, Japan. Her sister, Joan, later to become famous as Joan Fontaine, was born the following year. Her parents divorced when Olivia was just three years old, and she moved with her mother and sister to Saratoga, California. After graduating from high school, where she fell prey to the acting bug, Olivia enrolled in Mills College in Oakland. It was while she was at Mills that she participated in the school play "A Midsummer Night's Dream" and was spotted by Max Reinhardt. She so impressed Reinhardt that he picked her up for both his stage version and, later, the Warner Bros. film version in 1935. She again was so impressive that Warner executives signed her to a seven-year contract. No sooner had the ink dried on the contract than Olivia appeared in three more films: The Irish in Us (1935), Alibi Ike (1935) and Captain Blood (1935), the latter with the man with whom her career would be most closely identified, heartthrob Errol Flynn. He and Olivia starred together in eight films during their careers. In 1939 Warner Bros. loaned her to David O. Selznick for the classic Gone with the Wind (1939). Playing the sweet Melanie Hamilton, Olivia received her first nomination for an Academy Award for Best Supporting Actress, only to lose out to one of her co-stars in the film, Hattie McDaniel. After GWTW, Olivia returned to Warner Bros. and continued to churn out films. In 1941 she played Emmy Brown in Hold Back the Dawn (1941), which resulted in her second Oscar nomination, this time for Best Actress. Again she lost, this time to her sister Joan for her role in Suspicion (1941). After that strong showing, Olivia now demanded better, more substantial roles than the "sweet young thing" slot into which Warners had been fitting her. The studio responded by placing her on a six-month suspension, all of the studios at the time operating under the policy that players were nothing more than property to do with as they saw fit. As if that weren't bad enough, when her contract with Warners was up, she was told that she would have to make up the time lost because of the suspension. Irate, she sued the studio, and for the length of the court battle she didn't appear in a single film. The result, however, was worth it. In a landmark decision, the court said not only that Olivia did not have to make up the time, but that all performers were to be limited to a seven-year contract that would include any suspensions handed down. This became known as the "de Havilland decision"; no longer could studios treat their performers as mere cattle. Returning to screen in 1946, Olivia made up for lost time by appearing in four films, one of which finally won her the Oscar that had so long eluded her. It was To Each His Own (1946), in which she played Josephine Norris to the delight of critics and audiences alike. Olivia was the strongest performer in Hollywood for the balance of the 1940s. In 1948 she turned in another strong showing in The Snake Pit (1948) as Virginia Cunningham, a woman suffering a mental breakdown. The end result was another Oscar nomination for Best Actress, but she lost to Jane Wyman in Johnny Belinda (1948). As in the two previous years, she made only one film in 1949, but she again won a nomination and the Academy Award for Best Actress for The Heiress (1949). After a three-year hiatus, Olivia returned to star in My Cousin Rachel (1952). From that point on, she made few appearances on the screen but was seen on Broadway and in some television shows. Her last screen appearance was in The Fifth Musketeer (1979), and her last career appearance was in the TV movie The Woman He Loved (1988) (TV). During the hoopla surrounding the 50th anniversary of GWTW in 1989, she graciously declined requests for all interviews as the only surviving one of the four main stars. Today she enjoys a quiet retirement in Paris, France.
IMDb Mini Biography By: Denny Jackson
Personal Quotes
Famous people feel that they must perpetually be on the crest of the wave, not realising that it is against all the rules of life. You can't be on top all the time; it isn't natural.
[on Hollywood's reaction to her landmark court victory against Warner Bros.] I was told I would never work again, if I lost or won. When I won, they were impressed and didn't bear a grudge.
The one thing that you simply have to remember all the time that you are there is that Hollywood is an oriental city. As long as you do that, you might survive. If you try to equate it with anything else, you'll perish.
The TV business is soul crushing, talent destroying and human being destroying. These men in their black towers don't know what they are doing. It's slave labour. There is no elegance left in anybody. They have no taste. Movies are being financed by conglomerates, which take a writeoff if they don't work. The only people who fight for what the public deserves are artists.
We were like a stock company at Warners. We didn't know any of the stars from the other studios.
[After winning her second Oscar in 1950] When I won the first award in 1947, I was terribly thrilled. But this time I felt solemn, very serious and . . . shocked. Yes, shocked! It's a great responsibility to win the award twice.
Playing good girls in the '30s was difficult, when the fad was to play bad girls. Actually I think playing bad girls is a bore; I have always had more luck with good girl roles because they require more from an actress.
[speaking in 1997] I have taken a long vacation, but I wouldn't object to a fascinating part in a first-rate project, something I felt I could do well or would understand and interpret in an effective way. Then I would say, 'Yes'. The offers still come, but not what I'm looking for.
[on the continuing appeal of Gone with the Wind (1939)] It will go on forever, and how thrilling that is. It has this universal life, this continuing life. Every nation has experienced war - and defeat and renaissance. So all people can identify with the characters. Not only that, it's terribly well constructed. Something happens every three minutes, and it keeps you on your toes and the edge of your seat, which is quite a feat, I must say.
[speaking in 2004] There certainly is such a thing as screen chemistry, although I don't believe you find it frequently. There was a definite on-screen chemistry between Errol [Errol Flynn] and me. Before us, the most potent example was Janet Gaynor and Charles Farrell in the '20s and '30s. People should not be surprised by screen chemistry because, after all, life is chemistry.
[speaking in 2003] I know this is not a popular thing to say at the moment, but I love living among the French. They are very independent, intelligent, well educated and creative. They are a people full of feeling, which they express. They're a vivacious people. Well, they're Celts, you see.
[on Hush...Hush, Sweet Charlotte (1964)]: It was full of traps; it was a delicate tightrope assignment. I found that very interesting. Robert Aldrich gave it a very special style, a kind of dark, glittering style which fascinated me.
[when asked during 2006 interview whether or not she missed acting] Not at all. Life is too full of events of great importance. That is more absorbing and enriching than a fantasy life. I don't need a fantasy life as once I did. That is the life of the imagination that I had a great need for. Films were the perfect means for satisfying that need.
[speaking in June 2006] I'll be 90 on July 1. I can't wait to be 90! Another victory!
The overwhelming majority of people who make up the liberal and progressive groups of this country believe in democracy, and NOT in communism. We believe that the two cannot be reconciled here in the United States, and we believe that every effort should be exerted to make democracy work, and to extend its benefits to every person in every community throughout the land.
[on Errol Flynn] I had a very big crush on Errol Flynn during "Captain Blood." I thought he was absolutely smashing for three solid years, but he never guessed. Then he had one on me but nothing came of it. I'm not going to regret that; it could have ruined my life.
[on Michael Curtiz] He was a tyrant, he was abusive, he was cruel. Oh, he was just a villain but I guess he was pretty good. We didn't believe it then, but he clearly was. He knew what he was doing. He knew how to tell a story very clearly and he knew how to keep things going.
[on Bette Davis] The great lesson I learned from Bette was her absolute dedication to getting everything just right. She used to spend hours studying the character she was going to play, then hours in make-up ensuring that her physical appearance was right for the part. I have always tried to put the same amount of work into everything I've done.
[on Clark Gable] Clark Gable was highly professional. He was a bigger star than we can create today. I was just a mini-star when we did "Gone With the Wind." I was afraid to talk to him. People can't understand it now, but we were in awe. Clark Gable didn't open supermarkets.
Clark was supposed to cry in the scene after the death of his daughter. It worried him for days before he was to do the scene. He never cried on the screen before, and it became an obsession with him. He didn't think it was masculine for a man to cry. One day he confided in me, "Olivia, I can't do it. I'm just going to have to quit." I talked with him and convinced him that the tears denoted strength of character, not weakness. It turned out to be one of the most memorable scenes in the movie. Clark always underrated himself as an actor. I think his Rhett Butler will live forever as one of the screen's classic performances.
I felt Gone with the Wind would last five years, and it's lasted over 70, and into a new millennium. There is a special place in my heart for that film and Melanie. She was a remarkable character - a loving person, and because of that she was a happy person. And Scarlett, of course, was not.
[on Hush...Hush, Sweet Charlotte (1964)] I always thought it would be fun if we could work together. Then I was offered the chance to work with her on the film that became Hush...Hush, Sweet Charlotte (1964) when Joan Crawford withdrew. I knew Bette wanted badly to work, and Jane [What Ever Happened to Baby Jane? (1962)] had been such a success that Bette was quite anxious. They had to find the replacement, and Bette wanted me.
[on Hush...Hush, Sweet Charlotte (1964)] Bette wanted it so much, so I did it. I can't say I regretted it, because working with her was special, but I can't say it was a picture I am proud to put on my resume. Given the choice, I wouldn't have deprived Joan Crawford of the honor!
[on Hush...Hush, Sweet Charlotte (1964)] The problem was I wasn't as anxious to work as she was. I didn't need to. I wasn't thrilled with the script, and I definitely didn't like my part. I was reverse-typecast, being asked to be an unsympathetic villain. It wasn't what people expected of me. It wasn't really what I wanted to do.
Salary
Raffles (1939) $1,250/week
Gone with the Wind (1939) $25,000
Hush...Hush, Sweet Charlotte (1964) $100 000
Filmography
Actress
1988 The Woman He Loved (TV movie)...Aunt Bessie Merryman
1986 Anastasia: The Mystery of Anna (TV movie)...Dowager Empress Maria
1986 North and South, Book II (TV mini-series)
– Episode #1.6 (1986) … Mrs. Neal (credit only)
– Episode #1.5 (1986) … Mrs. Neal (credit only)
– Episode #1.4 (1986) … Mrs. Neal
– Episode #1.3 (1986) … Mrs. Neal
– Episode #1.2 (1986) … Mrs. Neal (credit only)
all 6 episodes »
1982 The Royal Romance of Charles and Diana (TV movie)...Queen Elizabeth, The Queen Mother
1982 Murder Is Easy (TV movie)...Honoria Waynflete (as Olivia De Havilland)
1981 The Love Boat (TV series)– The Duel/Two for Julie/Aunt Hilly (1981) … Aunt Hilly
1979 The Fifth Musketeer...Queen Mother
1979 Roots: The Next Generations (TV mini-series)
– Episode #1.2 (1979) … Mrs. Warner
– Episode #1.1 (1979) … Mrs. Warner
1978 The Swarm...Maureen Schuester
1977 Airport '77...Emily Livingston
1972 Pope Joan...Mother Superior
1972 The Screaming Woman (TV movie)..Laura Wynant (as Olivia DeHavilland)
1969 The Adventurers...Deborah Hadley (as Olivia De Havilland)
1968 The Danny Thomas Hour (TV series)– The Last Hunters (1968) … Deborah Rubin
1966 ABC Stage 67 (TV series)– Noon Wine (1966) … Ellie Thompson
1965 The Big Valley (TV series)– Winner Lose All (1965) … Ms. Hadley (uncredited)
1964 Hush...Hush, Sweet Charlotte...Miriam
1964 Lady in a Cage...Mrs. Cornelia Hilyard
1962 Light in the Piazza...Meg Johnson
1959 Libel...Lady Margaret Loddon
1958 The Proud Rebel...Linnett Moore
1956 The Ambassador's Daughter...Joan Fisk
1955 Not as a Stranger...Kristina Hedvigson
1955 That Lady...Ana de Mendoza
1952 My Cousin Rachel...Rachel Sangalletti Ashley (as Olivia deHavilland)
1949 The Heiress...Catherine Sloper
1948 The Snake Pit...Virginia Stuart Cunningham
1946 The Dark Mirror...Terry/Ruth Collins
1946 The Well-Groomed Bride...Margie Dawson
1946 Devotion...Charlotte Bronte
1946 To Each His Own...Miss Josephine 'Jody' Norris (as Olivia De Havilland)
1943 Government Girl...Elizabeth 'Smokey' Allard
1943 Princess O'Rourke...Princess Maria - aka Mary Williams (as Olivia DeHavilland)
1943 Thank Your Lucky Stars...Olivia de Havilland
1942 In This Our Life...Roy Timberlake
1942 The Male Animal...Ellen Turner
1941 They Died with Their Boots On...Elizabeth Bacon
1941 Hold Back the Dawn...Emmy Brown
1941 The Strawberry Blonde...Amy Lind
1940 Santa Fe Trail...'Kit Carson' Holliday (as Olivia De Havilland)
1940 My Love Came Back...Amelia Cornell
1939 Gone with the Wind...Melanie Hamilton - Their Cousin
1939 Raffles...Gwen
1939 The Private Lives of Elizabeth and Essex...Lady Penelope Gray
1939 Dodge City...Abbie Irving
1939 Wings of the Navy...Irene Dale
1938 Hard to Get...Margaret (as Olivia De Havilland)
1938 Four's a Crowd...Lorri Dillingwell
1938 The Adventures of Robin Hood...Maid Marian
1938 Gold Is Where You Find It...Serena Ferris
1937 The Great Garrick...Germaine
1937 It's Love I'm After...Marcia West
1937 Call It a Day...Catherine 'Cath' Hilton
1936 The Charge of the Light Brigade...Elsa Campbell (as Olivia De Havilland)
1936 Anthony Adverse...Angela Guisseppi
1935 Captain Blood...Arabella Bishop
1935 A Midsummer Night's Dream...Hermia - In Love with Lysander (as Olivia de Haviland)
1935 The Irish in Us...Lucille Jackson
1935 Alibi Ike...Dolly Stevens