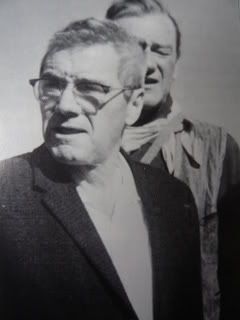 JAMES EDWARD GRANT
Information From IMDb
Date of Birth
2 July 1905, Illinois, USA
Date of Death
19 February 1966, Burbank, California, USA (cancer)
Mini Biography
James Edward Grant started as a newspaperman in Chicago in the 1920s.
He moved to Hollywood to write under contract with Republic.
His passions were bullfighting and writing.
He spent the last years of his life in Spain.
IMDb Mini Biography By:
Spouse
Josephine Foy Grant (d.1987)
Trivia
Close friend of and frequent film collaborator with John Wayne.
When John Wayne insisted that Grant be brought
in to rewrite the script to Circus World (1964),
director Frank Capra, who wanted to use his own script, quit the film.
Filmography
Director:
1. Ring of Fear (1954)
2. Angel and the Badman (1947)
... aka The Angel and the Outlaw
Writer:
1. Support Your Local Gunfighter (1971) (written by)
2. "Hondo" (2 episodes, 1967)
- Hondo and the War Cry (1967) TV episode (earlier screenplay)
- Hondo and the Eagle Claw (1967) TV episode (earlier screenplay)
3. Hondo and the Apaches (1967) (TV) (earlier screenplay)
4. Hostile Guns (1967) (story)
5. Circus World (1964) (screenplay)
... aka Henry Hathaway's The Magnificent Showman (UK: complete title)
... aka Samuel Bronston's Circus World
... aka The Magnificent Showman (UK)
6. McLintock! (1963) (original screenplay)
7. Donovan's Reef (1963) (writer)
8. Maceralar krali (1963) (story "Johnny Eager") (uncredited)
9. The Comancheros (1961) (screenplay)
10. The Alamo (1960) (original screenplay)
11. The Barbarian and the Geisha (1958) (uncredited)
12. The Proud Rebel (1958) (story "Journal of Linnett Moore")
13. The Sheepman (1958) (screenplay) (story)
... aka Stranger with a Gun (USA: new title)
14. "M Squad" (1 episode, 1958)
- The Black Mermaid (1958) TV episode (writer)
15. Three Violent People (1956) (screenplay)
16. The Last Wagon (1956) (screenplay)
17. Ring of Fear (1954) (original screenplay)
18. Hondo (1953) (screenplay)
19. Trouble Along the Way (1953) (uncredited)
... aka Alma Mater
20. Big Jim McLain (1952) (screenplay)
... aka Jim McLain
21. Flying Leathernecks (1951) (screenplay)
22. Two of a Kind (1951) (writer)
23. Bullfighter and the Lady (1951) (screenplay)
... aka Torero (USA)
24. California Passage (1950) (written by)
25. Surrender (1950) (screenplay) (story)
26. Rock Island Trail (1950) (screenplay)
... aka Transcontinent Express (UK)
27. Father Is a Bachelor (1950) (screenplay) (story)
28. Sands of Iwo Jima (1949) (screenplay)
29. Johnny Allegro (1949) (story)
... aka Hounded (UK)
30. The Plunderers (1948) (story)
31. Angel and the Badman (1947) (written by)
... aka The Angel and the Outlaw
32. Incendiary Blonde (1945) (contributing writer) (uncredited)
33. The Great John L. (1945) (writer)
... aka A Man Called Sullivan (UK)
34. Belle of the Yukon (1944) (screenplay)
35. Gambler's Choice (1944) (story)
36. The Lady Is Willing (1942) (screenplay) (story)
37. Johnny Eager (1942) (screenplay) (story)
38. They Dare Not Love (1941) (story)
39. Boom Town (1940) (story "A Lady Comes to Burkburnett")
40. I Can't Give You Anything But Love, Baby (1940) (story "Trouble in B-flat")
41. Music in My Heart (1940) (original story and screenplay)
42. Hollywood Cavalcade (1939) (dialogue contibutor) (uncredited)
43. Miracles for Sale (1939) (screenplay)
44. There's That Woman Again (1939) (writer)
... aka What a Woman (UK)
45. We're Going to Be Rich (1938) (writer)
46. Josette (1938) (writer)
47. Danger-Love at Work (1937) (screenplay) (story)
48. The Women Men Marry (1937) (writer)
49. She's No Lady (1937) (story)
50. She Had to Eat (1937) (story)
51. Great Guy (1936) (story "The Johnnie Cave Stories")
... aka Pluck of the Irish (UK)
52. Grand Jury (1936) (writer)
53. The Ex-Mrs. Bradford (1936) (story)
54. Big Brown Eyes (1936) (story "Hahsit Babe")
55. Muss 'em Up (1936) (novel "The Green Shadow")
... aka Sinister House (UK)
... aka The House of Fate (UK)
56. Whipsaw (1935) (story "The Whipsaw")
Producer
1. The Alamo (1960) (associate producer)
2. The Great John L. (1945) (producer)
... aka A Man Called Sullivan (UK)
For Discussion, please post here:-
Directors Of The Saddle- James Edward Grant