STAGECOACH
DIRECTED BY JOHN FORD
PRODUCED BY JOHN FORD/ WALTER WANGER
UNITED ARTISTS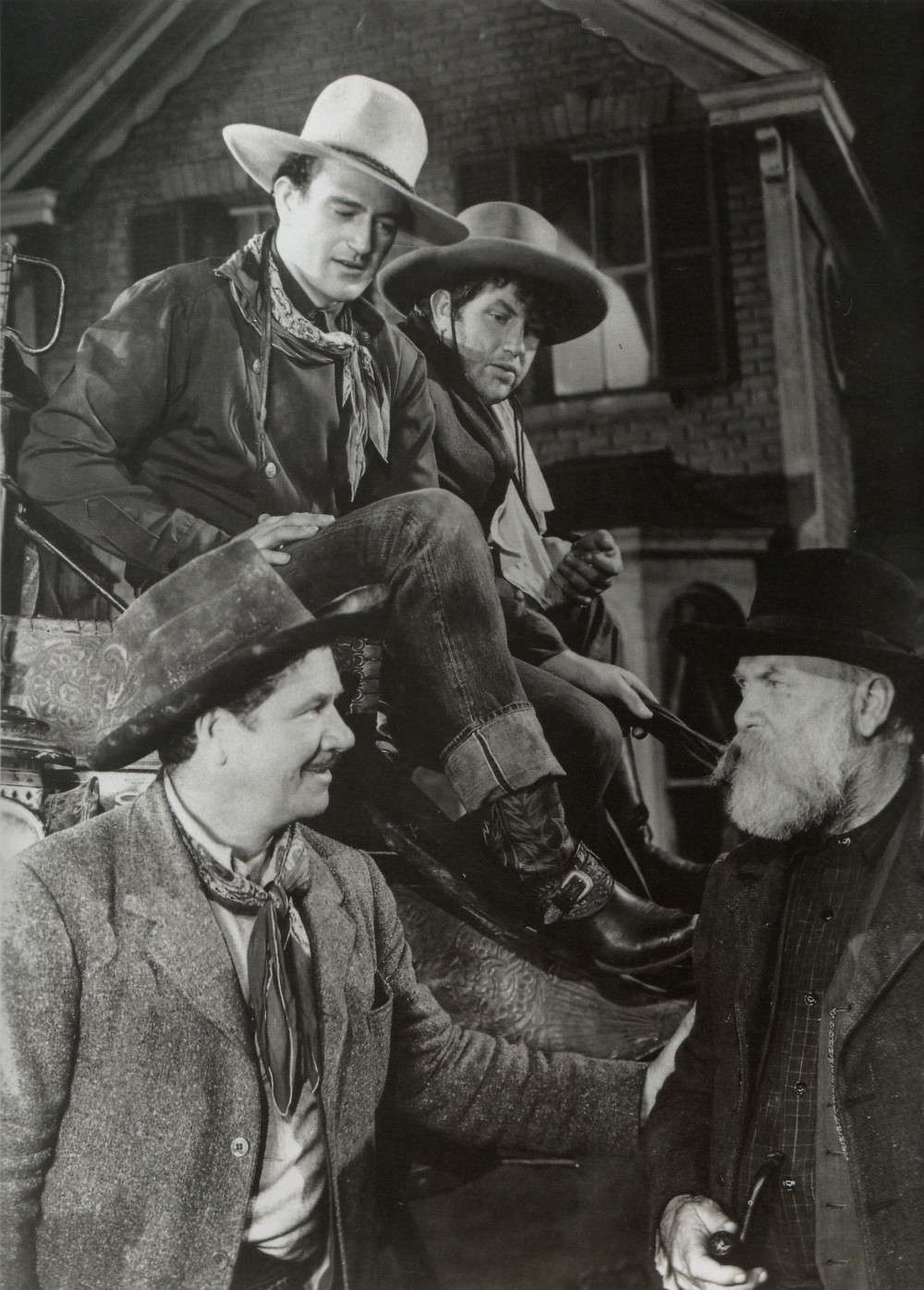 Photo with courtesy of lasbugas

For continuity, all discussion
please post here:-
Duke's Movies- Stagecoach
INFORMATION FROM IMDb
Plot Summary
A simple stagecoach trip is complicated by the fact that Geronimo
is on the warpath in the area.
The passengers on the coach include a a drunken doctor, a pregnant woman,
a bank manager who has taken off with his client's money, and the famous Ringo Kid,
Full Cast
Claire Trevor .... Dallas
John Wayne .... The Ringo Kid
Andy Devine .... Buck
John Carradine .... Hatfield
Thomas Mitchell .... Doc Boone
Louise Platt .... Lucy Mallory
George Bancroft .... Marshal Curly Wilcox
Donald Meek .... Samuel Peacock
Berton Churchill .... Henry Gatewood
Tim Holt .... Lt. Blanchard
Tom Tyler .... Luke Plummer
Dorothy Appleby .... Girl in saloon (uncredited)
Frank Baker .... (uncredited)
Chief John Big Tree .... Indian scout (uncredited)
Ted Billings .... Bit part (uncredited)
Wiggie Blowne .... Bit part (uncredited)
Danny Borzage .... (uncredited)
Edward Brady .... Lordsburg saloon owner (uncredited)
Fritzi Brunette .... Bit part (uncredited)
Yakima Canutt .... Cavalry scout (uncredited)
Nora Cecil .... Boone's landlady (uncredited)
Steve Clemente .... Bit (uncredited)
Bill Cody .... Rancher (uncredited)
Jack Curtis .... Bartender (uncredited)
Marga Ann Deighton .... Mrs. Pickett (uncredited)
Patsy Doyle .... Bit part (uncredited)
Tex Driscoll .... Bit part (uncredited)
Franklyn Farnum .... Deputy Frank (uncredited)
Francis Ford .... Billy Pickett (uncredited)
Brenda Fowler .... Mrs. Gatewood (uncredited)
Helen Gibson .... Girl in saloon (uncredited)
Robert Homans .... Ed (editor) (uncredited)
William Hopper .... Sergeant (uncredited)
Si Jenks .... Bartender (uncredited)
Cornelius Keefe .... Capt. Whitney (uncredited)
Florence Lake .... Nancy Whitney (uncredited)
Duke R. Lee .... Lordsburg sheriff (uncredited)
Theodore Lorch .... Lordsburg express agent (uncredited)
Chris-Pin Martin .... Chris (uncredited)
Jim Mason .... Jim (Tonto express agent) (uncredited)
Louis Mason .... Tonto sheriff (uncredited)
Merrill McCormick .... Ogler (uncredited)
J.P. McGowan .... (uncredited)
Walter McGrail .... Capt. Sickel (uncredited)
Paul McVey .... Pony Express agent (uncredited)
Kent Odell .... Billy Pickett Jr (uncredited)
Artie Ortego .... Lordsburg bar patron (uncredited)
Vester Pegg .... Hank Plummer (uncredited)
Jack Pennick .... Jerry (bartender) (uncredited)
Joe Rickson .... Ike Plummer (uncredited)
Elvira Ríos .... Yakima (uncredited)
Buddy Roosevelt .... Rancher (uncredited)
Chuck Stubbs .... (uncredited)
Harry Tenbrook .... Telegraph operator (uncredited)
Mary Kathleen Walker .... Lucy's infant (uncredited)
Bryant Washburn .... Capt. Simmons (uncredited)
Whitehorse .... Indian chief (uncredited)
Hank Worden ... Cavalryman Extra (uncredited)
Writing Credits
Ernest Haycox (story Stage to Lordsburg)
Dudley Nichols
Ben Hecht uncredited
Original Music
Gerard Carbonara (uncredited)
Cinematography
Bert Glennon
Stunts
Yakima Canutt .... stunt coordinator (uncredited)
Ken Cooper .... stunts (uncredited)
Johnny Eckert .... stunts (uncredited)
Jack Mohr .... stunts (uncredited)
David Sharpe .... stunts (uncredited)
Henry Wills .... stunts (uncredited)
Billy Yellow .... stunt rigger (uncredited)
Trivia
Asked why, in the climactic chase scene, the Indians didn't simply shoot the horses to stop the stagecoach, director John Ford replied, "Because that would have been the end of the movie."
This was the first of many films that John Ford filmed in Monument Valley, Arizona. Others were: My Darling Clementine (1946), Fort Apache (1948), She Wore a Yellow Ribbon (1949), Wagon Master (1950), Rio Grande (1950), The Searchers (1956), Sergeant Rutledge (1960) and his last western, Cheyenne Autumn (1964).
The first of many collaborations between John Ford and John Wayne.
When the film was being cast, John Ford lobbied hard for John Wayne but producer Walter Wanger kept saying no. It was only after constant persistence on Ford's part that Wanger finally gave in. Wanger's reservations were based on Wayne's string of B-movies, in which he came across as being a less than competent actor, and the box office failure of Raoul Walsh's The Big Trail (1930) in 1930, Wayne's first serious starring role.
a
John Wayne's 80th film.
John Ford loved the Monument Valley location so much that the actual stagecoach journey traverses the valley three times.
In 1939 there was no paved road through Monument Valley, hence the reason why it hadn't been used as a movie location before (it wasn't paved until the 1950s). Harry Goulding, who ran a trading post there, had heard that John Ford was planning a big-budget Western so he traveled to Hollywood, armed with over 100 photographs, and threatened to camp out on Ford's doorstep until the director saw him. Ford saw him almost immediately and was instantly sold on the location, particularly when he realized that its remoteness would free him from studio interference.
The interior sets all have ceilings, an unusual practice at the time for studio filming. This was to create a claustrophobic effect in complete counterpoint to the wide open expanse of Monument Valley.
David O. Selznick was interested in making the film, but only if he could have Gary Cooper as the Ringo Kid and Marlene Dietrich as Dallas.
John Ford's first sound Western, and his first in that genre in 13 years. Westerns had fallen out favor with the coming of sound, as it was tricky to record on location.
Local Navajo Indians played the Apaches. The film's production was a huge economic boost to the local impoverished population, giving jobs to hundreds of locals as extras and handymen.
Hosteen Tso, a local shaman, promised John Ford the exact kind of cloud formations he wanted. They duly appeared.
John Ford gave John Wayne the script, asking him for any suggestions as to who could play the Ringo Kid. Wayne suggested Lloyd Nolan, not realizing that Ford was baiting him with the part. Once filming began, however, Ford was merciless to Wayne, constantly undermining him. This psychological tactic was designed to make Wayne start feeling some real emotions, and not to be intimidated by acting alongside the likes of such seasoned professionals as Thomas Mitchell.
In 1939 Claire Trevor was the film's biggest star, and thus commanded the highest salary.
The premise of Ernest Haycox's story comes from Guy de Maupassant's famous story 'Boule de Suif', which takes place in Normandy during the 1870 Franco-Prussian War.
Orson Welles privately watched this film about 40 times while he was making Citizen Kane (1941).
Near the end of the movie, Luke Plummer (Tom Tyler) has a pair of black aces and a pair of black eights. This is the notorious "dead man's hand" supposed to have been held by Wild Bill Hickok before he was killed.
A device known as a "Running W" was used on the Indians' horses during the sequence where they are chasing the stagecoach. Strong, thin wires are fixed to a metal post, then the other end of the wires are attached to an iron clamp that encircles the legs of a horse, and the post is anchored into the ground. The horse is then ridden at full gallop, and when the wire's maximum length is reached - just when the rider is "shot" - the animal's legs are jerked out from underneath it, causing it to tumble violently and throw the "shot" rider off. The trouble was that the rider knew when the horse was going to fall but the horse didn't, resulting in many horses either being killed outright or having to be destroyed because of broken limbs incurred during the falls. The use of the "Running W" was eventually discontinued after many complaints from both inside and outside the film industry.
John Ford originally wanted Ward Bond to play Buck the stage driver but gave the role to Andy Devine when he found that Bond couldn't drive a "six-up" stagecoach and there wasn't time to teach him.
John Wayne's salary was considerably less than all of his co-stars', apart from John Carradine.
It's believed by many that the famous line "A man's gotta do what a man's gotta do," widely attributed to a John Wayne Western character, is spoken by Wayne in this film, however, it isn't. His character, The Ringo Kid, instead says "There are some things a man just can't run away from," when asked why he intends to stay and avenge his family's murders rather than try to escape to Mexico.
Producer Walter Wanger wanted Gary Cooper for the role of Ringo but Cooper's fees were too high. Bruce Cabot unsuccessfully tested for it before John Ford got his wish and cast John Wayne.
Film debut of Mickey Simpson.
Although Louis Gruenberg receives screen credit for the musical score, his contribution was not used and his name was omitted for the Academy Award nomination.
The hat that John Wayne wears is his own. He would wear it in many westerns during the next two decades before retiring it after Howard Hawks' Rio Bravo (1959), because it was simply "falling apart." After that, the hat was displayed under glass in his home.
Ranked #9 on the American Film Institute's list of the 10 greatest films in the genre "Western" in June 2008.
Pictured on one of four 25¢ US commemorative postage stamps issued 23 March 1990 honoring classic films released in 1939. The stamp featured Stagecoach (1939), Beau Geste (1939), The Wizard of Oz (1939), and Gone with the Wind (1939).
Doctor Boone's misquote, 'Is this the face that wrecked a thousand ships/ and burned the towerless tops of Ilium?', is from The Tragical History of Doctor Faustus by Christopher Marlowe, Scene xiv.
"Screen Director's Playhouse" broadcast a 30 minute radio adaptation of the movie on January 9, 1949 with John Wayne and Claire Trevor reprising their film roles.
"Academy Award Theater" broadcast a 30 minute radio adaptation of the movie on May 4, 1946 with Claire Trevor reprising her film role.
John Ford's classic film is based on a short story, Stage to Lordsburg, by Ernest Haycox, published in Collier's Magazine in 1937, in turn, based on Guy de Maupassant's Boule de Suif, set during the 1870 Franco-Prussian War.
And apart from the geographical locale, John Wayne's character name was wisely changed from Malpais Bill to the Ringo Kid.
The film established Monument Valley, on the Arizona-Utah border, as an icon of the American Old West, although, of the passengers, only John Wayne actually trekked out to Utah. None of the principals made it past California's San Fernando Valley.
Monument Valley, an area of striking, flat-topped mesas and buttes, was a tough location in 1938, at the end of a 200-mile dirt road from Flagstaff, Arizona. The Navajo nation, already troubled by disease and unemployment, were employed to play Apaches – one of the many nations they were to play over the years. The Valley is not a National Park, as you might expect, but a Tribal Park still belonging to, and managed by, the Navajo.
But, striking as it is, Monument Valley is only a part of Stagecoach. The river crossing is the Kern River, near to Kernville, 40 miles east of Bakersfield, California. The old wagon cut at Newhall, on I-5 – also called Fremont Pass – is the entrance to the dry lake.
Nearby Chatsworth and Calabasas, southern California, also provided locations. The chase by Indians was staged at Lucerne Dry Lake near Victorville, California, recreated by stunt artist Yakima Canutt from the 1937 Monogram movie Riders of the Dawn, which was filmed at the same location. To soften the ground for filming, 20 acres of ground had to be dug up by tractor.
The real journey of the movie, though, is from the Western Street at Republic Studios (the town of 'Tonto') to the Goldwyn Studios ('Lordsburg'), where the interiors were filmed
Goofs
* Crew or equipment visible: As the stagecoach crosses the river at the burnt out ferry, the shadow of a camera is clearly visible on the driver's back.
* Continuity: In the begining of the film, when the stagecoach is going into Tonto street, we see its shadow to one side. In the next shot the shadow is on the other side.
* Continuity: In the fight between the stagecoach's passengers and the Indians, we see the same image of one Indian, with a lance in his hand, falling with his horse two times. One time shot by Marshal Curly and another time shot by Hatfield.
* Revealing mistakes: In the beginning sequence when the stage is coming into town you can see that the buildings are stage facades as the camera shot is at an angle and it is clear there is no structure behind the false front.
* Revealing mistakes: In the scene at Apache Wells where Chris rushes in to wake the Marshall played by George Bancroft to say his wife has run off, Bancroft and John Wayne are chained together at the ankle. George Bancroft delivers his line but moves his chained leg to far, jerking the chains around Wayne's ankle. Wayne yelps and grabs his ankle. As Bancroft turns toward Wayne to undo the chains, Bancroft is clearly struggling not to break up laughing as Wayne glares at him.
Filming Locations
Beale's Cut, Newhall, California, USA
Calabasas, California, USA
Canon City, Colorado, USA
Chatsworth, Los Angeles, California, USA
Iverson Ranch, Chatsworth, Los Angeles, California, USA
Kayenta, Arizona, USA
Kern County, California, USA
Kern River, Bakersfield, California, USA
Kern River, California, USA
Kernville, California, USA
Lucerne Dry Lake, California, USA
Mesa, Arizona, USA
Monument Valley, Utah, USA
Newhall, California, USA
RKO Encino Ranch - Balboa Boulevard & Burbank Boulevard, Encino, Los Angeles, California, USA
Victorville, California, USA
Samuel Goldwyn/Warner Hollywood Studios (The Lot ) - 1041 N. Formosa Ave.
For continuity, all discussion
please post here:-
Duke's Movies- Stagecoach