THE LONG VOYAGE HOME
DIRECTED BY JOHN FORD
PRODUCED BY JOHN FORD/ WALTER WANGER
MUSIC BY RICHARD HAGEMAN
ARGOSY PRODUCTIONS
UNITED ARTISTS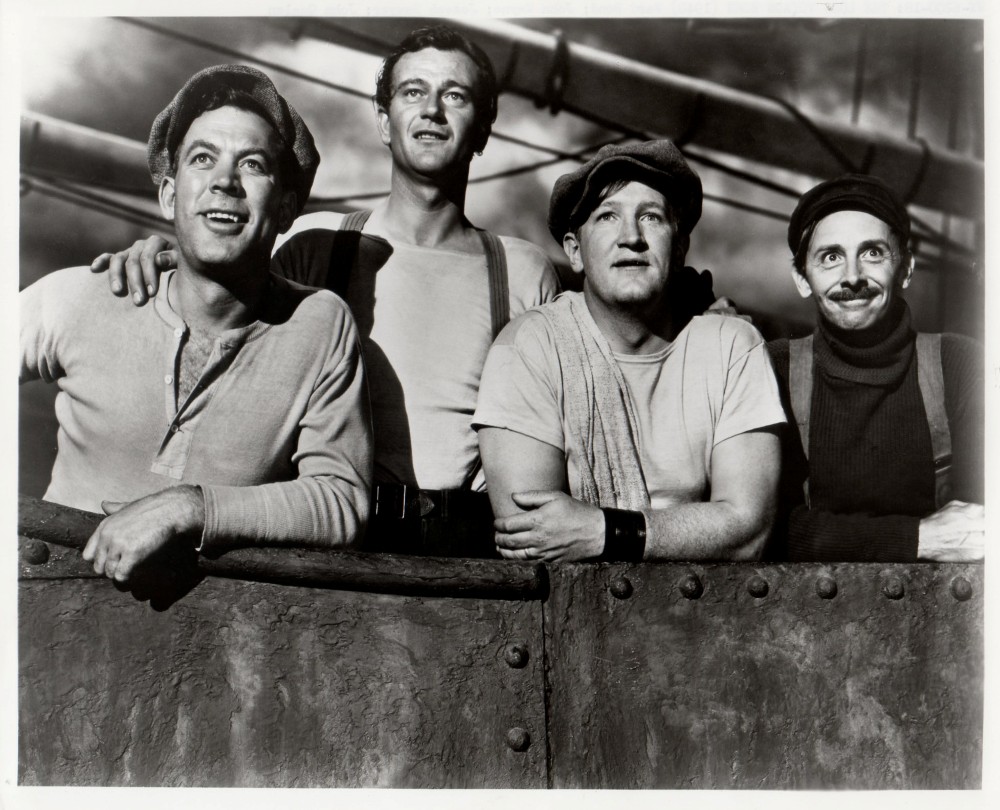 Photo with the courtesy of lasbugas

For continuity, all discussion
please post here:-
Duke's Movies- The Long Voyage Home
Information from IMDb
Plot Summary
Aboard the freighter Glencairn, the lives of the crew are lived out in fear, loneliness,
suspicion and cameraderie.
The men smuggle drink and women aboard, fight with each other, spy on each other,
comfort each other as death approaches, and rescue each other from danger.
Summary written by Jim Beaver
Full Cast
John Wayne .... Ole Olsen
Thomas Mitchell .... Aloysius 'Drisk' Driscoll
Ian Hunter .... Smitty Smith, an alias of Thomas Fenwick
Barry Fitzgerald .... Cocky
Wilfrid Lawson .... Captain
John Qualen .... Axel Swanson
Mildred Natwick .... Freda
Ward Bond .... Yank
Arthur Shields .... Donkeyman
Joe Sawyer .... Davis (as Joseph Sawyer)
J.M. Kerrigan .... Nick, Limehouse Crimp
Rafaela Ottiano .... Bella, a Tropical Woman
Carmen Morales .... Principal Spanish Girl
Jack Pennick .... Johnny Bergman
Bob Perry .... Paddy (as Bob E. Perry)
Constant Franke .... Norway (as Constant Frenke)
David Hughes .... Scotty
Constantine Romanoff .... Big Frank Kransky
Danny Borzage .... Tim (as Dan Borzage)
Harry Tenbrook .... Max
Cyril McLaglen .... First Mate
Douglas Walton .... Second Mate
Billy Bevan .... Joe, Limehouse Barman (uncredited)
Mary Carewe .... Elizabeth, Smitty's Wife (uncredited)
Bing Conley .... Limehouse Roustabout (uncredited)
Lita Cortez .... Bumboat Girl (uncredited)
Jane Crowley .... Kate (uncredited)
Carmen D'Antonio .... Bumboat Girl (uncredited)
Lowell Drew .... Blind Man (uncredited)
James Flavin .... Dock Policeman (uncredited)
Soledad Gonzales .... Bumboat Girl (uncredited)
Guy Kingsford .... London Policeman (uncredited)
Judith Linden .... Bumboat Girl (uncredited)
Elena Martínez .... Bumboat Girl (uncredited)
Tina Menard .... Bumboat Girl (uncredited)
Art Miles .... Captain of the Amindra (uncredited)
Lionel Pape .... Mr. Clifton (uncredited)
Luanne Robb .... Smitty's Daughter (uncredited)
Ky Robinson .... Limehouse Roustabout (uncredited)
Maureen Roden-Ryan .... Meg (uncredited)
Lee Shumway .... Dock Policeman (uncredited)
Leslie Sketchley .... London Policeman (uncredited)
Wyndham Standing .... British Naval Officer (uncredited)
Roger Steele .... Smitty's Son (uncredited)
Sammy Stein .... Seaman (uncredited)
Blue Washington .... Cook (uncredited)
Harry Woods .... First Mate of the Amindra (uncredited)
Writing Credits
Eugene O'Neill (plays The Moon of the Caribees, In The Zone, Bound East for Cardiff and The Long Voyage Home)
Dudley Nichols (adaptation)
Original Music
Richard Hageman
Cinematography
Gregg Toland
Trivia
John Wayne was asked by director John Ford to play the part of Ole Olson, who was Swedish. Wayne wasn't sure he could pull off the Swedish accent and was worried that the audience would laugh. Ford persuaded him to take the role.
The Broadway opening dates of the four Eugene O'Neill plays this film is based on are as follows: "Bound East for Cardiff" opened in Provincetown, Massachusetts on 28 July 1916; "In the Zone" opened in New York on 31 October 1917; "The Long Voyage Home" opened in New York on 2 November 1917; and "The Moon of the Caribees" opened in New York on 20 December 1918. The four plays were presented together in "One Act Plays of the Sea" and opened at the Lafayette Theater on Octobe 29, 1937 and ran for 68 performances.
This film is based on four one-act plays by Eugene O'Neill. Writer Dudley Nichols had to distill all four of Eugene O'Neill's one-act plays into one cohesive screenplay.
Initially resistant to the idea of working with a Swedish accent, John Wayne was instructed by Danish actress Osa Massen. John Ford later complimented Wayne on his handling of the accent.
Eugene O'Neill's favorite film. John Ford gave him a print of it, which O'Neill wore out from repeated playing of the reel.
The first spoken dialogue occurs nearly five minutes into the film.
The name of Arthur Shields' character, "Donkeyman", is a nickname for the job he performed, the sole caretaker of the ship's single-piston "Donkey" engine.
Barry Fitzgerald, who plays the character of Cocky, and Arthur Shields, who played Donkeyman, were brothers in real life. They also appeared together in director John Ford's The Quiet Man (1952).
Producer Walter Wanger contracted with Reeves Lewenthal, director of the American Associated Artists Gallery in Manhattan, to have nine of it's artists go out to Hollywood during the filming and paint scenes from the movie and portraits of the actors in character as a publicity stunt for the film. "High Brow Publicity" as Time magazine dubbed it in a story from August 26, 1940. The artists (and their paintings) included Thomas Hart Benton (Shore Leave), Grant Wood (Sentimental Ballad), Ernest Fiene (portrait of John Wayne as Ole Olson), George Schreiber (scene from the film with Mitchell, Qualen and two others), Luis Quintanilla (The Bumboat Girls), George Biddle (portrait of Qualen as Squarehead Swanson), Robert Philipp (portrait of Thomas Mitchell as Drisk Driscoll), Raphael Soyer and James Chapin-all well known in art circles at the time. Wanger paid $50,000 and ended up with 12 canvases-including a portrait of Wanger by Ernest Fiene. The paintings were featured in Life magazine and, after an exhibition that opened in New York City in August 1940, went on to tour 23 museums across America.
This film's opening prologue states: "With their hates and desires men are changing the face of the earth - but they cannot change the Sea. Men who live on the Sea never change - for they live in a lonely world apart as they drift from one rusty tramp steamer to the next, forging the life of Nations."
This is technically both the the first World War 2 film and first war film directed by John Ford as the film is set during WW II and it interfaces with the Second World War's Second Battle of the Atlantic as the steamer sails through the battle-zone and even goes under attack from enemy aircraft during the film. Ford's later They Were Expendable (1945) is Ford's first major war feature film and first major World War II movie feature.
This film's closing epilogue states: "So men like Ole [Olsen] come and go. And the Driscolls live and die, And the Yanks and Smittys leave their memories - but for the others, the Long Voyage never ends."
According to John Ford's biography The Unquiet Man by Dan Ford, Darryl F. Zanuck dropped John Ford's proposed remake of his silent film Four Sons. Zanuck cancelled after some preliminary script work had been done and when he learnt of the similarly themed The Mortal Storm (1940) had gotten the green light at MGM. As such, John Ford, "Still upset over Zanuck's cancellation of Four Sons decided not to present The Long Voyage Home to him." Ford instead offered it to producer Walter Wanger who was a producer "who might appreciate a work of this caliber." Wanger soon after gave Ford the green light to make the film.
John Wayne once told biographer Maurice Zolotow: "Usually it would be Mr. Ford [John Ford] who helped the cinematographer get his compositions for maximum effect . . . but in this case it was Gregg Toland who helped Mr. Ford. Long Voyage is about as beautifully photographed a movie as there ever has been."
Cinematographer Gregg Toland's photographing of this movie utilized high contrast lighting.
Goofs
* Factual errors: Wilfrid Lawson's name is spelled Wilfred in the opening credits, but is spelled correctly in the end credits.
Filming Locations
Los Angeles Harbor, Wilmington, Los Angeles, California, USA
(scenes on S.S. Munami)
San Pedro, Los Angeles, California, USA
Previous discussion:-
The Long Voyage Home
For continuity, all discussion
please post here:-
Duke's Movies- The Long Voyage Home