DIRECTED BY BUDD BOETTICHER
MUSIC BY DAVID BUTTOLPH
WARNER BROS.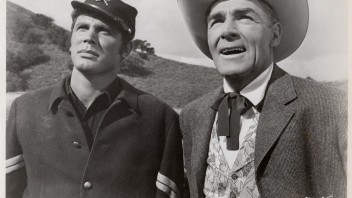 Photo with courtesy of lasbugas

INFORMATION FROM IMDb
Plot Summary
In 1864 Cavalry Captain John Hayes reluctantly follows orders
to become the civilian boss of the Overland Stage Line,
which keeps the flow of Western gold to the Union and will help it win the Civil War.
Headquarters for the stage line is a small Colorado town
with Southern sympathizers who will do anything they can to sabotage his mission.
Resistance to his efforts is led by former friend ad colleague Clay Putnam,
who has taken advantage of Hayes' absence and married his former sweetheart.
Written by duke1029
Cast
Randolph Scott ... Capt. John Hayes
Virginia Mayo ... Norma Putnam
Karen Steele ... Jeanie Miller
Michael Dante ... Rod Miller
Andrew Duggan ... Clay Putnam
Michael Pate ... Mace
Wally Brown ... Stubby
John Daheim ... Russ (as John Day)
Walter Barnes ... Willis - Stage Depot Cook
and more...
Directed
Budd Boetticher
Writing Credits
Berne Giler ... (screenplay)
Berne Giler ... (story) and
Albert S. Le Vino ... (story) (as Albert Shelby LeVino)
Produced
Henry Blanke ... producer
Music
David Buttolph
Cinematography
J. Peverell Marley ... director of photography
Trivia
Karen Steele was romantically involved with director Budd Boetticher over a long period of time.
Besides 'Westbound', she made several other films with the cult director.
Shot in only 20 days for $565,000.
The sixth of seven Westerns directed by Budd Boetticher and starring Randolph Scott.
For being second billed, Virginia Mayo has surprisingly little screen time,
four or five scenes.
Virginia Mayo' s hair is decidedly blonde, although the movie's tag line refers to her as a redhead.
Goofs
Anachronisms
This takes place during the Civil War. And typical of movies about the period,
everyone has a cartridge belt and pistol instead of the 'cap and ball' available at the time.
Characters use the word 'gunslinger' in conversation.
Though it has been retroactively applied to the Old West,
the word was actually only coined well into the 20th century.
As with the pistol anachronism, Miller had a Winchester model 1866 (or later)
lever action rifle, despite the film being set in 1864.
Factual errors
While Christy is reminiscing about the Overland Stage with Hayes,
he reminds him that they worked together on the line for twenty years
. Before that, he says, he worked for the Pony Express.
As the year is 1864, that would push his Pony Express experience to 1844
or earlier if you subtract Hayes' Civil War service.
The actual Pony Express only was in operation for one year, from 1860 to 1861
Filming Locations
Laramie Street, Warner Brothers Burbank Studios - 4000 Warner Boulevard, Burbank, California, USA
Warner Ranch, Calabasas, California, USA
Watch the Movie