DIRECTED BY HENRY HATHAWAY
PRODUCED BY SAMUEL G. ENGEL
MUSIC BY SOL KAPLAN
TWENTIETH CENTURY FOX FILM CORPORATION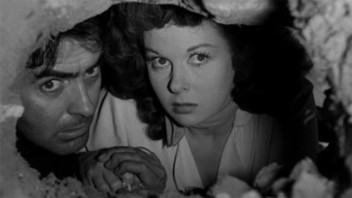 INFORMATION FROM IMDb
Plot Summary
Vinnie Holt, a single woman traveling with her toddler niece, becomes stranded at Rawhide,
a desert stagecoach stop managed by stationmaster Sam Todd and his assistant Tom Owens.
Owens is quickly impressed by Vinnie's independent self-confidence.
Jim Zimmerman, a fugitive murderer from Huntsville Prison disguised as a deputy,
and three other ruthless escapees take over the station, intent on robbing the next day's gold shipment.
After murdering Sam, Zimmerman knows they must keep Tom alive in order to complete their plans.
Owens does not correct Zimmmerman's assumption that Vin is his wife,
correctly sensing that the misconception might be the key to her survival also.
Written by duke1029
Cast
Tyrone Power ... Tom Owens
Susan Hayward ... Vinnie Holt
Hugh Marlowe ... Rafe Zimmerman
Dean Jagger ... Yancy
Edgar Buchanan ... Sam Todd
Jack Elam ... Tevis
George Tobias ... Gratz
Jeff Corey ... Luke Davis
James Millican ... Tex Squires
Louis Jean Heydt ... Fickert
and more...
Directed
Henry Hathaway
Writing Credits
Dudley Nichols ... (written by)
Produced
Samuel G. Engel ... producer
Music
Sol Kaplan
Cinematography
Milton R. Krasner ... (as Milton Krasner)
Trivia
Everett Sloane was originally cast as Tevis, but after a action scene
in which Hayward was unhappy with his roughness when he threw her to the floor,
he was replaced by Jack Elam.
During its run on television during the early 1960s, it was retitled "Desperate Siege"
in order to distinguish it from the Eric Fleming/Clint Eastwood TV series.
"Rawhide" was Susan Hayward's first film for Fox after Walter Wanger sold her contract to the studio.
Tyrone Power was nearly twenty years older than his character.
The theme in the main title is from Brigham Young: Frontiersman (1940), by Alfred Newman.
The inspiration for Quentin Tarantino's The Hateful Eight (2015).
In 1954, 20th Century Fox distributed this film on a double bill with Inferno (1953)
starring Robert Ryan and Rhonda Fleming.
During location work, star Tyrone Power took a liking to former bookkeeper
turned novice actor Elam and talked Fox studio boss Darryl F. Zanuck
into signing him to a Fox country beginning with the Power vehicle
"An American Guerilla in the Phillipines."
Goofs
Miscellaneous
At around 68 minutes in Tom is looking through a hole in a wall
when for dramatic effect the shadow of a person outside falls on the wall.
In the next shot we see the person outside
and it is clear that his shadow falls in a completely different direction.
Filming Locations
Lone Pine, California, USA
Alabama Hills, Lone Pine, California, USA

Watch the Movie

[extendedmedia]
[/extendedmedia]