DIRECTED BY SYDNEY J. FURIE
UNIVERSAL PICTURES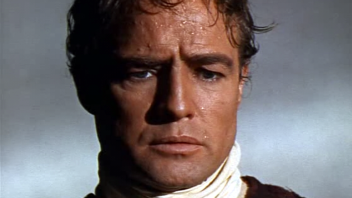 INFORMATION FROM IMDb
Plot Summary
Matt Fletcher, a Mexican-American buffalo hunter is constantly harassed and humiliated
by bandit general Chuy Medina.
When the bandit steals his horse - the appaloosa of the title -
he sets out to even scores; at the climax,
single-handedly, he takes on the whole gang.
Written by alfiehitchie
Cast
Marlon Brando ... Matt
Anjanette Comer ... Trini
John Saxon ... Chuy
Emilio Fernández ... Lazaro (as Emilio Fernandez)
Alex Montoya ... Squint Eye
Miriam Colon ... Ana
Rafael Campos ... Paco
Frank Silvera ... Ramos
Larry D. Mann ... Priest
Directed
Sidney J. Furie
Writing Credits
James Bridges ... (screenplay) and
Roland Kibbee ... (screenplay)
Robert MacLeod ... (novel)
Produced
Allan Miller ... producer
Music
Frank Skinner
Cinematography
Russell Metty ... director of photography
Trivia
According to Bob Thomas' 1973 biography "Marlon: Portrait of the Artist as a Rebel,"
producer Alan Miller, appalled at his star's lack of interest in the film
and his lackluster performance, pinned a bit of doggerel about Marlon Brando,
whose character is called "Mateo" by his Mexican friend in the film,
"Mateo, his heart/It bleeds for the mass,/But the people he works with/He kicks in the ass."
According to co-star John Saxon, Marlon Brando's relationship with director Sidney J. Furie
got to the point where Brando, when getting ready to do a close-up, would be reading a book.
He would only lower the book when Furie yelled "Action." When he yelled "Cut,"
Brando would raise the book again. According to Peter Manso's book on Brando,
however, Brando and Furie met years later.
Brando was quoted to have said, "I thought you were a no-good double-crosser,
and I didn't know if I could trust you, but I saw the film a
nd you have the great sense of the best visual directors.
Let's do another movie together."
Furie, according to the book, replied, "Never!" Furie, for his part,
claims that they only came to blows once on the entire shoot of The Appaloosa (1966).
Claudia Cardinale was originally sought for the Anjanette Comer part.
Goofs
Continuity
In the final scene with Chuy, Brando weaves his leather poncho belt with his hat band,
to lasso his rifle. When the shooting is finished and he stands up,
the belt is back on his poncho, although there was no time to unweave the lasso and retie the belt.
Factual errors
The Appaloosa which portrays the title character was actually
a registered Appaloosa stallion named Cojo Rojo.
He was born in 1960 and just prior to being used for the film
he was racing on the California tracks.
He sired several foals, including several race champions.
During filming
a few other similarly marked horses were used as stunt horses,
but the majority of work was done by Cojo Rojo.
Filming Locations
St. George, Utah, USA
Colorado City, Arizona, USA
Wrightwood, California, USA
Antelope Valley, California, USA (Outdoor exteriors)
Lake Los Angeles, California, USA
Lancaster, California, USA
Watch the Movie
[extendedmedia]
[/extendedmedia]