FRONTIER MARSHAL
DIRECTED BY ALLAN DWAN
PRODUCED BY SOL M. WURTZEL
TWENTIETH CENTURY FOX FILM CORPORATION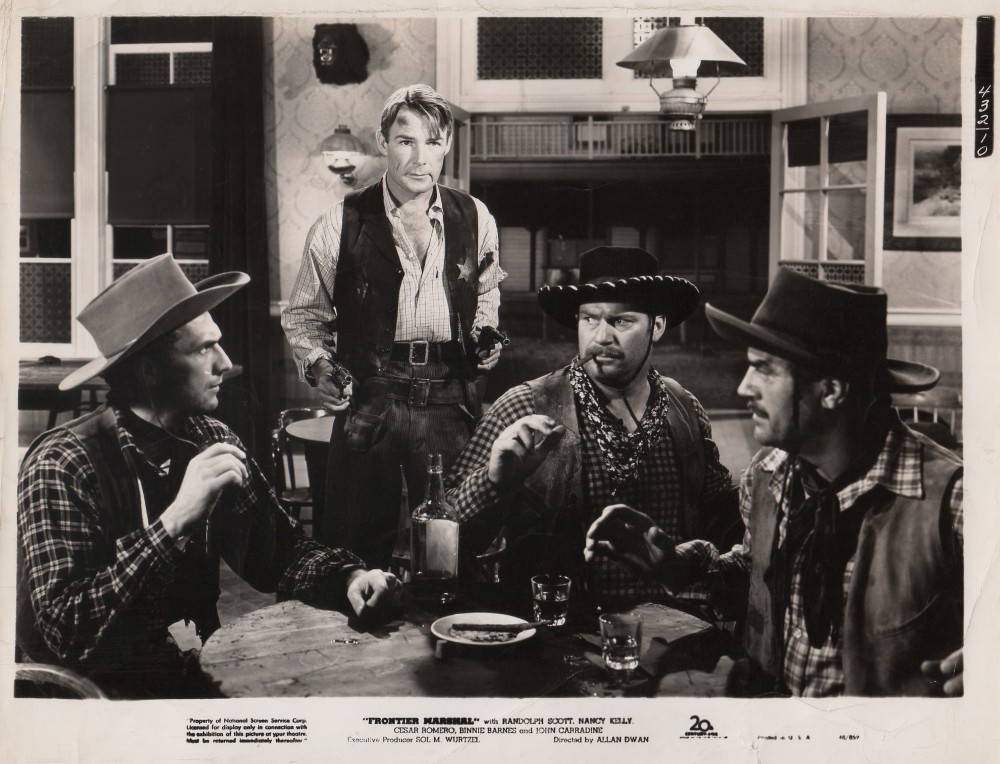 Photo with the courtesy of lasbugas

For continuity, all discussion
please post here:-
Randolph Scott- Frontier Marshal
Information from IMDb
Plot Summary
Earp agrees to become marshal and establish order in Tombstone
in this very romanticized version of the gunfight at the O.K. Corral
(e.g., Doc is killed by Curley before the actual battle and Earp must do the job alone).
Written by Ed Stephan
Early low budget version of the famous Gunfight at OK Corral with Scott as Wyatt Earp
and Romero as Doc Holiday.
Remade by John Ford as "My Darling Clementine" in 1946
and by John Sturges as "Gunfight at OK Corral" in 1957
Written by jbsports
Full Cast
Randolph Scott ... Wyatt Earp
Nancy Kelly ... Sarah Allen
Cesar Romero ... John 'Doc' Halliday
Binnie Barnes ... Jerry
John Carradine ... Ben Carter
Edward Norris ... Dan Blackmore
Eddie Foy Jr. ... Eddie Foy
Ward Bond ... Town Marshal
Lon Chaney Jr. ... Pringle
Chris-Pin Martin ... Pete
Joe Sawyer ... Curley Bill
Dell Henderson ... Dave Hall (as Del Henderson)
Harry Hayden ... Mayor John Henderson
Ventura Ybarra ... Pablo:
Walter Baldwin ... (scenes deleted)
John Bleifer ... (scenes deleted)
Eddie Dunn ... Card Player (scenes deleted)
Edward LeSaint ... (scenes deleted)
Tom London ... (scenes deleted)
Kathryn Sheldon ... Mrs. Garvey (scenes deleted)
Harry Strang ... (scenes deleted)
Richard Alexander ... Curly Bill's Henchman (uncredited)
Jimmy Aubrey ... Cockney (uncredited)
Arthur Aylesworth ... Card Player (uncredited)
Hank Bell ... Townsman with Large Mustache (uncredited)
Ed Brady ... Gambler (uncredited)
Margaret Brayton ... Mother (uncredited)
Harlan Briggs ... Editor (uncredited)
John Butler ... Harassed Man (uncredited)
Henry Clive ... Gambler (uncredited)
Heinie Conklin ... Drunk (uncredited)
Richard Cramer ... Bella Union Bartender (uncredited)
Jimmie Dundee ... Bully (uncredited)
Dick Elliott ... Drunk (uncredited)
Fern Emmett ... Hotel Maid (uncredited)
Al Ferguson ... Gambler (uncredited)
Don Hamilton ... (uncredited)
Si Jenks ... Prospector (uncredited)
Cy Kendall ... Winning Card Player (uncredited)
Ethan Laidlaw ... Tough (uncredited)
Hank Mann ... Drunk (uncredited)
Jim Mason ... Townsman (uncredited)
Philo McCullough ... Tough (uncredited)
George Melford ... (uncredited)
Pat O'Malley ... Bar Patron (uncredited)
Post Park ... Bill (uncredited)
William Pawley ... Buck Newton (uncredited)
Gloria Roy ... Dance Hall Girl (uncredited)
Jack C. Smith ... (uncredited)
Jack Stoney ... Drunk (uncredited)
Ferris Taylor ... Doctor (uncredited)
Tom Tyler ... Buck Newton (uncredited)
Blackie Whiteford ... Pringle's Henchman (uncredited)
Harry Woods ... Curly Bill's Henchman (uncredited)
Writing Credits
Stuart N. Lake (book "Wyatt Earp, Frontier Marshal")
Sam Hellman (screenplay)
Original Music
Samuel Kaylin (uncredited)
Charles Maxwell (uncredited)
David Raksin (uncredited)
Walter Scharf (uncredited)
Cinematography
Charles G. Clarke
Trivia
Charles Stevens, who plays a drunken Indian, repeats the role in director John Ford's remake, My Darling Clementine. Stevens, who is half Mexican and half Apache, is the grandson of legendary Apache warrior Geronimo.
Several cast members in studio records/casting call lists did not appear or were not identifiable in the movie. These were (with their character names, if any): Walter Baldwin, John Bleifer, Eddie Dunn (Card Player), Edward LeSaint, Tom London, Kathryn Sheldon (Mrs. Garvey) and Harry Strang. Because of period makeup, some of these actors may not have been cut, but were not recognized.
Goofs
Anachronisms
The film is set in the period from 1877 to 1880, but three of the songs sung were published in the late 1880s.
Factual errors
The film has Doc Holliday being shot to death in an ambush by Curly Bill Brocius shortly before the shootout at the OK Corral in Tombstone, Arizona, on October 26. 1881. Holliday actually died of consumption in Glenwood Springs, Colorado, on November 8, 1887.
Curly Bill Brocius is shown being shot to death by Doc Holliday's girlfriend--here called "Jerry", but whose real name was Mary Horony, aka "Big Nose Kate"--after he escaped from the shootout at the OK Corral. The fact is that Brocius, who was not at the gunfight, was killed by Wyatt Earp in the desert outside of Tombstone several days later.
The film has the famous Gunfight at the OK Corral occurring at night, when in fact it happened at approximately 3:00 in the afternoon.
The famous gunfight at the OK Corral is shown as being between Wyatt Earp on one side and Curly Bill Brocius and several of his gunmen on the other side, in which everyone on Brocius' side was killed. The fact is that Earp was not alone, being accompanied by his brothers Morgan and Virgil and his friend Doc Holliday; Curly Bill Brocius was not at the gunfight; Ike Clanton and Billy Claiborne, two of the Earp factions' opponents, ran when the shooting started and survived the fight.
Wyatt Earp is shown killing at least four men by himself during the OK Corral gunfight; the fact is that only three people, Billy Clanton and brothers Frank and Tom McLaury,were killed in the fight, and at least one of them was killed by Doc Holliday
Filming Locations
20th Century Fox Studios - 10201 Pico Blvd., Century City, Los Angeles, California, USA (studio)
Alabama Hills, Lone Pine, California, USA
For continuity, all discussion
please post here:-
Randolph Scott- Frontier Marshal