DIRECTED & PRODUCED BY CECIL B. DeMILLE
PARAMOUNT PICTURES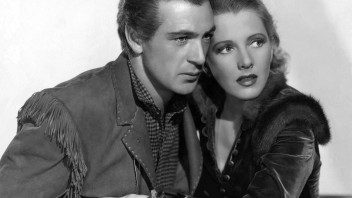 INFORMATION FROM IMDb
Plot Summary
With the end of the North American Civil War, the manufacturers of repeating rifles
find a profitable means of making money selling the weapons to the North American Indians,
using the front man John Lattimer to sell the rifles to the Cheyenne.
While traveling in a stagecoach with Calamity Jane and William "Buffalo Bill" Cody
and his young wife Louisa Cody that want to settle down in Hays City managing a hotel,
Wild Bill Hickok finds the guide Breezy wounded by arrows and telling
that the Indians are attacking a fort using repeating rifles.
Hickok meets Gen. George A. Custer that assigns Buffalo Bill to guide a troop
with ammunition to help the fort.
Meanwhile the Cheyenne kidnap Calamity Jane, forcing Hickok to expose himself to rescue her.
Written by Claudio Carvalho, Rio de Janeiro, Brazil
Cast
Gary Cooper ... Wild Bill Hickok
Jean Arthur ... Calamity Jane
James Ellison ... Buffalo Bill Cody
Charles Bickford ... John Lattimer
Helen Burgess ... Louisa Cody
Porter Hall ... Jack McCall
Paul Harvey ... Yellow Hand
Victor Varconi ... Painted Horse
John Miljan ... General George A. Custer
Frank McGlynn Sr. ... Abraham Lincoln
Granville Bates ... Van Ellyn
Frank Albertson ... A Young Trooper
Purnell Pratt ... Captain Wood
Fred Kohler ... Jake - A Teamster (as Fred Kohler Sr. in End Credit)
Pat Moriarity ... Sergeant McGinnis (as Pat Moriarty)
Charles Judels ... Tony - The Barber
Harry Woods ... Quartermaster Sergeant
Anthony Quinn ... A Cheyenne Indian
Francis McDonald ... A River Gambler
George Ernest ... A Boy
George MacQuarrie ... General Merritt
George 'Gabby' Hayes ... Breezy (as George Hayes)
Fuzzy Knight ... Dave
Duke R. Lee ... Trooper (uncredited)
Hank Worden ... Deadwood Townsman (uncredited)
Directed
Cecil B. DeMille
Writing Credits
Waldemar Young ... (screen play) &
Harold Lamb ... (screen play) &
Lynn Riggs ... (screen play)
Jeanie Macpherson ... (material compiled by) (as Jeanie Mac Pherson)
Courtney Ryley Cooper ... (based on data from stories by) &
Frank J. Wilstach ... (based on data from stories by)
Grover Jones ... (contributor to screenplay construction) (uncredited)
Produced
Cecil B. DeMille ... producer (uncredited)
William LeBaron ... executive producer (uncredited)
William H. Pine ... producer (uncredited)
Music
George Antheil
Cinematography
Victor Milner ... (photographed by)
George Robinson ... (uncredited)
Trivia
John Wayne very much wanted the role of Wild Bill Hickok,
which he felt certain would make him a star,
but director Cecil B. DeMille wanted Gary Cooper instead.
Film debut of Hank Worden.
An excellent horseman from his youth in Montana,
Gary Cooper did most of his own riding stunts,
including the shot where he rode "hanging" between two horses.
2,000 Indian actors were used as extras for the Custer massacre sequence.
"Lux Radio Theater" broadcast a 60 minute radio adaptation of the movie on May 31, 1937
with Jean Arthur reprising her film role.
Paramount executives wanted Wild Bill Hickok to survive the card-game shootout,
but Cecil B. DeMille resisted and got his way.
The cavalry sequences were shot with members of the Wyoming National Guard.
Two guardsmen were badly hurt during filming of a charge scene.
The Native-American (Anthony Quinn) who happens upon Hickok and Cody's camp
has the guidon for Company E, 7th Calvary.
This company,
commanded by Lt. Algernon Smith, was known as the "Gray Horse Company".
Anthony Quinn told Cecil B. DeMille that he spoke fluent Cheyenne.
Quinn's description of the Custer battle is gibberish, but DeMille was impressed.
The script originally had Anthony Quinn's character entering the campsite
with no concern because he thought it was the camp of another Indian.
Quinn told Cecil B. DeMille that a real Indian would know the difference
between a white man's camp and that of another Indian's, a
nd should show caution when entering.
When Quinn insisted, DeMille thought about it and agreed
that's how the character ought to react.
One of over 700 Paramount productions, filmed between 1929 and 1949,
which were sold to MCA/Universal in 1958 for television distribution,
and have been owned and controlled by Universal ever since
Goofs
Anachronisms
During the riverboat card game scene, Bill Hickock, who "doesn't like women"
is clearly wearing a wedding band.
Factual errors
On the evening of Lincoln's assassination Van Ellyn and his associates
are discussing the supposedly then current John Soule editorial, "Go West, Young Man."
Lincoln was murdered in 1865. Soule wrote that famous line in 1851.
According to the film, Custer's Last Stand and the establishment
of the boom town of Deadwood occur shortly after the end of the Civil War in 1865.
In actuality they happened 11 years later in 1876.
Abraham Lincoln leaves for the theatre, and is shot within a matter of minutes.
In reality, it was two hours between Lincoln's arrival and assassination.
Filming Locations
Birney, Montana, USA
Cheyenne Indian Reservation, Lame Deer, Montana, USA (Custer's massacre)
Iverson Ranch - 1 Iverson Lane, Chatsworth, Los Angeles, California, USA
Kern River, California, USA
Paramount Ranch - 2813 Cornell Road, Agoura, California, USA
Pole Mountain, Laramie, Wyoming, USA (cavalry sequences)