DIRECTED BY ELIA KAZAN
PRODUCED BY DARRYL. F. ZANUCK
TWENTIETH CENTURY FOX FILM CORPORATION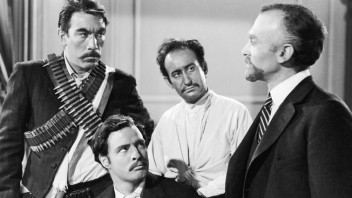 INFORMATION FROM IMDb
Plot Summary
In 1909, Emiliano Zapata, a well-born but penniless Mexican Mestizo
from the southern state of Morelos, comes to Mexico City to complain
that their arable land has been enclosed, leaving them only in the barren hills.
His expressed dissatisfaction with the response of the President Diaz
puts him in danger, and when he rashly rescues a prisoner from
the local militia he becomes an outlaw.
Urged on by a strolling intellectual, Fernando, he supports the exiled
Don Francisco Madero against Diaz, and becomes the leader of his forces
in the South as Francisco 'Pancho' Villa is in the North.
Diaz flees, and Madero takes his place; but he is a puppet president,
in the hands of the leader of the army, Huerta, who has him assassinated
when he tries to express solidarity for the men who fought for him.
Zapata and Villa return to arms, and, successful in victory,
seek to find a leader for the country.
Unwillingly, Zapata takes the job, but, a while later,
he responds to some petitioners from his ...
Written by alfiehitchie
Cast
Marlon Brando ... Zapata
Jean Peters ... Josefa
Anthony Quinn ... Eufemio
Joseph Wiseman ... Fernando
Arnold Moss ... Don Nacio
Alan Reed ... Pancho Villa
Margo ... Soldadera
Harold Gordon ... Madero
Lou Gilbert ... Pablo
Frank Silvera ... Huerta
Florenz Ames ... Senor Espejo
Richard Garrick ... Old General
Fay Roope ... Diaz
Mildred Dunnock ... Senora Espejo
and many more...
Directed
Elia Kazan

Writing Credits
John Steinbeck
Edgecumb Pinchon ... (uncredited)
Produced
Darryl F. Zanuck ... producer
Music
Alex North
Cinematography
Joseph MacDonald ... (as Joe MacDonald)
Trivia
Anthony Quinn was very disappointed when Marlon Brando was cast as Emiliano Zapata
- he thought that with his Latin appearance, he would have been a better choice.
To solve the argument, both actors competed to see which of them could urinate
furthest into the Rio Grande. Quinn lost the bet, but he won an Oscar
for the best supporting actor as Zapata's brother.
Marlon Brando was reportedly involved in a string of stunts during filming.
On location in Texas, he shot off a string of firecrackers in a hotel lobby,
serenaded Jean Peters from a treetop at three in the morning,
horrified cast and crew by playing dead for several minutes following
the hail of gunfire that ends Zapata's life, and told visiting reporters
that he once ate grasshoppers and gazelle eyes.
Anthony Quinn won his Oscar for this film on the same night that his father-in-law
Cecil B. DeMille won the award for Best Picture for The Greatest Show on Earth (1952).
Marilyn Monroe tried and failed to obtain a part in this picture,
presumably due to Darryl F. Zanuck's lack of faith in her ability,
both as an actress and as a box office draw.
Anthony Quinn had played Stanley Kowalski in the road tour of Tennessee Williams' play
"A Streetcar Named Desire", and some critics thought he was better than Marlon Brando,
who had originated the part.
None of this was lost on Elia Kazan, who liked to foster competition
between his actors if it was appropriate.
On set, the competitive Quinn and Brando, who both liked and respected each other,
bonded like the brothers they played.
Ironically, Kazan had initially proposed Jack Palance, whom he had introduced
in his earlier Panic in the Streets (1950), for the role of Zapata.
Fox studio head Darryl F. Zanuck countered by offering Palance the role of Zapara's brother
. The unhappy Palance then negotiated himself out of his Fox contract.
Ironically, Palance had understudied Quinn in the road company version of "Streetcar,"
and when he was nominated for an Oscar for his role in Sudden Fear (1952),
he was beaten by Quinn in "Zapata."
According to Elia Kazan's autobiography "A Life" (1988), John Steinbeck would whittle
while they sat in the wood shop of Steinbeck's New York townhouse writing the script.
The two developed a deep and enduring friendship during the project.
The cast includes the original voice of Fred Flintstone, Alan Reed, and his successor, Henry Corden.
Though they share no scenes, this is nonetheless the only feature film in which both appear.
Both Anthony Quinn and Marlon Brando had played Stanley Kowalski
in "A Streetcar Named desire" shortly before they were teamed here.
Film debut of Henry Silva.
Film debut of Frank DeKova.
Tyrone Power was the studio's original choice to play Emiliano Zapata.
Before Jean Peters landed the role, Julie Harris was set to play Josefa Zapata.
Richard Conte campaigned for the lead in 1949, when the picture was then titled "Beloved Tiger".
"Lux Radio Theater" broadcast a 60 minute radio adaptation of the movie on November 3, 1952
with Jean Peters reprising her film role.
Marlon Brando was tested for the lead role in early 1949.
Senator John McCain's favorite movie
Goofs
Anachronisms
Marlon Brando, among other actors, appears in brown-face.
Character error
When Zapata rides away across the plaza after a confrontation,
his pistol falls out of his holster without his noticing.
Miscellaneous
When Emeliano is thrown on the slab in the middle of town
so all could see what happens to revolutionaries at the end
of the movie Brando's stomach could be seen heavily breathing even though he is supposed to be dead.
Revealing mistakes
Emiliano Zapata's 'dead body' is heavily breathing and changes positions between different shots.
Filming Locations
Denver & Rio Grande Western Railroad, Durango, Colorado, USA
Roma, Texas, USA
Stage 6, 20th Century Fox Studios - 10201 Pico Blvd., Century City, Los Angeles, California, USA
Mexico
Rio Grande City, Texas, USA
New Mexico, USA