JOHN WAYNE
& the
Introduction
During the years 1933-1935
Duke was to join Poverty Studio, Monogram Pictures
to star in 16 western Lone Star Productions,
produced by independent producer Paul Malvern
Paul Malvern




Producer Paul Malvern,
a former child acrobat with The Ringling Bros. Circus,
worked as a movie stuntman during the silent and early talkie eras.
While working at low-budget specialist Monogram Pictures,
Malvern took over the responsibility of producing films
under his newly created
"Lone Star Productions" logo.
For further information,
please see:-
Paul Malvern
He produced many westerns from 1933-35
and worked very closely with John Wayne on his early films.

d479903506ecce06fbb69b0da3e19040.jpg
Paul Malvern was a hugely successful producer,
and if not for producers such as he, we would not have
the John Wayne as we know
In the early days produced 24 movies starring Duke
including the 16 Lone Star Productions
Riders Of Destiny (1933) (Robert North Bradbury)
Sagebrush Trail (1933) (Armand Schaefer)
West of the Divide (1933) (Robert North Bradbury)
The Lucky Texan (1934) (Robert North Bradbury)
Blue Steel (1934) (Robert North Bradbury)
The Man From Utah (1934) (Robert North Bradbury)
Randy Rides Alone (1934) (Harry Fraser)
The Star Packer (1934) (Robert North Bradbury)
The Trail Beyond (1934) (Robert North Bradbury)
'Neath Arizona Skies (1934) (Robert North Bradbury)
The Lawless Frontier (1934) (Robert North Bradbury)
Texas Terror (1935) (Robert North Bradbury)
Rainbow Valley (1935) (Robert North Bradbury)
The Desert Trail (1935) (Colin Lewis)
The Dawn Rider (1935) (Robert North Bradbury)
Paradise Canyon (1935) (Carl Pierson)
(For individual movie profiles and reviews
please click on the above links)
Robert North Bradbury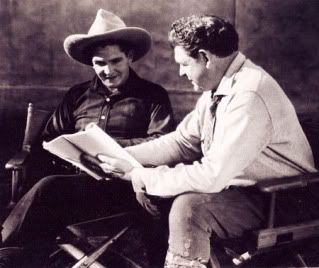 Robert North Bradbury and his son Bob Steele

Most of the Lone Star Movies
were directed by Robert North Bradbury,
with the others directed by Armand Schaefer, Harry Fraser,
Colin Lewis and Carl Pierson
The backbone of the studio in those early days
was a father-and-son combination:
writer/director Robert N. Bradbury and
cowboy actor Bob Steele (born Robert A. Bradbury)
were on its roster.
vlcsnap-2011-08-01-22h41m37s196.png
Bradbury wrote almost all, and directed many, of the early
Monogram and Lone Star westerns.
While budgets and production values were lean,
Monogram offered a balanced program,
including action melodramas, classics and mysteries.
When Duke was in Glendale and USC,
his best friend was Bob Bradbury,
later re-named as Bob Steele, who became a Western star.
Bob Steele was the son of Robert North Bradbury
Duke's career had faltered at both Columbia
and Warner Brothers so when Robert North Bradbury came
calling for a lead, for his forthcoming Lone Star westerns,
Duke fitted the bill.
For further information,
please see:-
Robert North Bradbury
Monogram
In 1935 Johnston and Carr were wooed by
Herbert Yates of Consolidated Film Industries;
Yates planned to merge Monogram with several other
smaller independent companies to form Republic Pictures.
However, after a short time in this new venture,
Johnston and Carr discovered
that they couldn't get along with Yates, and they left.
Carr moved to Universal Pictures,
while Johnston reactivated Monogram in 1937.
For further information,please see:
Monogram
Cast
Duke was accompanied
by many regulars in the series of movies,
including Yakima Canutt, George 'Gabby' Hayes
Earl Dwire, Lafe McKee
Filming Locations
The movies were filmed mostly in California
in popular locations such as
Alabama Hiils, Lone Pine, Kernville and
various movie ranches
please click on to each individual movie for further information
Legacy
The Lone Star westerns, were Duke's first success.
That is why many Duke fans, myself included, consider
Robert North Bradbury to be as big an influence on Duke's career
as Ford and Hathaway.
Without Paul Malvern and Robert North Bradbury,
Duke would have been lost forever,
John Ford had dropped him,
and Henry Hathaway, would never have known of him!!
After what was considered a reasonable series
and a great base for Duke to better his acting skills and delivery
His next move wasn't so good, a series that deflated his career once again
John Wayne & the Universal Series
Watch the Full Movies
Riders Of Destiny
Sagebrush Trail
West of the Divide
The Lucky Texan
Blue Steel
The Man From Utah
Randy Rides Alone
The Star Packer
The Trail Beyond
'Neath Arizona Skies
The Lawless Frontier
Texas Terror
Rainbow Valley
The Desert Trail
The Dawn Rider
Paradise Canyon