JOHN WAYNE
& the
MASCOT
Serials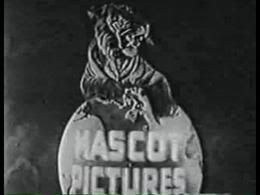 It was in 1932 that Duke was to be fired from his dismal time
at Columbia, a tenure that brought huge disappointment,
with bit parts, handed out by studio boss Harry Cohn
who disliked Duke, fabricating stories of drinking and womanising.
The biggest insult being when Cohn cast Duke
as a corpse in the 1931 film The Deceiver.
Duke was finally offered a job by Mascot Pictures
near the bottom of the Poverty Row studios
For more information
please see:-
Mascot Pictures
Nat Levine
Headed by Nat Levine, Mascot made cheap action features and serials
(long adventure films that played in weekly instalments in secondary theatres)

Nat Levine
Levine was impressed that Duke
had been under contract for Fox and Columbia
and saw it as a chance to pick up a young actor
with a familiar name for little money.
Notoriously tight with the dollar the Mascot head informed
Duke's agent Al Kingston, that he would be willing to pay
Duke $100 per week, less than half that Duke earned at Columbia
Desperate for work and feeling like a failure,
Duke accepted the terms, knowing that the work would be of marginal quality

Nat Levine assigned Duke to play the lead
in three successive serials of 12 episodes each
The Shadow of the Eagle (1932) (Ford Beebe)
The Hurricane Express (1932) (J.P McGowan/Armand Schaefer)
The Three Musketeers (1932) (Armand Schaefer/Colbert Clark)
(For individual movie profiles and reviews

please click on the above links)


Levine's schedule was for fast moving action, tightly budgeted
with all 12 chapters to be completed within 21 working days!
His crews put in a six day week and two directors were assigned to each serial
Yakima Canutt
It is on the making of The Shadow of the Eagle
where Duke was to meet regular Mascot stuntman Yakima Canutt
it was from here that the two would become kindred spirits
and lifelong friends, whilst at the same time
perfecting the art of stunts and fight scenes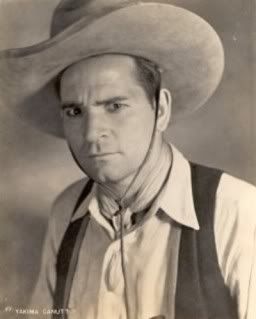 For more information
please see:-
Yakima Canutt
Legacy
Duke looked back on his three Mascot serials
as a valuable training ground, where he began to develop his unique style.
Phyicality remained his major asset but the rudiments
of a natural easy going screen persona, began to
crystalize during the making of the three serials.
We didn't have hell of a lot of dialogue, and we didn't fool around with retakes,
the first take was usually the one we printed

Duke learned how to learn lines quickly and how to
handle himself in vivid action scenes.
By the time his contract with Levine ended
Duke had taken strides to becoming a professional movie actor
However Duke's career was not going to get any better
and after a couple of contracted out pictures
Lady and Gent (1932) (Paramount) and
His Private Secretary (1932) (Showmans Pictures)
Duke embarked upon the equally unrewarding series for Warner Bros.
John Wayne & Duke (The Wonder Horse)