NORTH WESTERN MOUNTED POLICE
PRODUCED & DIRECTED BY CECIL B. DeMILLE
MUSIC BY VICTOR YOUNG
PARAMOUNT PICTURES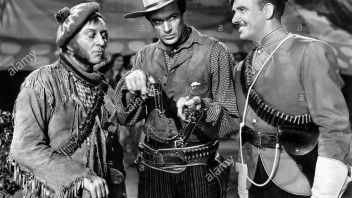 INFORMATION FROM IMDb
Plot Summary
Texas Ranger Dusty Rivers ("Isn't that a contradiction in terms?", another character asks him)
travels to Canada in the 1880s in search of Jacques Corbeau, who is wanted for murder.
He wanders into the midst of the Riel Rebellion, in which Métis (people of French and Native heritage)
and Natives want a separate nation.
Dusty falls for nurse April Logan, who is also loved by Mountie Jim Brett.
April's brother is involved with Courbeau's daughter Louvette,
which leads to trouble during the battles between the rebels and the Mounties.
Through it all Dusty is determined to bring Corbeau back
to Texas (and April, too, if he can manage it.)
Written by Ron Kerrigan
Cast
Gary Cooper ...Dusty Rivers
Madeleine Carroll ...April Logan
Paulette Goddard ...Louvette Corbeau
Preston Foster ...Sergeant Jim Brett
Robert Preston ...Ronnie Logan
George Bancroft ...Jacques Corbeau
Lynne Overman ...Tod McDuff
Akim Tamiroff ...Dan Duroc
Walter Hampden ...Big Bear
Lon Chaney Jr. ...Shorty
Montagu Love ...Inspector Cabot
Francis McDonald ...Louis Riel
George E. Stone ...Johnny Pelang
Willard Robertson ...Supt. Harrington
Regis Toomey ...Constable Jerry Moore
Richard Denning ...Constable Thornton
Douglas Kennedy ...Constable Carter
Robert Ryan ...Constable Dumont
James Seay ...Constable Fenton
Lane Chandler ...Constable Fyffe
Ralph Byrd ...Constable Ackroyd
Eric Alden ...Constable Kent
Wallace Reid Jr. ...Constable Rankin
Bud Geary ...Constable Herrick
Evan Thomas ...Capt. Gower
Jack Pennick ...Sergeant Field
Rod Cameron ...Corporal Underhill
Davison Clark ...Surgeon Roberts
Jack Chapin ...Bugler
Chief Thundercloud ...Wandering Spirit
Harry Burns ...The Crow
Louis Merrill ...Lesure (as Lou Merrill)
Clara Blandick ...Mrs. Burns
Ynez Seabury ...Mrs. Shorty
Eva Puig ...Ekawe
Julia Faye ...Wapiskau
Chief John Big Tree ...Blue Owl (uncredited)
and many, many more...

Directed
Cecil B. DeMille
Writing Credits
Alan Le May ... (original screen play) (as Alan Lemay) &
Jesse Lasky Jr. ... (original screen play) and
C. Gardner Sullivan ... (original screen play)
R.C. Fetherstonhaugh ... (novel) (uncredited)
Produced
Cecil B. DeMille ... producer
William H. Pine ... associate producer
William LeBaron ... executive producer (uncredited)
Music
Victor Young
Cinematography
W. Howard Greene ... director of photography
Victor Milner ... director of photography
Trivia
Cecil B. DeMille initially thought Paulette Goddard was all wrong
for the role of the half-breed Indian girl.
Marlene Dietrich, Vivien Leigh, Katherine DeMille, Simone Simon, Anna Sten,
Olympe Bradna, and Steffi Duna were considered for the part,
but when Goddard showed up in his office in costume
and make-up speaking pidgin English, he cast her.
Joel McCrea was originally cast as Dusty Rivers.
Gary Cooper traded roles so that McCrea could star in Foreign Correspondent (1940).
Gatling Guns really were used at Fish Creek, Cutknife Hill,
and Batoche during the rebellion on which this story is very loosely based.
The federal government were trying them out "on approval".
One gun's operator, a Gatling company agent, was also a captain in the Connecticut National Guard.
One of over 700 Paramount Productions, filmed between 1929 and 1949,
which were sold to MCA/Universal in 1958 for television distribution.
They have been owned and controlled by MCA ever since.
"Lux Radio Theater" broadcast a 60-minute radio adaptation on April 13, 1942.
Gary Cooper, Paulette Goddard, and Preston Foster reprised their film roles.
One of the films included in "The Fifty Worst Films of All Time
(And How They Got That Way)" by Harry Medved and Randy Lowell.
Due to budget restrictions, the movie was filmed at sound stages
at the Paramount lot as well as on location in Oregon and California,
even though the film was based on a real life incident in Saskatchewan, Canada.
Cecil B. DeMille narrated portions of the story, a practice he followed in all of his Technicolor films.
John Wayne and Cary Grant were considered for the role of Dusty Rivers.
Frank Wead and Jeanie Macpherson worked on a version of the script,
but their participation in the final film has not been confirmed.
This was Cecil B. DeMille's first technicolor film.
The world premiere of the film was held in Regina, Saskatchewan,
the birthplace of the Northwest Mounted Police.
Goofs
Continuity
Just before heading out to find Corbeau, Rivers helps April up onto her wagon.
A few minutes later we see her climb up again, on her own.
Factual errors
The NWMP did not wear bearskin hats as seen in the movie.
They wore either a red-and-black pillbox type cap, or a large white hat in the style of a London Bobbie.
Throughout the movie the name "Metis" is pronounced "Mee-tiss." It is actually pronounced "May-tee".
Filming Locations
Big Bear Lake, Big Bear Valley, San Bernardino National Forest, California, USA
Big Bear Valley, San Bernardino National Forest, California, USA
Shay Ranch, Big Bear Valley, San Bernardino National Forest, California, USA
Watch the Movie