DIRECTED BY RAOUL WALSH
PRODUCED BY JACK L. WARNER
MUSIC BY MAX STEINER
WARNER BROS.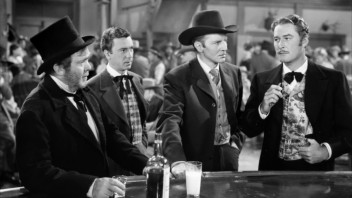 INFORMATION FROM IMDb
Plot Summary
Unjustly booted out of the cavalry, Mike McComb strikes out for Nevada,
and deciding never to be used again, ruthlessly works his way up
to becoming one of the most powerful silver magnates in the west.
His empire begins to fall apart as the other mining combines rise against him
and his stubbornness loses him the support of his wife and old friends.
Written by Doug Sederberg
Cast
Errol Flynn ... Michael J. 'Mike' McComb
Ann Sheridan ... Georgia Moore
Thomas Mitchell ... John Plato Beck
Bruce Bennett ... Stanley Moore
Tom D'Andrea ... 'Pistol' Porter
Barton MacLane ... 'Banjo' Sweeney
Monte Blue ... 'Buck' Chevigee
Jonathan Hale ... Major Spencer
Al Bridge ... Sam Slade (as Alan Bridge)
Arthur Space ... Major Ross
and many more...
Directed
Raoul Walsh
Writing Credits
Stephen Longstreet ... (screenplay) and
Harriet Frank Jr. ... (screenplay)
Stephen Longstreet ... (from a novel by)
Produced
Owen Crump ... producer
Jack L. Warner ... executive producer
Music
Max Steiner
Cinematography
Sidney Hickox ... director of photography (as Sid Hickox)
Trivia
Errol Flynn's last film with director Raoul Walsh.
Errol Flynn's chronic alcoholism was a problem throughout production.
Quote
Major Spencer: I can't blame you for feeling bitter
Michael J. 'Mike' McComb: Bitter? Uh,uh I'm not bitter. I'm grateful. For the lesson.
Major Spencer: Lesson?
Michael J. 'Mike' McComb: Yes. I didn't follow their rules so they tossed me out.
But I'll follow them from now on in. Except they're gonna be my rules.
In other words, if there's gonna be any shoving around, next time I'll do it
Filming Locations
Sherwin Summit, Inyo National Forest, California, USA
Warner Ranch, Calabasas, California, USA
Bronson Canyon, Griffith Park - 4730 Crystal Springs Drive, Los Angeles, California, USA