DIRECTED BY ROBERT ROSSEN
A GOETZ-BARODA PRODUCTION
COLUMBIA PICTURES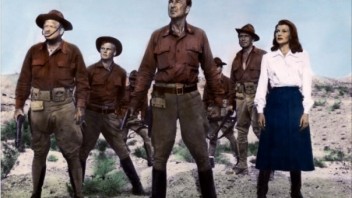 INFORMATION FROM IMDb
Plot Summary
After a cavalry charge during the 1916 U.S. "war against Pancho Villa,"
unheroic awards officer Tom Thorn (who is obsessed with the nature of courage)
recommends 4 men for the Medal of Honor. He is ordered back to Cordura with them...
and prisoner Adelaide Geary, gringo who sheltered the enemy.
On the arduous journey, Thorn's heroes show a different face,
and Thorn may have one last chance to prove he's no coward.
Written by Rod Crawford
Cast
Gary Cooper ... Major Thomas Thorn
Rita Hayworth ... Adelaide Geary
Van Heflin ... Sgt.John Chawk
Tab Hunter ... Lt. William Fowler
Richard Conte ... Cpl. Milo Trubee
Michael Callan ... Pvt. Andrew Hetherington
Dick York ... Pvt. Renziehausen
Robert Keith ... Colonel Rogers
Carlos Romero ... Arreaga
Jim Bannon ... Capt. Paltz (as James Bannon)
Edward Platt ... Colonel DeRose
Maurice Jara ... Mexican Federale
Sam Buffington ... 1st Correspondent
Arthur Hanson ... 2nd Correspondent
Directed
Robert Rossen
Writing Credits
Ivan Moffat ... (screenplay) &
Robert Rossen ... (screenplay)
Glendon Swarthout ... (novel)
Produced
William Goetz ... producer
Music
Elie Siegmeister
Cinematography
Burnett Guffey ... director of photography
Trivia
Besides looking far too old for his character, Gary Cooper was actually quite ill during shooting,
and participated in this film against the advice of his doctors.
Towards the end of the film he was dragged 100 yards along the ground by a railroad handcar,
something film critic Stanley Kauffmann complained about in an issue in the magazine New Republic.
In a 1960 interview John Wayne criticized this film and Montgomery Clift's Suddenly, Last Summer (1959),
both of which treated homosexuality (in this film because of an implied homosexual relationship
between the characters played by Gary Cooper and Tab Hunter),
as "poison polluting Hollywood's moral bloodstream."
The latter, he said, was "too disgusting even for discussion."
Dick York suffered a back injury during the filming of this movie and never fully recovered from it.
Continuing back problems forced him off of the TV show
Bewitched (1964) in 1969 and effectively ended his career. He spent his last years in poverty.
Although Gary Cooper was 57, his character Major Thorn was supposed to be in his thirties.
Early in the film it is mentioned that Thorn's father had recently been killed while still on active service.
The film was originally intended to be two and a half hours in length, but was cut down to about two hours.
Robert Rossen was restoring the film to its original length when he died in 1966.
When the film was released both "Variety" and "Films in Review" complained
that Gary Cooper was too old for his character.
Gary Cooper was only six years younger than 63-year-old Colonel Rogers,
although his character Major Thorn was supposed to be about thirty years younger.
During filming Gary Cooper arranged for his daughter to "date" gay actor Tab Hunter.
He had previously arranged for her to "date" gay actor Anthony Perkins
while they were filming Friendly Persuasion (1956), a film he hated.
Montgomery Clift turned down the role of Major Thorn.
John Wayne said, "How they got Gary Cooper to do that one!
To me, at least, it simply degrades the Medal of Honor.
The whole story makes a mockery of America's highest award for valor.
The whole premise of the story was wrong, illogical, because they don't pick the type of men
the movie picked to win the award, and that can be proved by the very history of the award."
There were rumors that Gary Cooper had undergone surgery earlier that year,
although officially he did not undergo surgery for cancer until April 1960.
He had also had a full facelift in April 1958, but the procedure was largely unsuccessful.
Film debut of Michael Callan.
Average Shot Length = 10 seconds. Median Shot Length = 10.4 seconds.
Crazy Credits
Opening credits prologue:
On the night of March 8th, 1916, a large mounted force of Mexican rebels under Pancho Villa
crossed the American Border and attacked the town of Columbus, New Mexico,
killing and wounding both American civilians and soldiers.
As a result of this action,the United States Army sent an expedition into Mexico
with orders to capture Villa and disperse his forces.
It was during this campaign that one man, an United States Army officer,
was forced to come face to face with two of the great fundamental questions that affect mankind:
What Is Courage? What Is Cowardice?
This is the story of his search for an answer.
Goofs
Anachronisms
One of the soldiers is singing the folk song Denver,
which was written by Randy Sparks for the New Christy Minstrels in 1962.
the movie is set in the Mexican Wars in 1916.
Character error
Major Thorn improperly salutes Colonel DeRose in the opening scene when he is dismissed.
He should have saluted and held his salute until it was acknowledged.
Instead, he lowers his arm even before Colonel Rose acknowledges it.
Filming Locations
St. George, Utah, USA
Bavispe, Sonora, Mexico
Mexico
Utah, USA
Watch the Movie
[extendedmedia][extendedmedia=https://www.youtube.com/watch?v=EzwsuYKDq7g,fa-youtube-square][/extendedmedia][/extrendedmedia]