DIRECTED BY ALLAN DWAN
PINCREST PRODUCTIONS
RKO RADIO PICTURES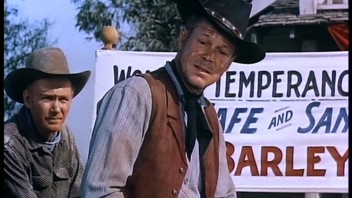 Plot Summary
Dan Ballard, a respected citizen in the western town of Silver Lode,
has his wedding interrupted by four men led by Fred McCarty, an old acquaintance who,
as a US Marshal, arrests Ballard for the murder of his brother and the theft of $20,000.
Ballard seeks to stall McCarty while tracking down evidence that will prove his innocence:
but the townspeople's loyalty to him gradually begins to waver under McCarty's accusations.
Written by David Levene
Cast
John Payne ... Dan Ballard
Lizabeth Scott ... Rose Evans
Dan Duryea ... Fred McCarty
Dolores Moran ... Dolly
Emile Meyer ... Sheriff Wooley
Robert Warwick ... Judge Cranston
John Hudson ... Michael 'Mitch' Evans
Harry Carey Jr. ... Johnson
Alan Hale Jr. ... Kirk
Stuart Whitman ... Wicker
Frank Sully ... Paul Herbert, Telegrapher
Morris Ankrum ... Zachary Evans
Hugh Sanders ... Reverend Field
Florence Auer ... Mrs. Elmwood
and more...
Directed
Allan Dwan
Writing Credits
Karen DeWolf ... (story) (screenplay)
Produced
Benedict Bogeaus ... producer
Music
Louis Forbes
Howard Jackson ... (uncredited)
Cinematography
John Alton
Trivia
During the McCarthyism, political messages are usually cloaked in metaphors:
for example, the name of the villain is Fred McCarty.
Included among the "1001 Movies You Must See Before You Die", edited by Steven Schneider.
Goofs
Continuity
John Payne is seen throughout the film wearing black cowboy boots,
but when his stunt double leaps aboard a wagon,
the double is seen to wear low shoes with white socks.
Revealing mistakes
When Ballard hides near a haystack outside the Evans house,
his shadow and the shadows of his pursuers fall on to the painted backdrop,
revealing it as canvas and not a real landscape.
Watch the Movie
[extendedmedia]
[/extendedmedia]