DIRECTED BY ALFRED L. WERKER
PRODUCED BY HARRY JOE BROWN
COLUMBIA PICTURES CORPORATION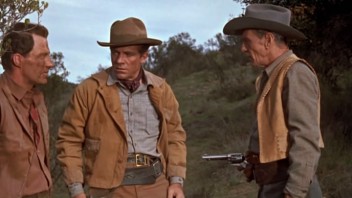 INFORMATION FROM IMDb
Plot Summary
After three years on the run, Jim Guthrie returns with the scar of a rope burn on his neck. In flashback we learn how he was framed for murder but then escaped from the lynch mob just as he was about to be hung. Tired of running, he has returned to find the real killer and the Sheriff has given him just three hours to do it.
Written by Maurice VanAuken
Cast
Dana Andrews ... Jim Guthrie
Donna Reed ... Laurie Mastin
Dianne Foster ... Chris Palmer
Stephen Elliott ... Sheriff Ben East
Richard Coogan ... Niles Hendricks
Laurence Hugo ... Marty Lasswell
James Westerfield ... Sam Minor
Richard Webb ... Carter Mastin
Carolyn Jones ... Polly
Charlotte Fletcher ... Betty
Whit Bissell ... Deke
Felipe Turich ... Esteban
Arthur Fox ... Little Carter
Francis McDonald ... Deputy Vince
Danny Borzage ... Accordionist (uncredited)
Directed
Alfred L. Werker ... (as Alfred Werker)
Writing Credits
Alex Gottlieb ... (story)
Richard Alan Simmons
Roy Huggins
Maxwell Shane ... (additional dialogue)
Produced
Harry Joe Brown ... producer
Music
Paul Sawtell
Cinematography
Charles Lawton Jr.
Trivia
unknown
Goofs
Continuity
During the gunfight between Guthrie (Dana Andrews) and Sheriff Ben (Stephen Elliot), Guthrie reacts at one point as if he's hit by a bullet to his right shoulder, falling to the ground and grabbing his shoulder in pain. But then he fights Ben one on one and winds up shooting him with no ill effects,and there's no bullet hole or blood in the area of his right shoulder.
After Guthrie disarms the arresting Marshal and takes his horse to ride back into town, he arrives on a totally different horse. The horse he arrives on is much darker with distinctly different coloration.
Quote
Jim Guthrie: Did you know we were going to get some cattle with the place?
Laurie Mastin: Cattle? How many?
Jim Guthrie: Two. We're going to be cattle barons.
Filming Locations
Walker Ranch - 19152 Placerita Canyon Road, Newhall, California, USA
Lake Sherwood, California, USA
Sherwood Forest, California, USA
Hidden Valley, Thousand Oaks, California, USA