DIRECTED BY NICHOLAS RAY
PINE-THOMAS PRODUCTIONS
PARAMOUNT PICTURES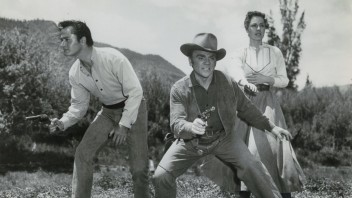 INFORMATION FROM IMDb
Plot Summary
Odd little Western that gets off to a snappy start when a man (Matt Dow) is mistaken as a train robber. After the town's sheriff shoots the kid he's riding with, Dow clears his name and ends up as the new sheriff. He romances a Swedish woman and settles in to a peaceful life only to find that the boy has a few secrets of his own.
Written by Ed Lorusso
Cast
James Cagney ... Matt Dow
Viveca Lindfors ... Helga Swenson
John Derek ... Davey Bishop
Jean Hersholt ... Mr. Swenson
Grant Withers ... Gentry
Jack Lambert Jack Lambert ... Larsen
Ernest Borgnine ... Morgan
Ray Teal ... Sheriff
Irving Bacon ... Scotty
Trevor Bardette ... Paulsen
John Miljan ... Mayor Walsh
Gus Schilling ... Doc Ridgeway
Henry Wills ... Townsman (uncredited)
and many more...
Directed
Nicholas Ray


Writing Credits
Winston Miller ... (screenplay)
Harriet Frank Jr. ... (story) and
Irving Ravetch ... (story)
William C. Thomas ... (uncredited)
Produced
William H. Pine ... producer
William C. Thomas ... producer
Music
Howard Jackson
Cinematography
Daniel L. Fapp ... director of photography (as Daniel Fapp)
Trivia
Rereleased in black-and-white.
Final film of Jean Hersholt.
This is the second of three westerns that Cagney made. His first western was "The Oklahoma Kid" (1939) and his third and final one was "Tribute To A Bad Man" (1956).
First of 2 movies titled Run For Cover Viveca Lindfors appeared in, the second, her last movie, was in 1995.
Goofs
Errors in geography
In the soundtrack in Spanish --in Spain distribution, at least-- the Swensons are throughout referred to as Swiss people, and their country of origin as Switzerland.
Revealing mistakes
When Mr. Swenson falls off his buckboard, he lands on a rectangular patch of ground obviously prepared in advance for the stunt.
Filming Locations
Aztec Ruins National Monument - 84 County Road 2900, Aztec, New Mexico, USA
Durango & Silverton Narrow Gauge Railway, Durango, Colorado, USA
Paramount Studios - 5555 Melrose Avenue, Hollywood, Los Angeles, California, USA (studio)
Silverton, Colorado, USA
Bloomfield, New Mexico, USA
Aztec, New Mexico, USA
Durango, Colorado, USA
Hesperus, Colorado, USA