VIOLENT COMPANY
aka Rough Company
DIRECTED BY RUDOLPH MATE
MUSIC BY MAX STEINER
COLUMBIA PICTURES CORPORATION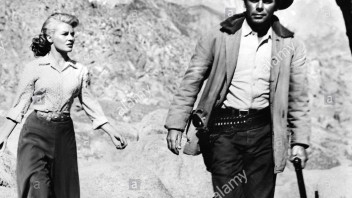 INFORMATION FROM IMDb
Plot Summary
A Union ex-officer plans to sell up to Anchor Ranch and move east with his fiancee, but the low price offered by Anchor's crippled owner and the outfit's bully-boy tactics make him think again. When one of his hands is murdered he decides to stay and fight, utilising his war experience. Not all is well at Anchor with the owner's wife carrying on with his brother who anyway has a Mexican moll in town.
Written by Jeremy Perkins, corrected by Michael Morrison
Cast
Glenn Ford ... John Parrish
Barbara Stanwyck ... Martha Wilkison
Edward G. Robinson ... Lew Wilkison
Dianne Foster ... Judith Wilkison
Brian Keith ... Cole Wilkison
May Wynn ... Caroline Vail
Warner Anderson ... Jim McCloud
Basil Ruysdael ... Tex Hinkleman
Lita Milan ... Elena
Richard Jaeckel ... Wade Matlock
James Westerfield ... Sheriff Magruder
Jack Kelly ... DeRosa
Willis Bouchey ... Sheriff Martin Kenner
Harry Shannon ... Purdue
and many more...
Directed
Rudolph Maté
Writing Credits
Harry Kleiner ... (screenplay)
Donald Hamilton ... (based upon a novel by)
Produced
Lewis J. Rachmil ... producer
Music
Max Steiner
Cinematography
W. Howard Greene ... director of photography
Burnett Guffey ... director of photography
Trivia
'Edward G. Robinson' may seem oddly cast in a western, but he was a rush replacement for 'Broderick Crawford' who early on in shooting fell off his horse and was injured. Robinson would later appear in the western Cheyenne Autumn (1964), this time replacing the ill Spencer Tracy who had to bail out.
The horse stampede sequence comes from the earlier Glenn Ford Western THE DESPERADOES (1943)
Average Shot Length (ASL) = 7.5 seconds
Goofs
Continuity
The previous comment is totally incorrect as if you notice the daughter is wearing her gloves when inside the house arguing with her father. Then when she is leaving she grabs her hat from a stand next to the door and leaves.

Memorable Quotes
Filming Locations
Alabama Hills, Lone Pine, California, USA
Old Tucson - 201 S. Kinney Road, Tucson, Arizona, USA
Columbia/Warner Bros. Ranch - 411 North Hollywood Way, Burbank, California, USA