DIRECTED BY RAOUL WALSH
MUSIC BY VICTOR YOUNG
TWENTIETH CENTURY FOX FILM CORPORATION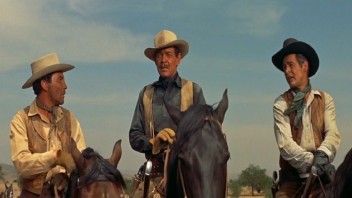 INFORMATION FROM IMDb
Plot Summary
Two brothers, Ben and Clint, join a cattle drive from Texas to Montana. While heading for Texas they save Nella from the Indians, and she decides to ride with them. Ben and Nella start to get romantic, but Ben isn't ambitious enough for her, and she soon meets up with the boss of the cattle drive. Will she make the right choice, and, more importantly, will the cattle make it to Montana !
Written by Colin Tinto
Cast
Clark Gable ... Colonel Ben Allison
Jane Russell ... Nella Turner
Robert Ryan ... Nathan Stark
Cameron Mitchell ... Clint Allison
Juan García ... Luis (as Juan Garcia)
Harry Shannon ... Sam
Emile Meyer ... Chickasaw Charlie
Steve Darrell ... Colonel Norris (as Stevan Darrell)
Mae Marsh ... Emigrant (uncredited)
Chuck Roberson ... Alva Jenkin, Jayhawker Leader (uncredited)
Russell Simpson ... Emigrant (uncredited)
and many more...
Directed
Raoul Walsh
Writing Credits
Sydney Boehm ... (screenplay) and
Frank S. Nugent ... (screenplay) (as Frank Nugent)
Heck Allen ... (from the novel by) (as Clay Fisher)
Produced
William A. Bacher ... producer
William B. Hawks ... producer
Music
Victor Young
Cinematography
Leo Tover ... director of photography
Trivia
Clark Gable had to stand on a box to look taller than his 6'4" co-star Robert Ryan in one scene.
Robert Ryan was ill with hepatitis and had to leave the production for two weeks.
Clark Gable crash dieted before filming began in order to lose 25 lbs.
Most of the long shots of Clark Gable were actually a double.
Clark Gable was never on location for the Montana scenes.
As Clark Gable was 54, 36-year-old Cameron Mitchell was cast as his teenage brother.
Average Shot Length = ~11 seconds. Median Shot Length = ~10.1 seconds.
In 1954, this was announced as a starring vehicle for Clark Gable and John Wayne, but Wayne withdrew.
They were also, both announced for "Hatari" in 1960, but Gable died whilst the movie was in pre-production.
It was reported that Clark Gable wore lifts for this film, so he would look more in line with Robert Ryan.
The Tall Men was the movie advertised on the marquee at Grauman's Chinese Theater when Lucy steals John Wayne's footprints in the I Love Lucy episode, "Lucy Visits Grauman's".
Crazy Credits
Opening credits prologue: MONTANA TERRITORY 1866
They came from the South, headed for the goldfields...Ben and Clint Allison, lonely, desperate men. Riding away from a heartbreak memory of Gettysburg. Looking for a new life. A story of tall men - and long shadows.
Goofs
Anachronisms
When the Jayhawkers are collecting money from Clark Gable, during a close up view of him, in the far distance behind him, you can see what is a vehicle, maybe a truck moving along a road or highway. This is supposed to be 1866.
When they start driving the herd of cattle to Montana (appr. at 61st minute), in the sand in front of the herd the tracks of a car are visible.
Continuity
When Ben and Clint first enter the saloon and the livery stable in Mineral City, Clint's two-gun rig is hidden by his coat. When Clint follows Stark into the livery stable, his guns are strapped on the outside and over his coat, yet when they ride out of town, his guns are back under the coat.
Filming Locations
Durango, Mexico
Sierra de Organos, Sombrerete, Zacatecas, Mexico (location)
20th Century Fox Studios - 10201 Pico Blvd., Century City, Los Angeles, California, USA (studio)