DIRECTED BY JOSEPH L. MANKIEWICZ
WARNER BROS.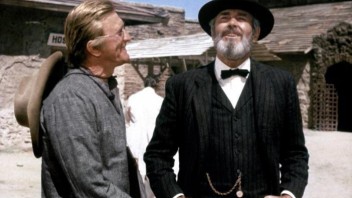 For continuity, all discussion
please post here:-
Kirk Douglas- There Was a Crooked Man
INFORMATION FROM IMDb

Plot Summary
Charm, intelligence and success in criminal career doesn't prevent Paris Pitman Jr. to start doing ten years in prison, in the middle of the Arizona desert. However, those years should pass quickly because of a $500,000 loot previously stashed away. New idealistic warden would only make Pitman think of getting his fortune even sooner. He starts to manipulate everyone to achieve his goal.
Written by Dragan Antulov
Cast
Kirk Douglas ... Paris Pitman, Jr.
Henry Fonda ... Woodward W. Lopeman
Hume Cronyn ... Dudley Whinner
Warren Oates ... Floyd Moon
Burgess Meredith ... The Missouri Kid
John Randolph ... Cyrus McNutt
Lee Grant ... Mrs. Bullard
Arthur O'Connell ... Mr. Lomax
Martin Gabel ... Warden LeGoff
Michael Blodgett ... Coy Cavendish
C.K. Yang ... Ah-Ping
Alan Hale Jr. ... Tobaccy (as Alan Hale)
Victor French ... Whiskey
Claudia McNeil ... Madam
Bert Freed ... Skinner
Jeanne Cooper ... Prostitute
Barbara Rhoades ... Miss Jessie Brundidge
Gene Evans ... Col Wolff
Pamela Hensley ... Edwina
J. Edward McKinley ... The Governor
Karl Lukas ... Otis
Larry D. Mann ... Harry
Ann Doran ... Mrs. Lomax
Paul Prokop... Paul Prokop
Bart Burns ... Dr. Loomis
Danny Borzage Danny Borzage ... Prisoner (uncredited)
Boyd 'Red' Morgan ... Hobbs (uncredited)
and many more...
Directed
Joseph L. Mankiewicz
Writing Credits
David Newman ... (written by) &
Robert Benton ... (written by)
Produced
C.O. Erickson ... executive producer
Joseph L. Mankiewicz ... producer
Music
Charles Strouse
Cinematography
Harry Stradling Jr.
Trivia
The "enormous" dressing trailer for Kirk Douglas stood just outside the location's prison set. Reportedly, it had a white picket fence, a mailbox, two flower boxes and a green lawn planted in front with a water fountain and lounge chairs.
Final film of Byron Foulger.
Final film of James Seay.
In the climactic prison uprising, Barbara Rhoades is last seen wearing a corset (with amply jiggling cleavage), a decorative hat and one elbow-length glove. However, interviews with Rhoades, and an actress who'd turned down the role, reveal that the scene went further and Rhoades was filmed virtually nude. At least one still photo (apparently from the movie) shows her nude from the waist up, wearing the same hat and elbow-length glove mentioned above (she turned down a proposed "Playboy" pictorial). In a pre-release interview, Rhoades told interviewer Dan Lewis that she didn't realize her scene would be so "explicit" until the day of shooting. Her character reportedly flees "after her clothes are torn off in a prison scene and she races across the desert in her birthday suit". Eileen O'Neill was offered the role but turned it down. "When I read the script, my character is ravaged by the revolting prisoners and they tear her clothes off. She then had to run nude from the prison to an outside area lit with floodlights." Even co-star Michael Blodgett "excitedly" told Hollywood gossip columnist Marilyn Beck, "It's a prison story, wild and new . . . man, such nudity!" Why the explicit nudity was deleted is unexplained, and the footage is presumed lost. By today's standards, what remains is fairly tame: a couple glimpses of the bare backside of Kirk Douglas, a glimpse of a bare breast here and there and some mildly risqué drawings. Promoted as a "cynical western," the film was released on Christmas Day 1970. It did poorly at the holiday box office.
The prison set took seven weeks to build. When construction began, it was snowing. When it ended, the temperature was 100 degrees. Upon completion of filming, the entire set had to be removed and the area it occupied restored to its original pristine state, so that no trace would be left.
Much of the filming was done in the Joshua Tree National Monument, 50 miles northeast of Indio, California. This was the first time a movie was allowed to be filmed in the 500,000-acre National Park. The location was so remote that a wagon-rutted road had to be bulldozed and widened for a distance of three miles to provide vehicular access.
The poem recited by the schoolteacher at the dedication is "Invictus" written in 1875 by William Ernest Henley.
Warner Brothers' front office was very worried about this film. It was shot over a five-month period in the first half of 1969, but it was well over a year before it was given any commercial showings. Like Joseph L. Mankiewicz's previous film, The Honey Pot (1967), it opened in Britain some two months before the US, in late 1970. According to Mankiewicz's biographer, Kenneth Geist, his preferred version of the film ran to 165 minutes; however, Warners objected to this and re-cut the film, to his great irritation, to a more manageable 126 minutes. One notable casualty of this re-cutting was the prominently-billed Lee Grant, a very well-known actress at the time, whose appearance is now barely a couple of minutes in length.
A realistic 1880s territorial prison replica was constructed on four acres in the high-desert country of the Joshua Tree National Monument. Designed by Edward Carrere, Oscar-winning designer of such movies as The Wild Bunch (1969), it was one of the most massive location sets ever built. The prison's 20-foot-high, four-feet-thick walls enclosed 14 buildings, including a guards' barracks, warden's quarters, mess hall, kitchen, hospital, blacksmith shop, a mule shed, corral, seven guard towers, a solitary confinement cell and a gallows. Unlike a typical movie set, the buildings had to be roofed because aerial footage of the location would be filmed. Some 80 loads of rocks were trucked in (and later removed) to create the enormous hard-labor rock pile in the movie. Since no indigenous plants could be harmed, thousands of desert plants also had to be trucked to the location.
Twelve rattlesnakes were used for a key scene but failed to hiss on cue. The hissing had to be dubbed in during post-production.
Hume Cronyn was diagnosed with optic cancer, which required the surgical removal of an eye. Cronyn volunteered to work past 5 p.m. and revamp his shooting schedule so he could finish up his role as soon as possible. Although the situation was very stressful for director Joseph L. Mankiewicz, Cronyn handled the situation very professionally.
At an early stage, Joseph L. Mankiewicz was hoping to get Warren Beatty and John Wayne for the two leads.
The construction of the vast prison set cost $300,000.
Goofs
Continuity
After escaping from prison, Pitman visits the widow Bullard and leaves the prison mule in her corral and takes a horse. After being bitten by the snake and dying, the warden takes his body back on the horse he rode, which now is a mule again.
One of the escaping prisoners is shot from behind and falls on his stomach. Although there is an exit wound in his right abdomen, when he falls, there's apparently no entrance wound.
The angel that Whinner draws on the wall of their cell looks slightly different at the end of the scene than the beginning.
During the first riot scene, Dudley and Cyrus try to help Coy Cavendish, who is handcuffed to a post. They appear right next to him, then - in a wide shot - 20 meters away from him in the center of the fight, then again right next to him.
Filming Locations
Joshua Tree, California, USA
La Joya, New Mexico, USA
Laramie Street, Warner Brothers Burbank Studios - 4000 Warner Boulevard, Burbank, California, USA
Mojave Desert, Arizona, USA
Watch the Movie
[extendedmedia]
[/extendedmedia]