DIRECTED & WRITTEN BY RICHARD BROOKS
METRO-GOLDWYN-MAYER (MGM)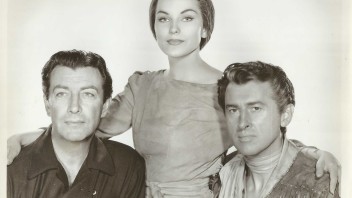 INFORMATION FROM IMDb
Plot Summary
Set in the early 1880s, this is the story of one of the last buffalo hunts in the Northwest. Sandy McKinzie is tired of hunting buffalo, and tired of killing-Charley on the other hand relishes the hunt and enjoys killing buffalo and Indians. When Charley kills an Indian raiding party, and takes their squaw as his own, tension develops between the two hunters, and matters will only be settled in a showdown.
Written by Buxx Banner
Cast
Robert Taylor ... Charlie Gilson
Stewart Granger ... Sandy McKenzie
Lloyd Nolan ... Woodfoot
Debra Paget ... Indian Girl
Russ Tamblyn ... Jimmy O'Brien
Constance Ford ... Peg
Joe De Santis ... Ed Black
Ainslie Pryor ... Buffalo Hunter #1
Ralph Moody ... Indian Agent
Fred Graham ... Bartender
Ed Lonehill ... Spotted Hand
Terry Wilson ... 2nd Buffalo Hunter (uncredited)
and many more...
Directed
Richard Brooks
Writing Credits
Richard Brooks ... (screenplay)
Milton Lott ... (based on the novell)
Produced
Dore Schary ... producer
Music
Daniele Amfitheatrof
Cinematography
Russell Harlan
Trivia
US government marksmen actually shot and killed buffalo during production as part of a scheduled herd-thinning.
The January 1997 issue of "Films in Review" carried a detailed reappraisal of the film.
In August 1957, this film was being shown on a double bill with Pete Kelly's Blues (1955).
The film's premiere was at the State Theatre in Sioux Falls, SD on February 16, 1956. Russ Tamblyn and his wife Venetia Stevenson (whom he'd married on February 14th) were in attendance.
While filming a scene with Stewart Granger, Anne Bancroft was injured on her horse and was replaced by Debra Paget.
Filmed with the working title "Operation Buffalo."
Since the story takes place during the winter, Stewart Granger wore full winter clothing for his role. The movie was actually filmed during the summer months in Custer State Park in South Dakota. At one point, temperatures reached triple digits, Granger passed out from heat exhaustion and the crew had to cut away his clothes to revive him.
Stewart Granger and Richard Brooks were reportedly not fond of one another. It stemmed from the fact that Brooks had married Granger's ex-wife, Jean Simmons.
Anne Bancroft was originally cast in the role of the Indian Girl.
This was the first motion picture for Lloyd Nolan in over a year and a half. He had been working on stage in The Caine Mutiny Court Trial.
Goofs
unknown
Filming Locations
Badlands National Park, South Dakota, USA
Custer State Park - 13329 U.S. Highway 16A, Custer, South Dakota, USA
Sylvan Lake, South Dakota, USA
Watch the Movie
[extendedmedia]
[/extendedmedia]