DIRECTED BY JOSEPH H. LEWIS
SELTZER FILMS INC.
UNITED ARTISTS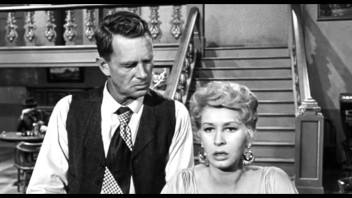 INFORMATION FROM IMDb
Plot Summary
Sven Hanson is one of a number of farmers whom Ed McNeil wants to run off their land (because he knows there's oil on it). When Hanson is murdered by McNeil's gunman, Johnny Crale, Hanson's friend Pepe Mirada hides his knowledge of the murderer's identity in order to protect his family. When Hanson's son George arrives and takes up his father's cause, not only Mirada but also Johnny Crale begin to reevaluate their attitudes.
Written by Jim Beaver
Cast
Sterling Hayden ... George Hansen
Sebastian Cabot ... McNeil
Carol Kelly ... Molly
Eugene Mazzola ... Pepe (as Eugene Martin)
Nedrick Young ... Crale (as Ned Young)
Victor Millan ... Mirada
Frank Ferguson ... Deacon Matt Holmes
Marilee Earle ... Mona Stacey
Sheb Wooley ... Baxter (uncredited)
and many more...
Directed
Joseph H. Lewis
Writing Credits
Dalton Trumbo ... (written by) (front Ben Perry)
Ben Perry ... (front for Dalton Trumbo) (as Ben L. Perry)
Produced
Carrol Sax ... associate producer
Frank N. Seltzer ... producer
Music
Gerald Fried
Cinematography
Ray Rennahan ... director of photography
Trivia
Nedrick Young, who plays Johnny Crale, actually wrote much of the script, but because he had been blacklisted as a "subversive" during the McCarthy Red Scare period, he was not credited for it.
This was the final feature film for director Joseph H. Lewis. He would spend much of the next decade directing television episodes before retiring from the industry.
Opening credits: The characters and incidents portrayed and the names used herein are fictitious and any similarity to actual persons, living or dead, is purely accidental and
Goofs
unknown
Filming Locations
Santa Clarita, California, USA
California, USA
Hal Roach Studios - 8822 Washington Blvd., Culver City, California, USA
(studio) (studio: produced at Hal Roach Studios)
Melody Ranch - 24715 Oak Creek Avenue, Newhall, California, USA
Watch the Movie
[extendedmedia]
[/extendedmedia]