SADDLE THE WIND
DIRECTED BY ROBERT PARRISH/ JOHN STURGESS
MUSIC BY ELMER BERNSTEIN
METRO-GOLDWYN-MAYER (MGM)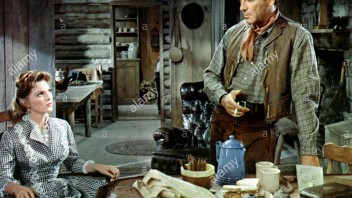 INFORMATION FROM IMDb
Plot Summary
Steve Sinclair is a world a world-weary former gunslinger, now living as a peaceful farmer.
Things go wrong when his wild younger brother Tony arrives on the scene with his new bride Joan Blake.
Cast
Robert Taylor ... Steve Sinclair
Julie London ... Joan Blake
John Cassavetes ... Tony Sinclair
Donald Crisp ... Dennis Deneen
Charles McGraw ... Larry Venables
Royal Dano ... Clay Ellison
Richard Erdman ... Dallas Hanson
Douglas Spencer ... Hemp Scribner
Ray Teal ... Brick Larson
Henry Wills ... Cowboy (uncredited)
and many more...
Directed
Robert Parrish
John Sturges ... (uncredited)
Writing Credits
Rod Serling ... (screenplay)
Thomas Thompson ... (screen story)
Daniel Fuchs ... (uncredited)
Produced
Armand Deutsch ... producer
Music
Elmer Bernstein
Cinematography
George J. Folsey ... director of photography
Trivia
A first score was written and recorded by Jeff Alexander but had to be replaced due to extensive re-cutting.


Goofs
Continuity
In the scene where Tony Sinclair and his sidekicks confront Clay Ellison and burn the wagon, the shot alternated between a facing shot of Clay, and a rear view. In each shot Clay is holding the shotgun. In the facing shots he holds it across his body with the barrel held high, yet in each of the rear shots it is held horizontally at arms length. There is no apparent movement of the gun, however.
Filming Locations
Rosita, Colorado, USA