DIRECTED & WRITTEN BY RUSSELL ROUSE
MUSIC BY ANDRE PREVIN
METRO-GOLDWYN-MAYER (MGM)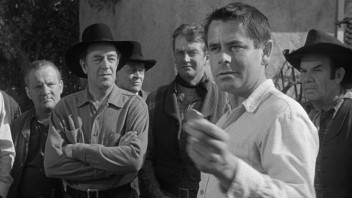 INFORMATION FROM IMDb
Plot Summary
Whenever it becomes known how good he is with guns, ex-gunman George and his wife Dora have to flee the town, in fear of all the gunmen who might want to challenge him. Unfortunately he again spills his secret when he's drunk. All citizens swear to keep his secret and support him to give up his guns forever -- but a boy tells the story to a gang of wanted criminals. Their leader threatens to burn down the whole town, if he doesn't duel him.
Written by Tom Zoerner
Cast
Glenn Ford... George Temple / George Kelby, Jr.
Jeanne Crain ... Dora Temple
Broderick Crawford ... Vinnie Harold
Russ Tamblyn ... Eric Doolittle
Allyn Joslyn ... Harvey Maxwell
Leif Erickson ... Lou Glover
John Dehner ... Taylor Swope
Noah Beery Jr. ... Dink Wells (as Noah Beery)
J.M. Kerrigan ... Kevin McGovern
Rhys Williams ... Brian Tibbs
Virginia Gregg ... Rose Tibbs
Chubby Johnson ... Frank Stringer
John Doucette ... Ben Buddy
William 'Bill' Phillips ... Lars Toomey
Christopher Olsen ... Bobby Tibbs (as Chris Olsen)
Paul Birch ... Sheriff Bill Toledo (Yellowfork)
Florenz Ames ... Joe Fenwick
Joseph Sweeney ... Reverend
Dub Taylor ... Nolan Brown (uncredited)
and many more...
Directed
Russell Rouse
Writing Credits
Frank D. Gilroy ... (screenplay) and
Russell Rouse ... (screenplay)
Frank D. Gilroy ... (story "The Last Notch")
Produced
Clarence Greene ... producer
Music
André Previn
Cinematography
George J. Folsey
Trivia
unknown
Goofs
Anachronisms
In a street scene, tiny cars moving along a highway can be seen in the background.
In another scene, power lines and a pole can be seen.
(at around 1 min) Where the posse is debating how to proceed, contrails are clearly visible in the sky.
Factual errors
Glenn Ford's pistol is already cocked while in his holster. A professional gunfighter would never do that because of the very likely possibility it would go off as soon as it was touched.
Both the tombstones of Harrold and Kelby are dated November 7, 1889. This is just after church and after the gunfight. November 7 1889 was on a Thursday not a Sunday.
Revealing mistakes
George Temple explains to the men in the bar how a real gunslinger wears his gun low so his hand rests on the butt. Then when he goes and gets his own gun and straps it on, it's riding high enough on his waist so that his fingertips can almost touch the bottom tip of the holster and his hand is below the butt of the gun.
Filming Locations
Red Rock Canyon State Park - Highway 14, Cantil, California, USA