THE LAST DAYS OF FRANK & JESSE JAMES
(TV Movie)
DIRECTED BY WILLIAM A. GRAHAM
JOSEPH CATES PRODUCTIONS
NATIONAL BROADCASTING COMPANY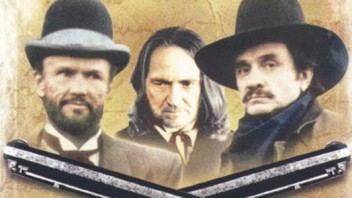 INFORMATION FROM IMDb
Plot Summary
This movie looks at the last years (not days, as implied in the title) of famous outlaws, Frank and Jesse James. The film opens in 1877 with the brothers trying to settle down after 15 years of thievery. Frank is shown to be a book-loving and family-oriented man, while brother Jesse is a money-hungry womanizer. The movie follows their lives through Jesse's death at the hands of the "rotten little coward" Bob Ford and Frank's death in 1915.
Written by John Sacksteder
Cast
Johnny Cash ... Frank James
Kris Kristofferson ... Jesse James
Marcia Cross ... Sarah Hite
Gail Youngs ... Anna
David Allan Coe ... Whiskeyhead
Andy Stahl ... Liddil
June Carter Cash ... Mother James
Ed Bruce ... Maj. Edwards
Darrell Wilks ... Bob Ford
Meg Gibson ... Zee (as Margaret Gibson)
James Sinclair
Cherie Elledge-Grapes ... Martha Bolton
Peter Bradshaw
Earl Poole Ball ... Squire Earthman
Jack Barlow ... Uncle George Hite
Mac Bennett ... Clarence Hite
John Brown ... Gentleman
Daniel Butler ... New York reporter (as Dan Butler)
Glen Clark ... Angry man
David Cobb ... Dr. Samuels
Bruce Carnahan ... Sedalia reporter
Ed Evans ... Gov. Crittendon
Marshall Fallwell Jr. ... Jim Ward
Jeffrey Buckner Ford ... William Pinkerton (as Buck Ford)
Donnie Fritts ... Jury Foreman
Lecile Harris ... Bartender
Mary Jane Harvill ... Actress
Dan Hoffman ... Conductor Westfall
John Jay Hooker Jr. ... John Phillips
G.W. Jones ... Col. Starter
Irv Kane ... John Eulich
Joe Kurtzo ... French Joe Duval
Jack Lawrence ... Gallatin sheriff
Slick Lawson ... Ed Kelly
William Newman ... Sheriff Timberlake
John Ramsey ... Jake Igelhart
Kal Roberts ... Sam Whitsett (as Tony Roberts)
Jack Wesley Routh ... Train Supervisor
John Jackson Routh ... Jesse Jr., age 7
Rick Schulman ... Maddux
Jimmy Tittle ... Jim McDaniels
Dennis Tucker ... Bud McDaniels
Byron Warner ... William Wallace
Charlie Williams ... Judge
Willie Nelson ... Gen. Jo Shelby
Directed
William A. Graham
Writing Credits
Bill Stratton
Produced
Joseph Cates ... executive producer
Phillip Cates ... producer
Music
Paul Chihara
Cinematography
Tony Imi
Trivia
In the film, June Carter Cash plays the mother of Frank and Jesse James, played by
Johnny Cash and Kris Kristofferson respectively. In real life, Johnny Cash and June Carter were husband and wife.
The film features three of the four members of the country music super-group "The Highwaymen":
Johnny Cash, Kris Kristofferson, and Willie Nelson. The only one not featured was Waylon Jennings.
Goofs
Anachronisms
Frank James is taught the hymn, "The Old Rugged Cross", but this was not written until 1912. While Frank lived until 1915, Jesse was killed in 1882, and Jesse is still alive when Frank learns the hymn.
Continuity
When Frank is in Colorado across from and watching Ford's bar, a drunk is thrown out of the bar.
Frank stands up with no hat on. After the camera angle changed, he is wearing a hat, and then on the next camera change his hat is off.
Errors in geography
The opening minutes are set in early April 1882 in Missouri. As Jesse James walks to his house,
the street and yards are covered in dead leaves and nearby tree branches are mostly, but not quite completely, bare.
The scene was likely filmed in the autumn months (of 1985).
Most of the Colt Single Action Army revolvers in the movie have bright brass trigger guards and grip frames.
On real SAAs, these parts were made of steel or iron, then finished in a deep blue that matched the barrel and cylinder.
Filming locations
Springfield, Tennessee, USA (street scenes)
Tennessee Valley Railroad, Chattanooga, Tennessee, USA (Railroad Museum)
Tennessee, USA