DIRECTED, WRITTEN & PRODUCED BY SAMUEL FULLER
MUSIC BY VICTOR YOUNG
A GLOBE ENTERPRISES INC. PRODUCTION
RKO RADIO PICTURES/UNIVERSAL PICTURES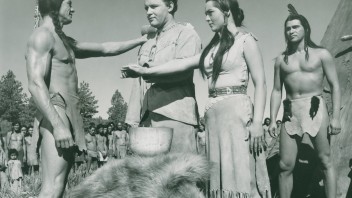 INFORMATION FROM IMDb
Plot Summary
A Rebel vet, O'Meara has refused to surrender when Lee does at Appomattox. O'Meara travels west and after escaping from, he joins the Sioux and takes a wife. After denouncing himself as an American, he must make a choice when the Army and Sioux go to battle.
Written by Buxx Banner
Cast
Rod Steiger ... O'Meara
Sara Montiel ... Yellow Moccasin (as Sarita Montiel)
Brian Keith ... Capt. Clark
Ralph Meeker ... Lt. Driscoll
Jay C. Flippen ... Walking Coyote
Charles Bronson ... Blue Buffalo
Olive Carey ... Mrs. O'Meara
H.M. Wynant ... Crazy Wolf (as H. M. Wynant)
Neyle Morrow ... Lt. Stockwell
Frank DeKova ... Red Cloud (as Frank De Kova)
Tim McCoy ... Gen. Allen (as Colonel Tim McCoy)
Stuart Randall ... Col. Taylor
Frank Warner ... Banjo Playing Singer
Billy Miller ... Silent Tongue
Chuck Hayward ... Corporal
Chuck Roberson ... Sergeant
Angie Dickinson ... Yellow Moccasin (voice) (uncredited)
Carleton Young ... Surgeon (uncredited)
and many more...
Directed
Samuel Fuller
Writing Credits
Samuel Fuller ... (written by)
Produced
Samuel Fulle
Music
Victor Young
Cinematography
Joseph F. Biroc

Trivia
At the time of its release, many critics commented favorably on director Samuel Fuller's "artistic" decision to concentrate on the feet of the participants in the actual "run of the arrow" rather than showing them in their entirety. In an interview, Fuller said there was a very simple reason for his decision: star Rod Steiger had badly sprained his ankle just before the scene was to be shot and wasn't able to walk, let alone run, so Fuller got one of the Indian extras who was built somewhat like Steiger to run in his place, which is why he shot only feet instead of close-ups or medium shots.
Sara Montiel's voice is dubbed by Angie Dickinson.
This was completed in mid-June 1956, but not released until mid-July 1957.
The film was originally distributed by RKO Radio Pictures, but afterwards Universal-International bought it from RKO and distributed it as a Universal-International picture.
Although a January 23, 1957, "Hollywood Reporter" news item reports that a song called "The Purple Hills," with music by Victor Young and lyrics by Milton Berle and Buddy Arnold, had been written for this film, the song was not heard in the viewed print.
Crazy Credits
The movie closes with the following statement: "The end of this story can only be written by you."
Goofs
unknown
Filming Locations
St. George, Utah, USA
Watch the Movie
[extendedmedia]
[/extendedmedia]