THE OUTRAGE

DIRECTED BY MARTIN RITT
NARTIN RITT PRODUCTIONS
METRO-GOLDWYN-MAYER (MGM)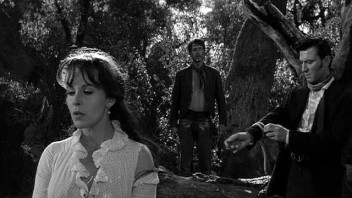 INFORMATION FROM IMDb

Plot Summary
Three disparate travelers, a disillusioned preacher, an unsuccessful prospector,
and a larcenous, cynical con man, meet at a decrepit railroad station in the 1870s Southwest.
The prospector and the preacher were witnesses at the singularly memorable rape and murder
trial of the notorious Mexican outlaw Carasco.
The bandit duped an aristocratic Southerner into believing he knew the location of a lost Aztec treasure.
The greedy "gentleman" allows himself to be tied up while Carasco deflowers his wife.
These events lead to the stabbing of the husband and are related by the three eyewitnesses
to the atrocity: the infamous bandit, the newlywed wife, and the dead man through an Indian shaman.
Whose version of the events is true?
Possibly there was a fourth witness, but can his version be trusted?
Written by duke1029
Cast
Paul Newman ... Juan Carrasco
Laurence Harvey ... Husband
Claire Bloom ... Wife
Edward G. Robinson ... Con Man
William Shatner ... The Preacher
Howard Da Silva ... Prospector
Albert Salmi ... Sheriff
Thomas Chalmers ... Judge
Paul Fix ... Indian
and many more...
Directed by
Martin Ritt
Writing Credits
Michael Kanin ... (screenplay)
Akira Kurosawa ... (screenplay)
Ryûnosuke Akutagawa ... (stories)
Fay Kanin ... (play) and
Michael Kanin ... (play)
Shinobu Hashimoto ... (screenplay) (uncredited)
Produced
Michael Kanin ... associate producer
A. Ronald Lubin ... producer
Martin Ritt ... producer (uncredited)
Music
Alex North
Cinematography
James Wong Howe ... director of photography
Trivia
Claire Bloom previously played her role in the U.S. stage version of "Rashomon".
1 of 1 found this interesting | Share this
"Film Quarterly" devoted its cover and most of its Spring 1965 issue to this film (pp. 13 - 39).
Paul Fix and Wiliam Shatner would work with each other again in "Star Trek";
The episode "Where No Man Has Gone Before" featured William Shatner as Captain James T. Kirk
and Paul Fix appeared as the second Chief Medical Officer (CMO)
of the Starship U.S.S. Enterprise (actor John Hoyt appeared as the CMO in the first unsold pilot),
Dr. Mark Piper. Paul Fix was later replaced by DeForest Kelley,
who continued as the ship's CMO for the rest of the series.
During production, this was known as " Judgment in the Sun".
Paul Newman wasn't keen to take the role, but when he heard that his old rival
Marlon Brando had turned it down, he accepted the part.
Martin Ritt was previously involved, in the developmental stage,
with The Magnificent Seven (1960), which was also a remake of a film by Akira Kurosawa.
Memorable Quotes

Filming Locations
Old Tucson - 201 S. Kinney Road, Tucson, Arizona, USA
Bell Ranch, Santa Susana, California, USA
California, USA