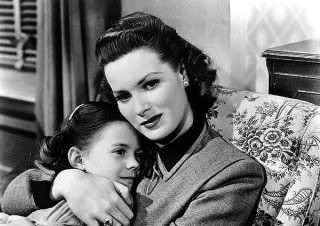 Miracle on 34th Street is a 1947 Christmas film written
by George Seaton from a story by Valentine Davies,
directed by George Seaton and starring Maureen O'Hara, John Payne, Natalie Wood
and Edmund Gwenn.
It is the story of what takes place in New York City following
Macy's Thanksgiving Day Parade, as people are left wondering
whether or not a department store Santa might be the real thing.
Because of its Christmas theme, the film has become a perennial Christmas favorite.
The film won Academy Awards for Best Actor in a Supporting Role (Edmund Gwenn),
Best Writing, Original Story (Valentine Davies) and Best Writing, Screenplay.
It was also nominated for Best Picture, losing to Gentleman's Agreement.
Davies also penned a short novella version of the tale,
which was published by Harcourt Brace simultaneously with the film's release.
Maureen was wonderful in this film,
that was to become a Christmas classic.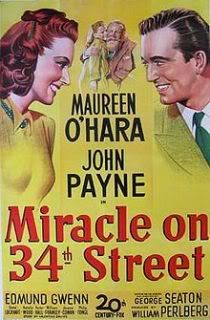 Author: The_Wolf_101 from United States

A kind old man named Kris Kringle(Edmund Gwenn) takes over as Macy's Santa Claus. Kris thinks that he is the real thing, but barely anyone believes him. When he lands himself in a mental institution for saying that he is Santa, his friend - a lawyer named Fred(John Payne) - brings the case to court and tries to convince everyone that Kris is Santa.




"Miracle on 34th Street" is one of my favorite Christmas movies, right up there with "It's a Wonderful Life" and "Scrooge." It is funny, touching, and fun for the whole family, being one of the few Christmas movies to be like that. Beginning with the scene with Kris telling a store manager that he mixed up the reindeer in a model of Santa and his reindeer, it shows that this movie is telling you to sit back and relax, because you're in for a real treat.




The movie has wonderful performances, from each and every cast member (yes, even the villain of the movie). The best performance, in my opinion, is from Edmund Gwenn. Gwenn is a perfect Kris Kringle and gets the role down perfectly. He is jolly, funny, and brings a heart-warming feeling to the movie. No other actor could play the role better than him, which can easily be seen by a lot of other Christmas movies. I feel that Gwenn holds the movie together, and without him, it wouldn't be the same.




"Miracle on 34th Street" is one of the best Christmas movies I've seen, and only a few Christmas movies are as good as it. It is funny, touching, heart-warming, with brilliant scenes and wonderful performances. This is a classic, and will remain unforgotten. A must-see. Highly recommended.


Display More