To the Shores of Tripoli starred John Payne, Maureen O'Hara,
Randolph Scott, Nancy Kelly and Minor Watson.
The film was directed by H. Bruce Humberstone and produced by Milton Sperling.
This fast paced thriller, is a splendid film.
It was Maureen's first movie in color,
She looked so wonderful in it,
it brought her the nickname of
'Queen of Technicolor'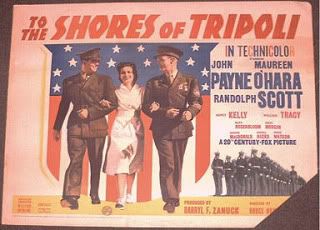 User Review
Fast paced action comedy that gently stirs patriotism without overdoing it.December
Author: pcronin

This is probably John Payne's best vehicle. He plays the rugged individualist Pvt Chris Winters, an upstart booted from Culver who enlists in the marines, not coincidentally in the unit headed by his father's old officer buddy who not also coincidentally saved his life. Funny things start happening right away. First his girlfriend who he joined to get away from's father is the CO, so she always gets letters excusing him from duty to be with her. Ugh. Next Chris falls head over heels for beautiful 2nd Lieut Mary Carter, a cold nurse who quickly melts when he will stop at nothing to get near her, immediately feigning hit by a military truck to Aland him in the infirmary. She teaches him a hilarious but painful lesson, yet he is still determined. Then it gets serious when they're assigned C school duty and are called to "war games" at sea which consists of going into a mine field, where Chris' Sgt Dixie Smith played by Randolph Scott gets knocked out and is in grave danger of being blown up. Chris takes a boat from the sweeper and singlehandedly rescues him, returning to a heroes welcome. He has won over Mary, but gets angry because he is so principled and it is killing his spirit. Mary says goodbye, and he goes with his girlfriend to a cushy desk job in Washington, only in the car listening to the radio he hears that the Japanese have just bombed Pearl Harbor. His unit happens to be parading by on their way to war, so he leaps out and changes back from suit to uniform hiding among the ranks. That is humorous too. The final scene is the ship leaving the harbor with Mary in Chris' arms and everyone singing the Marine Hymn, "From the Halls of Montezuma!...", and you know the rest! Pick up a copy today!